Credit by
Featured Image Caption © Source
ECONOMY
Beyond
Southeast Asian Countries Ranked By Manufacturing Activity Growth
The Purchasing Managers Index (PMI) provides a quick overview of the national performance in the manufacturing sector by tracking variables such as sales, employment, inventories and prices.
"Manufacturing conditions across ASEAN improved at a faster pace in August, with growth in output and new orders both gaining momentum. Employment growth was also stronger," said Bernard Aw, principal economist at IHS Markit.
"ASEAN manufacturers continued to struggle with increased cost burdens, particularly countries with a weaker exchange rate against the dollar, such as Myanmar, Indonesia and the Philippines," IHS Markit's Aw said.
"All these challenges raise questions over whether the growth pickup in August is sustainable in coming months," Aw added.
According to monthly tracking done by IHS Markit for Nikkei, Inc, below is the full details for the month of August: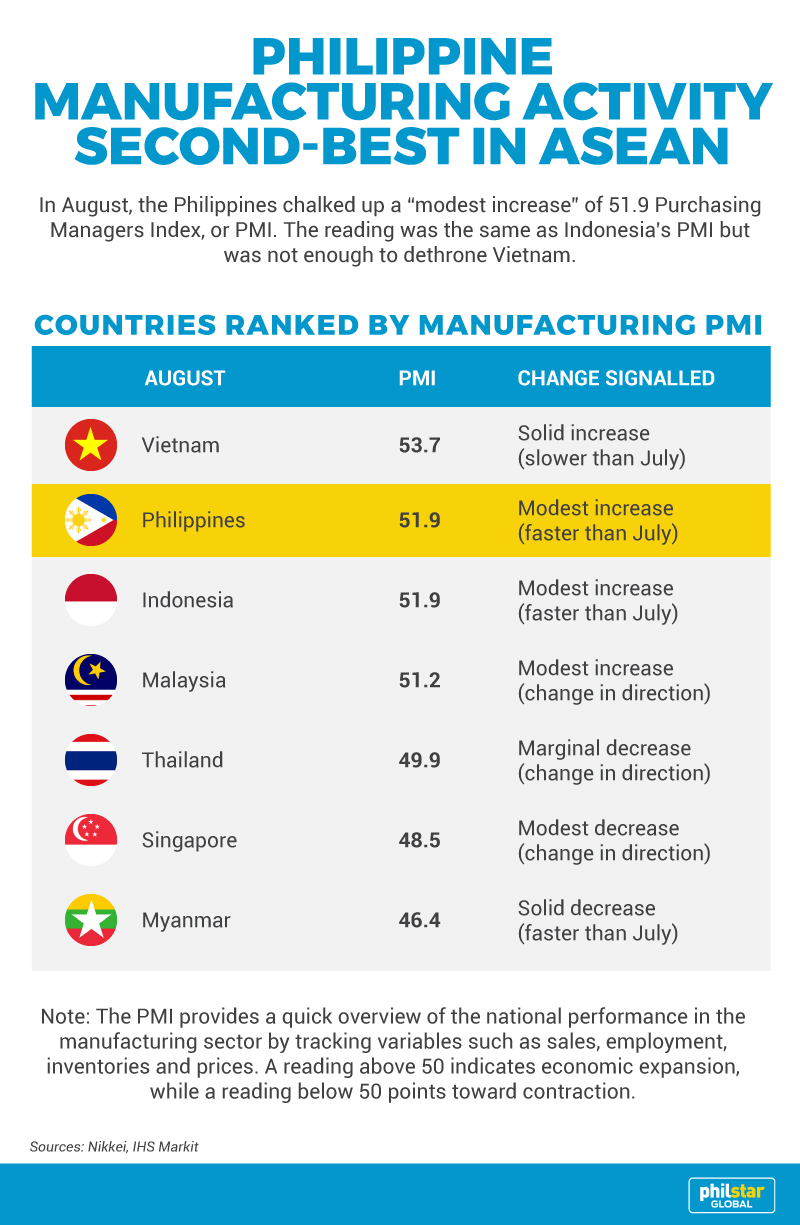 From the data above, PhilSTAR reports more details on it as following details:
1. The Philippines sharing the second place with Indonesia while factory growth in Southeast Asia regained some momentum in the middle of the third quarter.
2. Behind the Philippines and Indonesia was Malaysia, which posted a "modest" increase of 51.2.
3. Thailand landed in the fifth spot after registering a "marginal" decrease of 49.9, followed by Singapore's 48.5, a "modest" dip.
4. Myanmar, which suffered a "solid" contraction of 46.4, settled at the bottom of the ranking of seven select Southeast Asian countries, signaling a decline in the health of the country's manufacturing sector.

Source : https://www.philstar.com/business/2018/09/04/1848617/philippines-indonesia-tie-2nd-place-asean-factory-growth-rankings
Proud
64%
Sad
9%
Excited
9%
Indifferent
0%
Inspired
18%
Amazed
0%