Credit by
PT Inka train for airport railway © Railway Gazette
ECONOMY
Indonesia
Indonesia's State-owned Manufacturing Enterprises to Go Global
Indonesia's state-owned enterprises (SOEs) in high value added manufacturing sectors have recently shown impressive progress.In March 2016, railway company Industri Kereta Api (INKA) exported 15 train cars, the first batch of 150 train cars ordered by Bangladesh Railways; marking the first time INKA had exported passenger trains to a foreign country.
In May, the ship manufacturer PAL Indonesia completed its first warship export by delivering a strategic sealift vessel to the Philippines' defense department; PAL is currently building a second warship for the same client.
In recent years, the state-owned weapons manufacturer Pindad has signed contracts with a range of countries including Laos, Nigeria, the Philippines, Thailand, and the United Arab Emirates. An airplane producer, Dirgantara Indonesia (DI), expanded its exports of multi-purpose aircrafts, called CN-235s, to Thailand and Senegal at the end of 2016.
According to these SOEs'business plans, the internationalization strategy has just begun. INKA aims to enter Egypt, Myanmar, Pakistan, Sri Lanka, and Thailand, and PAL Indonesia plans to penetrate Southeast Asia and the Middle East. Fueled by around 200 letters of intent for purchase from domestic and foreign airlines, DI is expected to start commercially manufacturing homegrown 19-seat commuter planes, called N-219s, in 2017.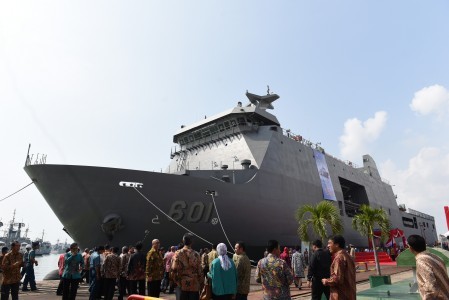 Pindad is considering foreign direct investment and cross-border acquisitions and is already strengthening international partnerships to expand its global footprint.
On top of being a major client of SOEs in strategic industries, the government is playing a pivotal role in stimulating SOEs'internationalization. In recent years, the government has directly injected funds to aid SOEs'production modernization and product development.
The government provided Rp 7.7 trillion from the budget to the aforementioned SOEs from 2011 to 2016. The government made its first major investment in state-owned manufacturing firms since the Asian financial crisis in 2011–2012 to rekindle industrialization amid declining commodity prices. The second government investment was made in 2015–2016 as the government emphasized the importance of strengthening SOEs'global competitiveness.
The Indonesia Export Financing Agency, or Indonesia Eximbank, is also playing an important role in supporting SOEs'global activities. In 2015, Indonesia Eximbank was assigned a special mandate to support industrial upgrading and long-term export expansion through the National Interest Account (NIA) scheme.
Indonesia Eximbank's provision of Rp 270 billion in export financing under this program contributed to INKA winning the international tender in Bangladesh. The government has also expressed the possibility of DI using the NIA scheme when exporting its airplanes in the future.
As of September 2016, SOEs had received 13.9 percent of Indonesia Eximbank's total financing.This share is likely to increase as the NIA scheme expands to other manufacturing sectors.
Moreover, the government's economic diplomacy as one of Jokowi's foreign policy priorities is helping SOEs to expand overseas. The government has instructed SOEs to prioritize entering non-traditional markets and using those markets as testbeds or stepping stones for implementing a wider globalization strategy. To support SOEs, the government has been actively searching for and engaging with developing economies that may currently be small but have long-term growth potential. Jokowi himself has enthusiastically promoted INKA's products to Sri Lanka's president and prime minister.
On top of the nation-wide challenges of increasing research and development spending and dealing with the shortage of engineers, SOEs in strategic industries need to consider the following issues when carrying out their internationalization strategy.
First, monitoring and coordination will become more challenging for the management of SOEs striving to enter foreign markets as the organizations grow larger and more complex. This concern was raised more than two decades ago by studies that analyzed the reasons behind the limited global competitiveness of Industri Pesawat Terbang Nusantara, DI's previous name, despite a significant accumulation of technological capabilities.
Therefore, SOEs need to continue investing in strengthening managerial capabilities and improving their ability to analyze and adapt to the changes in the international market trend and the global value chain.
Second, the government's financial support to SOEs in manufacturing is limited in size and scope compared to the support of some other developing countries, but there is still a possibility of backlash from competing countries as the global trade environment deteriorates. The Global Trade Alert, an organization that monitors trade and investment related policies, has designated a red triangle to Indonesia Eximbank's support to INKA, which means that the organization believes that the implemented measure "almost certainly discriminates against foreign commercial interest.
To deal with this issue, the Indonesian government needs to keep a close eye on and actively participate in the discussion on "competitive neutrality" on the international stage.
Source : Kyunghoon Kim, The Jakarta Post
Proud
80%
Sad
20%
Excited
0%
Indifferent
0%
Inspired
0%
Amazed
0%