Credit by
SocialNews XYZ | Indian PM Modi with Vietnamese President
India and Vietnam today vowed to join hands for an open and thriving Indo-Pacific besides ensuring an efficient and rules-based regional security architecture, seen as a thinly veiled message to China over its increasing military posturing in the region.
"We will jointly work for an open, independent and prosperous Indo Pacific region where sovereignty and international laws are respected and where differences are resolved through talks," PM Modi said in a media statement quoted by NDTV.
This was decided after the bilateral meeting between Prime Minister Narendra Modi and the visiting Vietnamese President Tran Dai Quang on Saturday.
"One of the pillars in our strong relationship is defence and security cooperation," Modi said, after the talks.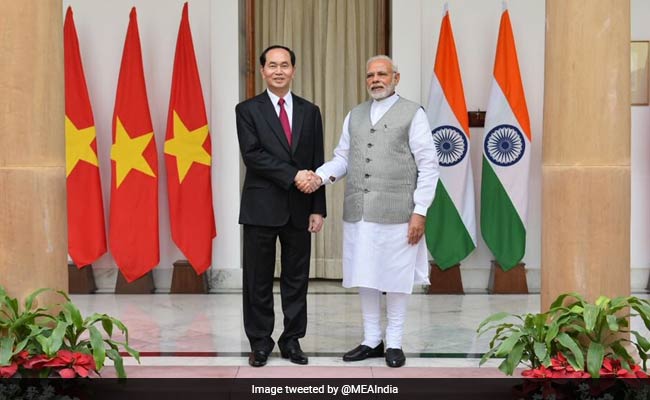 As reported by The Indian Express , Quang said that security and defence cooperation between the two countries is already "sound", and they will work towards capacity building, training, and UN peacekeeping.
The security dialogue between the two countries will be conducted and they will work closely on regional security challenges, including on "maritime security and cyber security", he said.
After wide-ranging talks between Prime Minister Narendra Modi and Vietnamese President Tran Dai Quang, the two strategic partners inked three pacts providing for cooperation in nuclear energy, trade and agriculture.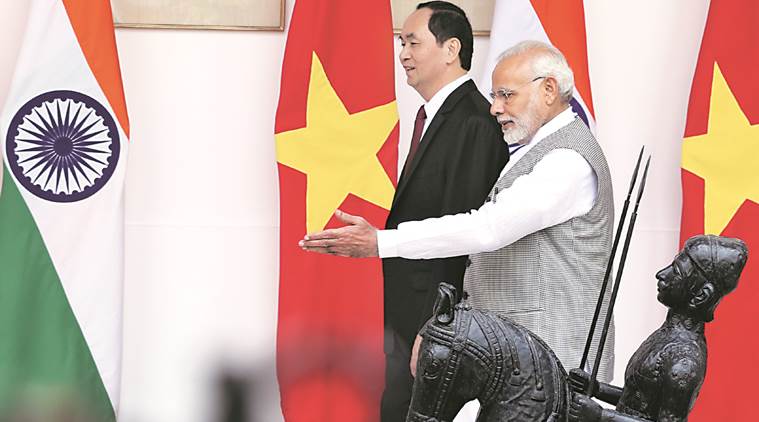 Asia Nikkei Review reports the two countries has grown from $6 billion to over $10 billion in the past five years.
"In our discussions today," Modi said, "we agreed to further strengthen our trade and investment ties, including in fields such as renewable energy, agriculture, textiles, and oil and gas."
Modi also said Vietnam has a "key role" to play in India's Act East policy, aimed at strengthening cooperation with Southeast Asia.
Proud
100%
Sad
0%
Excited
0%
Indifferent
0%
Inspired
0%
Amazed
0%