Credit by
Featured Image Caption © Source
Today we're announcing the architecture shortlist for the first Dezeen Awards, featuring a rammed-earth cricket pavilion in Rwanda, a structure made out of kites in Taiwan and a wooden house in a Norwegian forest.
There are 42 projects across eight categories on the Dezeen Awards architecture shortlist, recognising the best new buildings from all around the world.
The list includes designs by prolific studios, including Foster + Partners, Adjaye Associates, Herzog & de Meuron, Steven Holl Architects and OMA. It also features Vo Trong Nghia Architects from Vietnam, Tato Architects from Japan, Studio MK27 from Brazil and Atelier Deshaus from China.
The shortlist was selected by a panel of leading architects and industry figures, including John Pawson, Ma Yansong, Dorte Mandrup, Sarah Wigglesworth, Deborah Berke, Sam Jacob and Sadie Morgan. They were selected from a long list of 218 projects.
Projects were judged according to three criteria, scoring them according to whether they were beautiful, innovative, and beneficial to people and planet.
Other highlights from the shortlist include a vineyard hotel in Uruguay, a park shelterin Tasmania, a Shanghai silo building transformed into an exhibition space, and a Beirut residential building with a reconfigurable facade.
The winner of each category will be announced in a ceremony on 27 November and all eight winners will go on to compete for the title architecture project of the year – one of nine Ultimate Dezeen Awards.
The shortlists for the interiors, design and studios categories will also be revealed on Dezeen real soon.
From Southeast Asia, the architecture shortlist are listed within two different entries:
House Category
› Bruma House, Mexico, by Fernanda Canales Arquitectura
› Ruins Studio, Dumfries, UK, by Lily Jencks Studio
› Mylla Hytte, Jevnaker, Norway, by Mork-Ulnes Architects
› House in Miyamoto, Osaka, Japan, by Tato Architects
› Stacked Planters House, Ho Chi Minh City, Vietnam, by Vo Trong Nghia Architects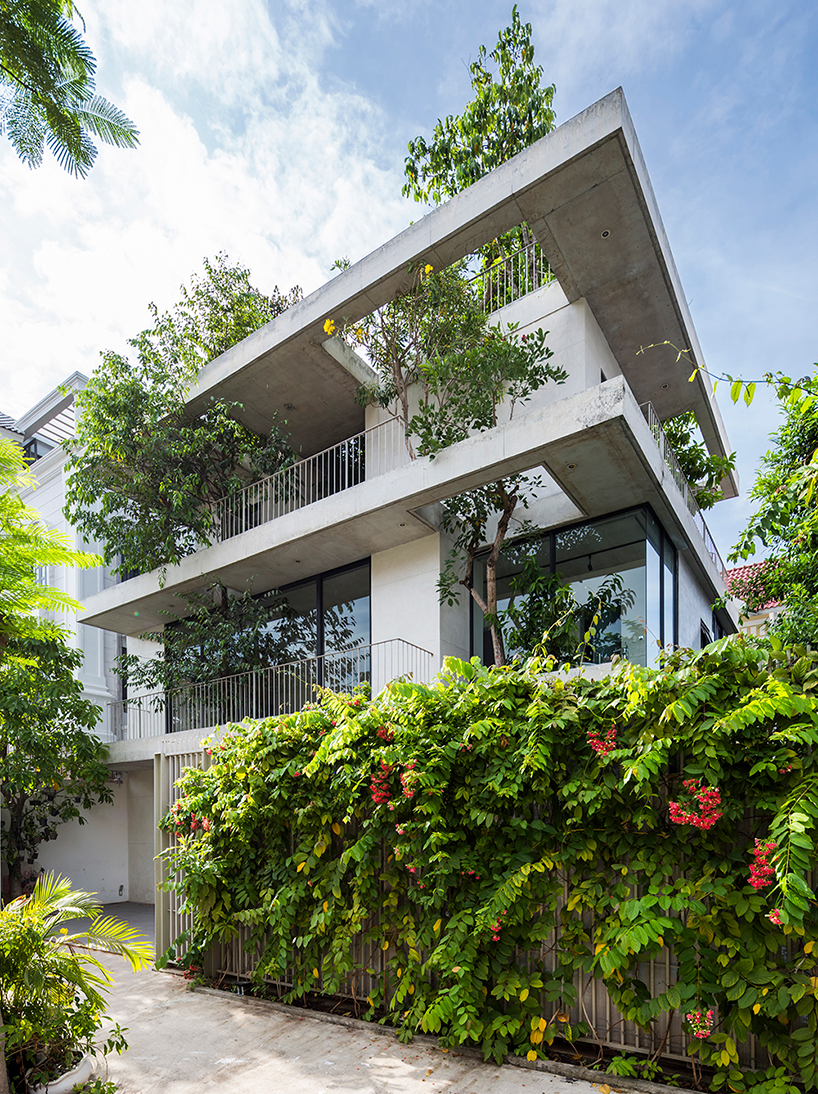 Located in a neatly planned urban area, the house is designed for a typical Vietnamese family with three generations.
As the latest project of "House for Trees" series, Stacked Planters House strives to bring green space back into the city with big trees, serving as a small park in a dense neighbourhood. The house consists of randomly-stacked concrete boxes that pack private functions, and horizontal floors that serve as semi-outdoor living area and terraces, and trees penetrating floors.
Surrounded by greenery, the residents immerse themselves into nature regardless of dense surroundings.
Rebirth Project Category:
› Renovation of 80,000-ton silos on Minsheng Wharf, Shanghai, China, by Atelier Deshaus
› Clover House, Aichi-ken, Japan, by MAD
› The Storefront Theater, Lyons, USA, by Matthew Mazzotta
› Shangwei Village Plugin Houses, Shenzhen, China, by People's Architecture Office
› Village Lounge of Shangcun, Shangcun Village, China, by SUP Atelier
› Nocenco Cafe, Nghe Anh, Vietnam, by Vo Trong Nghia Architects
This is the renovation project includes a top-floor café and the rooftop club located in the city center of Vinh city, Vietnam.
The challenge was to create an impact on the building by inserting a new structure with a unique and local material. Through our experience, we know bamboo is easy to access in this tropical climate which reduces construction time and budget.
The essence of using bamboo in this project is "lightness". Bamboo can be lifted up by a few workers and easily transported to the highest floor by a crane.
Congratulations for both nominees and let's wait for the good news soon!
Source: https://www.dezeen.com/2018/08/22/dezeen-awards-2018-architecture-shortlist-worlds-best-new-buildings/
Proud
50%
Sad
0%
Excited
0%
Indifferent
0%
Inspired
0%
Amazed
50%