Credit by Featured Image Caption © Source
Bonds, currencies and stocks in Asian emerging markets that are less dependent on external demand, such as India and Indonesia, are the most popular picks for investors and strategists next year. South Korea is seen as a market to avoid on concern U.S. President-elect Donald Trump will harm global trade after he takes office next month.
Currencies:
Mizuho Bank Ltd.'s Tokyo-based emerging-markets trader Masakatsu Fukaya likes India's rupee and Indonesia's rupiah. "The best pick is India because of its good fundamentals, room for further rate cuts and higher yields, all of which are making good conditions to attract fund inflows," he said. He is most bearish on China's yuan and then South Korea's won.
BNP Paribas SA recommends buying Indonesia's rupiah because of the country's higher yields and support from commodity-producing economy, Singapore-based head of currency and rate strategy for Asia Mirza Baig said at a briefing in Singapore earlier this month. Eastspring Investments said in a statement earlier this month that it also sees opportunities to invest in the rupiah and India's rupee.
Morgan Stanley and Societe Generale SA said they are bearish on the won going into 2017. Currencies sensitive to Trump's policies amid weakening risk sentiment are expected to underperform, SocGen said in its EM outlook 2017 note earlier this month.
Credit Agricole CIB said it expects further depreciation in the yuan due to China's "significant" balance-of-payments deficit, in a note dated Dec. 14. The lender forecasts the currency to end 2017 at 7.25 per dollar, more than 4 percent weaker than the current level.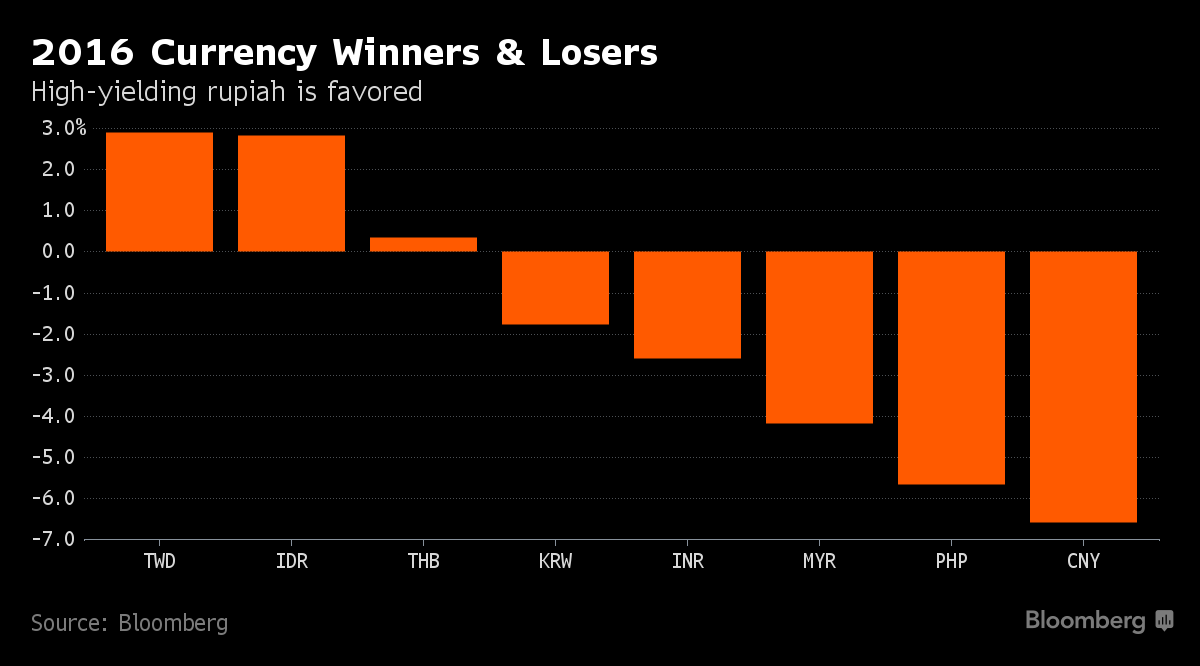 Bonds:
HSBC Global Asset Management favors Indonesia's local-currency sovereign bonds as they offer good value after the recent selloff, Binqi Liu, a money manager in London, said in an e-mail. "In an environment where there is lack of global demand, much uncertainty about the global trade dynamic and risk of slower Chinese growth, Indonesia is better positioned than its peers in Asia" Liu said.
Western Asset Management Co. favors the local bonds of India and Indonesia, while Indonesia is included in Morgan Stanley's sovereign credit trade recommendation for 2017. Pioneer Investment Management is keeping "overweight" positions in India and Indonesian notes due to the two nations' reform processes, improving growth and relatively high yields, Hakan Aksoy, London-based fund manager for emerging markets, said in an e-mail.
Global funds pumped $7.64 billion into Indonesian sovereign debt this year, while selling a net $6.84 billion of Indian securities, according to data compiled by Bloomberg.
Stocks:
IG Asia favors Indonesian, Indian and Philippine equities. Amid subdued growth and an uncertain trade situation going into 2017, economies with strong domestic fundamentals appear to be "most promising," said Jingyi Pan, a market strategist in Singapore. "Any dips close to 5,000 level would make for good entry" to the Jakarta Composite Index, she said. CLSA Ltd. and BNP Paribas also like Indian shares for 2017.
South Korea is among the markets IG Asia is bearish on due to slower growth and trade, and political uncertainties, Pan said.
Credit Suisse Group AG is positive on China, Korea and Indonesia on improving macroeconomic environments, balance sheets, valuations and underexposure of global funds.

Source :
Proud
75%
Sad
0%
Excited
0%
Indifferent
25%
Inspired
0%
Amazed
0%