Credit by An artist's impression of Liuzhou's plans for a 'Forest City' © The Guardian
When Stefano Boeri imagines the future of urban China he sees green, and lots of it. Office blocks, homes and hotels decked from top to toe in a verdant blaze of shrubbery and plant life; a breath of fresh air for metropolises that are choking on a toxic diet of fumes and dust.
Last week, the Italian architect, famed for his tree-clad Bosco Verticale (Vertical Forest) skyscraper complex in Milan, unveiled plans for a similar project in the eastern Chinese city of Nanjing.
The Chinese equivalent – Boeri's first in Asia – will be composed of two neighbouring towers coated with 23 species of tree and more than 2,500 cascading shrubs. The structures will reportedly house offices, a 247-room luxury hotel, a museum and even a green architecture school, and are currently under construction, set for completion next year.
But Boeri now has even bolder plans for China: to create entire "forest cities".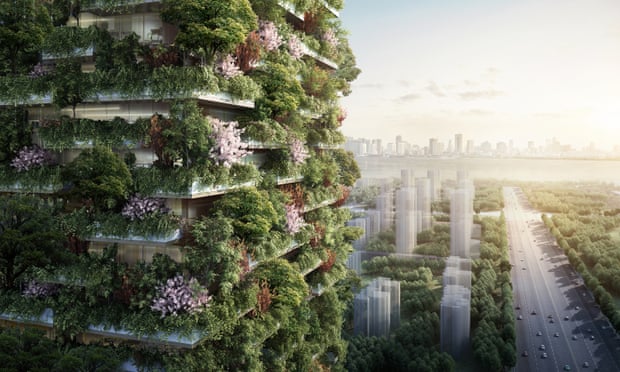 "We have been asked to design an entire city where you don't only have one tall building but you have 100 or 200 buildings of different sizes, all with trees and plants on the facades," Boeri told the Guardian. "We are working very seriously on designing all the different buildings. I think they will start to build at the end of this year. By 2020 we could imagine having the first forest city in China."
"It is positive because the presence of such a large number of plants, trees and shrubs is contributing to the cleaning of the air, contributing to absorbing CO2 and producing oxygen,' the architect said. "And what is so important is that this large presence of plants is an amazing contribution in terms of absorbing the dust produced by urban traffic."
"Two towers in a huge urban environment [such as Nanjing] is so, so small a contribution – but it is an example. We hope that this model of green architecture can be repeated and copied and replicated."

Source : The Guardian
Proud
0%
Sad
0%
Excited
0%
Indifferent
0%
Inspired
100%
Amazed
0%