The icon of Indonesia's female emancipation, Raden Ajeng Kartini, will be brought to life in the latest biopic Kartini. The motion picture directed by an award-winning director, Hanung Bramantyo, will hit theaters on April 19, also commemorating the annual Kartini Day on April 21.
Kartini stars many Indonesian award winning actors and actress, including Dian Sastrowardoyo, who plays the title role, Christine Hakim as Kartini's mother, Acha Septriasa, Ayushita, Djenar Maesa Ayu, Reza Rahadian, Denny Sumargo, Deddy Sutomo, Adinia Wirasti and Dwi Sasono.
Set on Java in the early 1900s, the movie focused on the life of Kartini before marriage. Craving for freedom, Kartini did not want to follow the ancient Javanese tradition which imposed her to be kept inside a house when she reached 12 years old until she got married.
'Kartini' mengeksplorasi usaha sosok Kartini untuk mencapai hak kesetaraan wanita, yang dimulai dari dirinya sendiri. pic.twitter.com/ZTSJA9MD9p

— #FILMKARTINI (@LegacyPictures) April 4, 2017
The story followed how Kartini developed love for books, especially in the issue of female empowerment. She started to exchange letters with the writers of the books and published article in De Holladsche Lelie magazine, under her father's name, Raden Sosroningrat, a Jepara regent.
Hanung explores Kartini's struggle to find herself while facing many objections from people around her when she tries to break the tradition, including from her older brother Slamet Sosroningrat, her stepmother Moerjam and her father's colleagues. "I want audience to learn from this movie, not only from the message in dialogues, but also her attitude and activism."
The lead actress, commonly known as Dian Sastro, said her preparation for the role involved reading tons of materials on Kartini's activism, including those not published in Indonesia, "It feel like doing my final thesis for university. It's hard to trace all the resources." She also visited Kartini's grave in Rembang and her house which was maintained very well.
"I always have a strong concern for women's role the progress of a nation. Kartini is a very respected feminist icon. I am grateful to be cast for this role, and I hope I live up to people's my own expectation."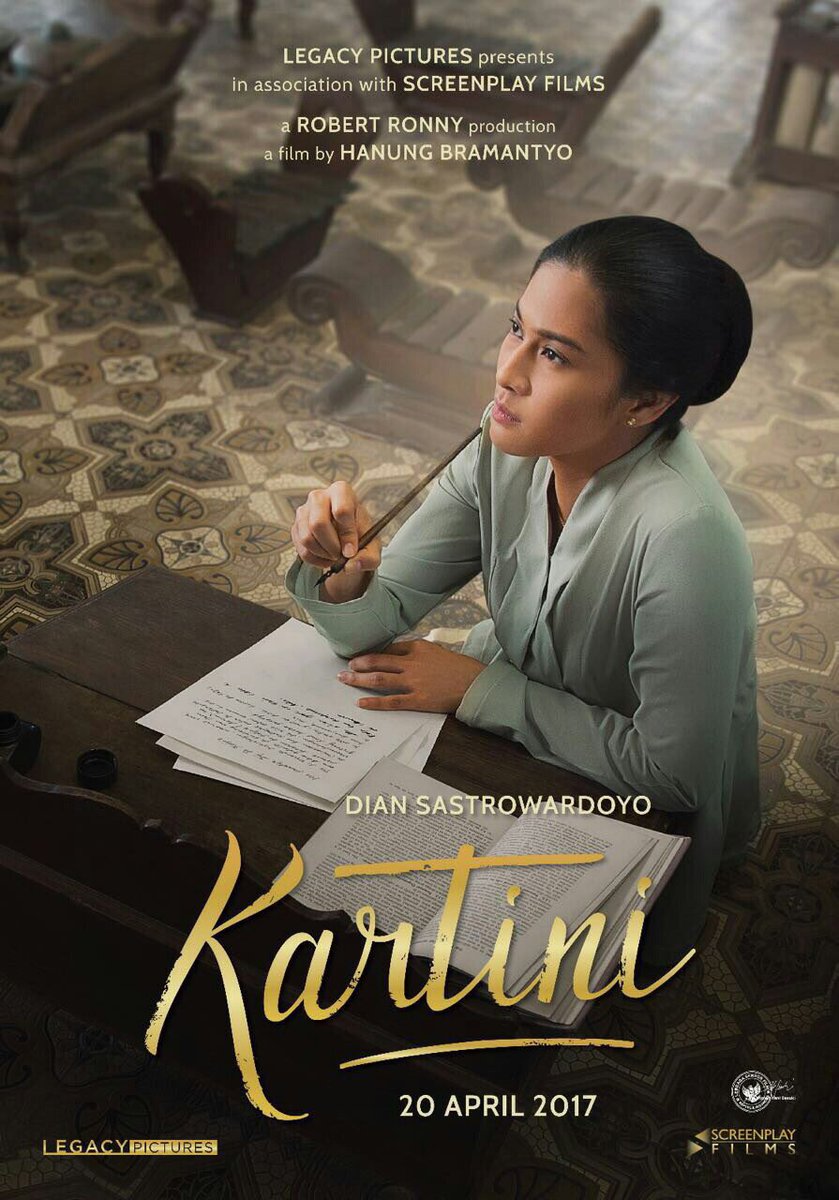 With estimated budget up to Rp 12 billion or nearly 905 thousand USD, the movie attempts to present the early 1900s feel to the screen as accurate as possible. "We build a studio set for Kartini's house, carriages, different carriages for regent, regent's wife, governor generals, and so on."
Originally slated to be released on Kartini Day 2016, the film's release date was pushed back for one year.
Proud
38%
Sad
0%
Excited
0%
Indifferent
0%
Inspired
50%
Amazed
13%