Credit by Japan © Japan National Tourism Organization
Japan is rolling out the red carpet to visitors from Muslim nations, with qiblah(arrows pointing towards Mecca) appearing in hotel rooms, prayer rooms being signposted in airports and commercial complexes, and halal food becoming a staple in restaurants and the cafeterias of companies that conduct business with firms from Muslim states.
There has been a steady growth in the number of Muslims opting to settle in Japan. Halal meals first became available on menus about a decade ago, but the nation's recent tourism boom is driving supply and demand.
Driven by a growing demand, halal tourism is one sector that is powering the Islamic economy. It should be of no surprise then, that today, Muslim-friendly travel has transcended the paradigm of the Islamic economy to become a major sector within the wider global economy itself.
According to a recent report by the Dubai Islamic Economy Development Centre (DIEDC), global Muslim spending on travel (outbound) is currently estimated to be $142 billion (excluding Hajj and Umrah) making the Muslim travel market 11 per cent of global expenditure. No wonder even non-Muslim markets from Spain to Japan are vying to invest in this market.
The total number of tourist arrivals in Japan in 2016 surpassed 24 million, well ahead of the 20 million target set by the national government for 2020. And tourists from Muslim nations accounted for a growing number of the arrivals.
According to the Japan National Tourism Organisation (JNTO), nearly 271,000 Indonesians travelled to Japan in 2016, up from just 63,000 in 2009. Similarly, more than 394,000 Malaysians arrived last year, up from 89,000 seven years ago.
"There have been a combination of factors that are behind these impressive figures, including the low yen rate, which has made holidays in Japan much more affordable for people from Southeast Asia, in particular," said Susah Ong, deputy director of the JNTO office in Singapore.
"But I also think that the Japanese travel sector has become more receptive to overseas visitors," she said.
Business operators also see Muslim consumers as a significant opportunity.
East Japan Railway Co. (JR East) will open its first prayer room at Tokyo Station on June 5 to serve the growing number of Muslim visitors traveling through the center of the capital.
The prayer room will be set up in the JR East Travel Service Center, a tourist information facility at the Marunouchi north exit of the station. Visitors can use the prayer room for free, regardless of religion.Some airports in Japan have already set up prayer rooms. West Japan Railway Co. operates a prayer room at Osaka Station while Nankai Electric Railway Co. runs one at Nanba Station, also in Osaka.
Running alongside the first Tokyo Modest Fashion Show in November was the third Halal Expo Japan, organised by Halal Media Japan.
"Japanese food is often looked at with curiosity, and Japanese halal exporters may find this curiosity surrounding their products to be an advantage and a window within which to make a very good impression," said Sami Hamdi, the founder of online magazine The National Interest.
It is worth noting that many Muslims who visit Japan are often surprised at its unique flavour combinations such as green tea in confectionery, something currently unavailable in many parts of the Muslim world, Hamdi said.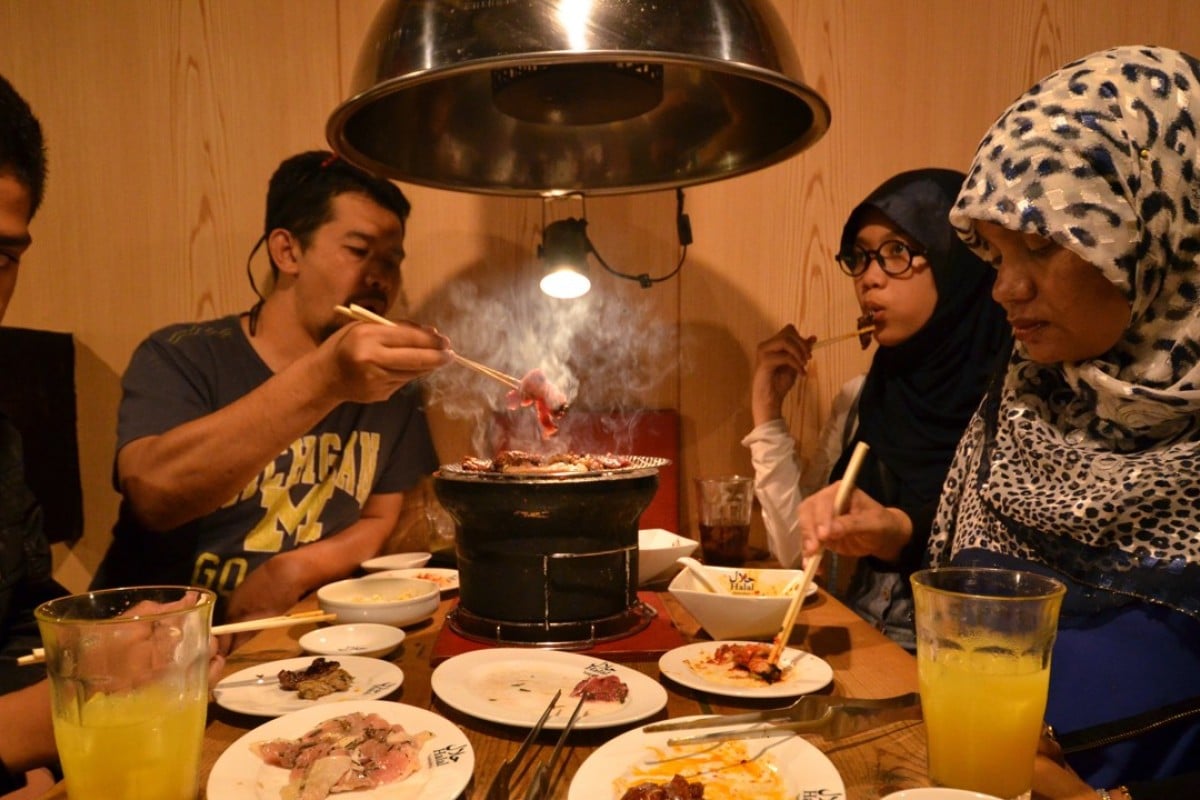 Mohammed Naji Matar joined Osaka-based Miyako International Tourist Co four years ago. He was tasked with starting up the company's Muslim business and says he believes there are plenty of opportunities in Japan's travel sector.
"It is already easier to come here, because of the visa situation and the increase in flights, and foreigners know that Japan is safe and clean and the people are hospitable," he said. "Once
Once halal food is more readily available, then I think even more people will want to come here."

Source : South China Morning Post | Asahi Shimbun | Khaleej Times
Proud
100%
Sad
0%
Excited
0%
Indifferent
0%
Inspired
0%
Amazed
0%