If you're in a country where both of these two giant start-ups of Grab & Go-Jek are made available for you to leisure and experience their services, which will be your definite, top choice?
For this round, Seasia has listed down the fast facts that describe Grab and Go-Jek's businesses that might be helpful for you to decide which one will serve their best.
Grab (formerly GrabTaxi) - On-Demand Transportation Service
Originally established in 2012 as MyTeksi in Malaysia, GrabTaxi is a Southeast Asian focused taxi-booking app founded by Harvard Business School graduates Anthony Tan and Tan Hooi Ling.
The idea for GrabTaxi first started when Anthony Tan was a student at Harvard Business School and a classmate pulled him aside to gripe about how hard it was to hail a cab in Malaysia.
Tan drew up a business plan for an Uber-like service that won backing from angel investors, leading the youngest of three brothers to quit the family business in 2012 to start GrabTaxi, a mobile application that assigns available cabs nearby to commuters using mapping and location-sharing technology.
Indonesia's Go-Jek - A Motorbike Taxi Service
TechCrunch through its article stated that Go-Jek started out as a pure bike taxi player — because two wheels are an efficient way to navigate the congested streets of Asian megacities like Jakarta, but it has also somehow expanded into four wheels with its GoCar private car service and a partnership with the local taxi firm, Blue Bird.
Last year, Go-Jek has acquired some Indian tech muscle in the form of four startups: C42 Engineering, CodeIgnition, Pianta, and LeftShift. With it, the bike taxi company also opened a technology center in Bangalore, its first overseas office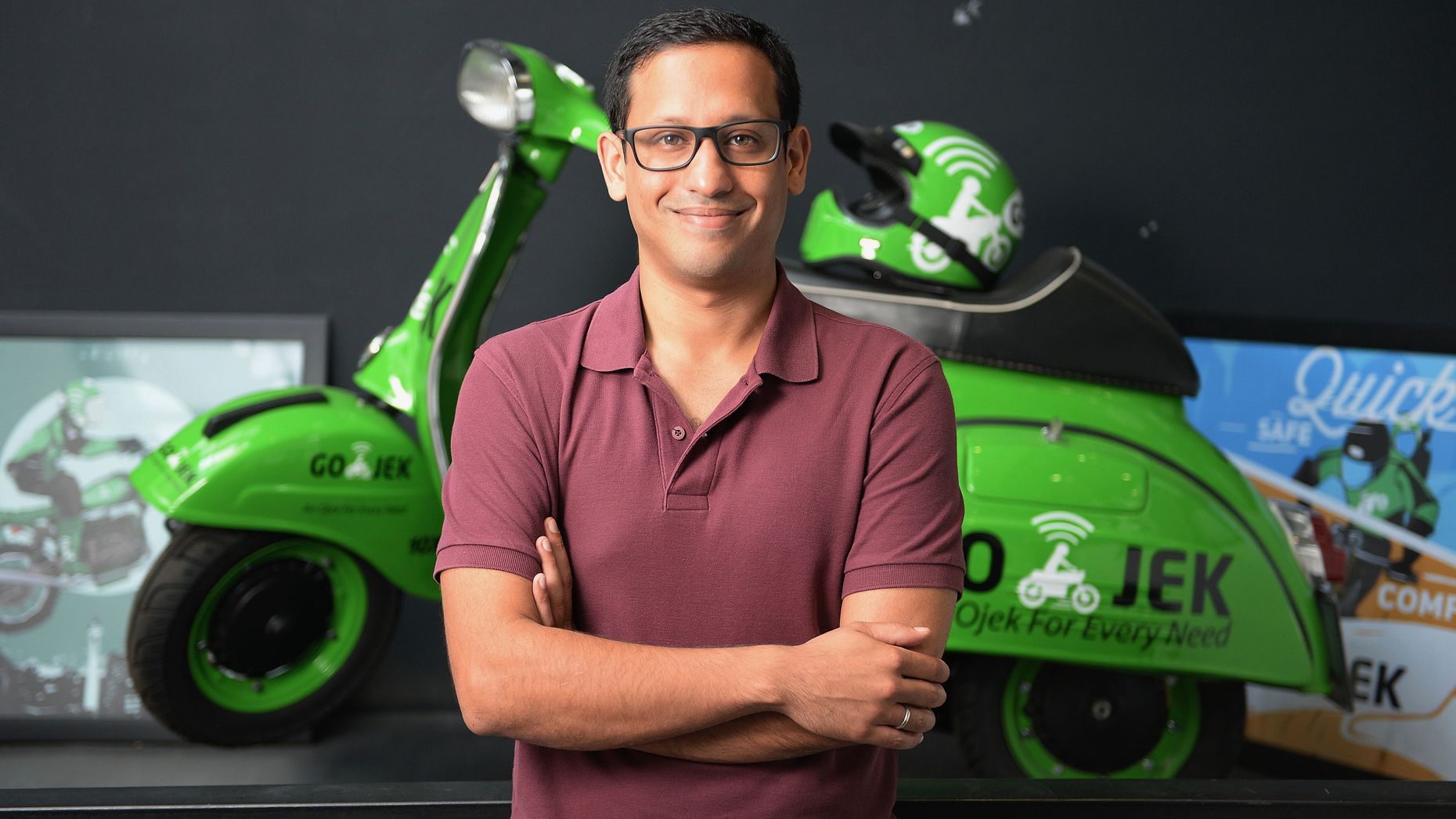 We couldn't resist ourselves from revealing more information about both Grab and Go-Jek, here, therefore, what you should at least know about Grab AND reasons why Go-Jek claims it is beating international rivals Uber and Grab at home in Indonesia;
GRAB
Headquarters: Singapore
1. The number of Grab app download: 3.8 million times (Last updated April 8, 2015)
2. The average number of daily rides in Grab: 2.5 million daily rides (Last updated July 5, 2017)
3. 100,000 drives (March 2017)
4. By January 2017, Grab became the most installed app
5. Operates in six countries; Malaysia, Singapore, Indonesia, Thailand, the Philippines and Myanmar, over 55 cities
6. Services available are; GrabTaxi - book a budget or premium taxi from Southeast Asia's largest network of drivers; GrabCar - ride in comfort in a private car and pay a fixed fare that is agreed up front; GrabBike - get around the city in simply the quickest way possible; GrabExpress - send your parcels and documents with a delivery service you can trust; GrabHitch - hitch a ride or give someone a lift with our carpooling community
7. Grab is reportedly in talks to raise up to $2 billion from Japan-based SoftBank and China-based Didi Chuxing. The funding would reportedly value Grab at more than $5 billion.
GO-JEK
Headquarters: Jakarta
1. Go-Jek gathered 45 million downloads as of end-May, this year
2. (Over) 1 million transactions per day (May 2017)
3. 250,000 drivers (May 2017)
4. By January 2017, Go-Jek leads the number of active users
5. Operates in 25 cities in Indonesia
6. Services provided covers; Go- Food, food delivery service; Go-Car, car hailing service; Go-Kilat, its package delivery service; Go-Pay, its mobile wallet; Go-Massage, home spa and massage service booking; Go-Clean, house-cleaning service booking; Go-Auto, vehicle maintenance service booking; Go-Glam, beautician booking service
7. In May, TechCrunch reported that Go-Jek had closed a massive US$1.2 billion round, supposedly led by the Chinese internet giant. If this is materialized, Go-Jek will have a market value at $3 billion.
8. Recent development stated that Tencent Holdings Ltd has invested around $100 million to $150 million in Go-Jek.
Source : Tech In Asia, TechCrunch, Go-Jek & Grab, Channel News Asia