Credit by Financial Tribune
ECONOMY
Beyond
China is Creating the World's Largest Power Company
The government of Chinese President Xi Jinping approved the merger of Shenhua Group Corp., the country's top coal miner, with China Guodian Corp., among its largest power generators, the State-owned Assets Supervision and Administration Commission said on Monday.
According to Bloomberg New Energy Finance data the joint companies will command combined assets of $271 billion and will have installed capacity of more than 225 gigawatts.
Both Guodian and Shenhua have subsidiaries with shares traded on stock exchanges in Hong Kong and Shanghai.
The generation capacity of the new energy behemoth will be 77% coal-fired, 14% wind power, 8% hydropower, and 1% solar power generation capacity, Bloomberg reported.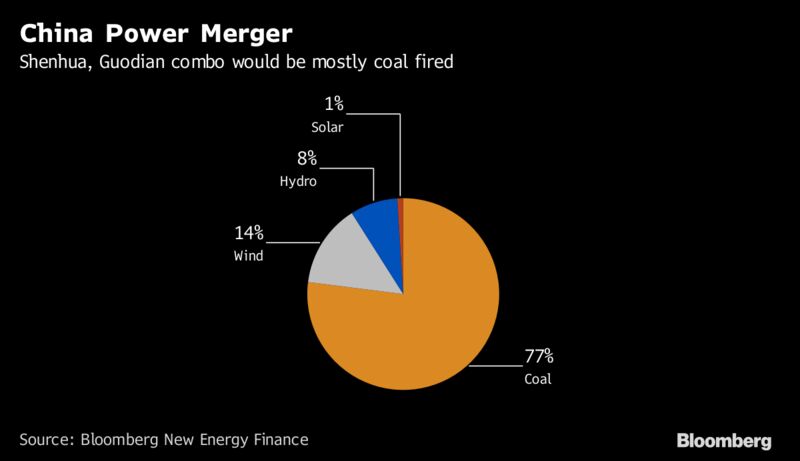 The Shenhua-Guodian tie-up may be the first among a handful of possible mergers in China's power industry. This is part of Chinese government's efforts to streamline power operations and reduce the number of state-owned enterprises.
Back in June, Bloomberg reported that Shenhua and Guodian were in talks to merge, quoting people familiar with the situation. Talk of the possible merger has been circulating for several months.
"People have been waiting for the other shoe to drop," said Tian Miao, a Beijing-based senior analyst at Sun Hung Kai Financial Ltd. "This confirms the direction of state-owned enterprise reform, with companies in the same industry merging to reduce redundant investment and improve efficiency."
Shenhua Group, which will change its name to China Energy Investment Corp., "The union of coal and utilities means both Shenhua and Guodian will balance their risks from commodities, but it will not necessarily boost its profit level," Li Rong, power analyst with SIA Energy, told Reuters.
The new company will have installed capacity of more than 225 gigawatts, topping Electricite de France SA and Enel SpA, according to Frank Yu, an analyst at Wood Mackenzie Ltd.
EDF, as the French generator is known, had net installed capacity of 137.5 gigawatts last year, according to a company presentation. Italy's Enel had total installed capacity of 83 gigawatts as of June 30, it said.
Last June, China just switched on the world's largest floating solar power plant in the city of Huaian, in China's eastern Anhui province, as reported by World Economic Forum.
Proud
33%
Sad
0%
Excited
0%
Indifferent
0%
Inspired
33%
Amazed
33%