You don't get to be ranked Asia-Pacific's number one military might by sitting back and watching the rice grow. Indonesia's well-equipped land, sea, and air force is complimented by formidable special forces troops who undergo rigorous training, including with live ammunition.
Among the Indonesia special forces forming its land sea, and air forces are: Bravo Detachment 90, Denjaka, Detachment 88, INSFOC, Kopaska, Kopassus, Mobile Brigade Corps (Brimob), Paskhas, Paspampres, Taifib, Tontaipur.
The video below from Paskhas, a special infantry corps of the Indonesian Air Force also known as the 'Orange Berets' because of the colour of their service headgear, shows members of the unit undergoing what they call 'Dopper' – extreme special forces training – at an undisclosed military base somewhere inside the archipelago.
The video begins with three potential (if they survive) special forces trainees wading through the thick sludge carrying an assault rifle and wearing a helmet. A drill sergeant orders the recruits to 'adopt the position' and, after telling them to "say your prayers", orders them to commence crawling.
As the recruits crawl shouting the word "commando', two instructors atop a tower fire dozens of live rounds in their direction from ageing AK-47 assault rifles, the splashes from the pools of water an ominous indicator of how close the 17.9g (122gr) copper-plated steel jacketed projectiles travelling at some 715m/s (2,350 ft/s) are landing. Despite the fusillade, the recruits continue forward – just as they would be expected to do in combat.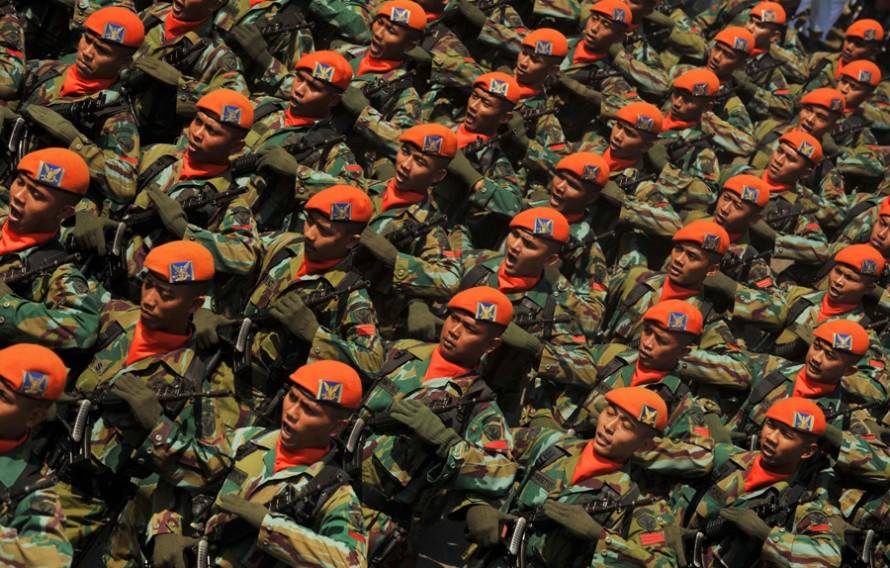 As the recruits near the end of the gruelling course applause can be heard coming from off camera, with the recruits blending chameleon like into the muddy terrain.
According to the Indonesian military, the 'Dopper' training is designed to mentally toughen special forces soldiers and instil self-control by replicating real-world conditions they could face during combat, with all live firing done by experienced sharpshooters.
However, while a favourite of Warsaw Pact countries since its creation in 1946, the AK-47, or Kalashnikov's Automatic Rifle' to give it its proper name, is far from one of the most accurate assault rifles ever built. When new it produces a four-inch (10.16cm) group at 100 yards (91 metres), which over time expands out to a 5.8-inch group; Meaning a bullet could land up to 5.8 inches (14.73cm) from the point it was aimed at over a distance of 100 yards.
What they lack in accuracy the AK-47 well and truly makes up for with robustness though, with more than 75 million AK-47's having been built.
Indonesian armed forces only use the AK-47 in training these days, its armed forces equipped with some of the latest firearms from manufacturers such as Heckler & Koch, Uzi, Steyr AUG, and FN Herstal.
Source : https://aecnewstoday.com by Paul Treacy