Telegraph Travel's rail experts suggest the best train journeys across Asia for 2018 as listed here; make sure to try out this year, travellers!
1. JUNGLE TRAIN - MALAYSIA
The 300-mile (480km) Jungle Train was built by the British to harvest Malaysia's tin, rubber and tea. It still weaves through defunct mines, rubber estates and vast tea plantations.
There's no dining car, but vendors dish out pandan leaf wraps of lamb curry for pennies. The rural lifeline also transports dried fish, aubergine, tea and peppers plus the nation's mail. The only remaining "jungle" section is in the north, where precipitous cliffs tumble into surging brown rivers. By night the 12-hour journey is magical. A vast communal sleeping car has comfy curtained-off bunks bolted to the wall.
2. EASTERN & ORIENTAL EXPRESS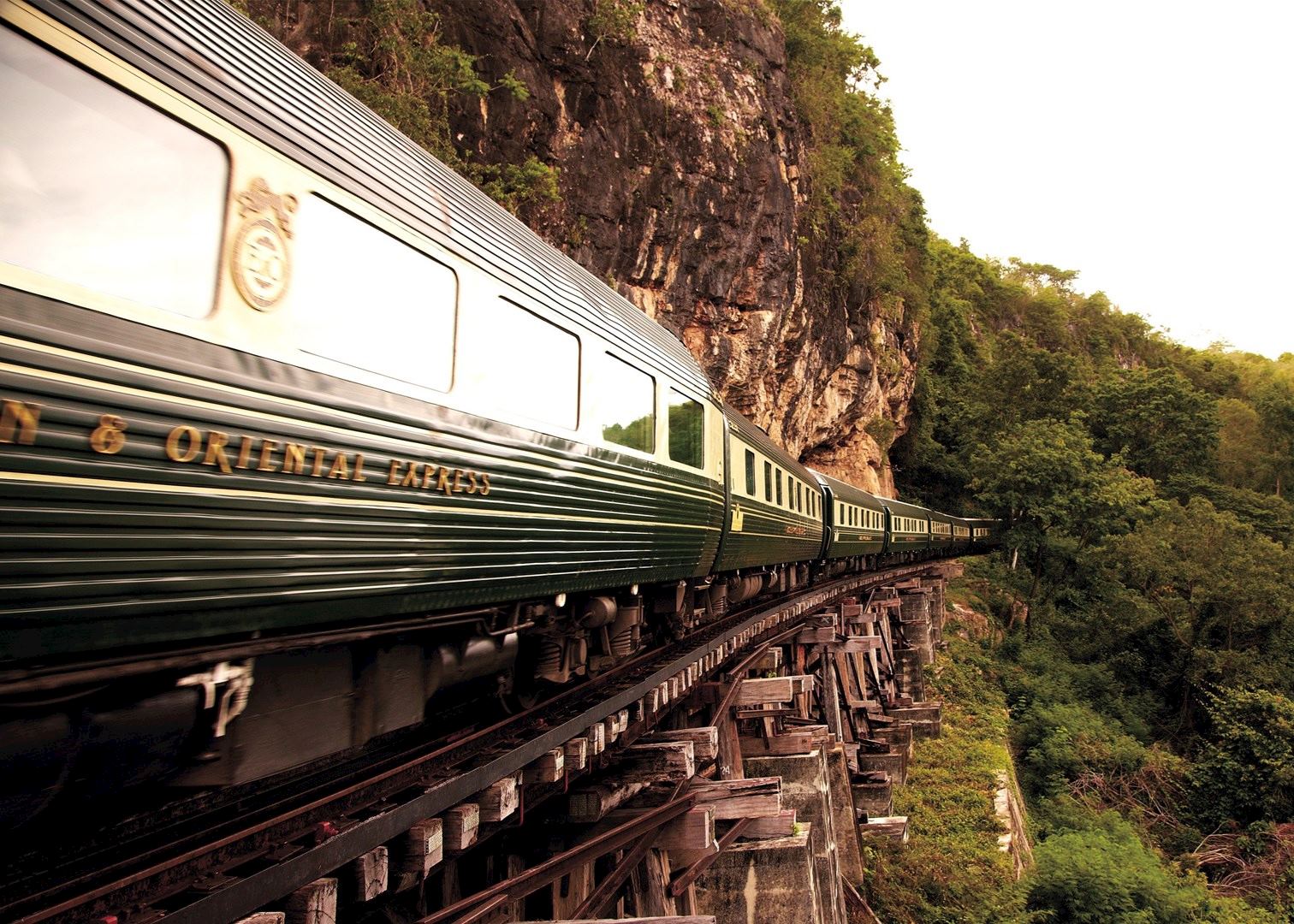 The emerald green of the Eastern & Oriental Express turns heads at Bangkok's majestic Hua Lamphong Station.
Sleeping compartments are akin to Queen Victoria's private boudoir. Even the least expensive Pullmans have en suite shower rooms and the same feather pillows found on their sister service, the Venice Simplon-Orient-Express.
Two gourmet dining cars (food is included in the price) are styled like a Parisian restaurant salon. That said, the favoured carriage is the open-air observation car that places passengers within a touching distance of verdant jungle and sapphire sea.
3. DHAKA TO SREEMANGAL, BANGLADESH

The prettiest line in Bangladesh.
From the Technicolor artery of Dhaka's Buriganga river, the Intercity chugs four hours up-country past towering mosques and Hindu temples.
Midway the superannuated diesel pulls through banana fields and raucous savannah. When the carriages rattle into Sreemangal it's all lemon groves, pineapple plantations and fields of tea. Along the same route runs an 11-hour sleeper, the Surma Mail night train, which costs around £4.50 per berth. Rail enthusiasts may also ride the new Bangladesh-India line from Khuna to Calcutta, which opened in late 2017.
4. MUMBAI TO GOA, INDIA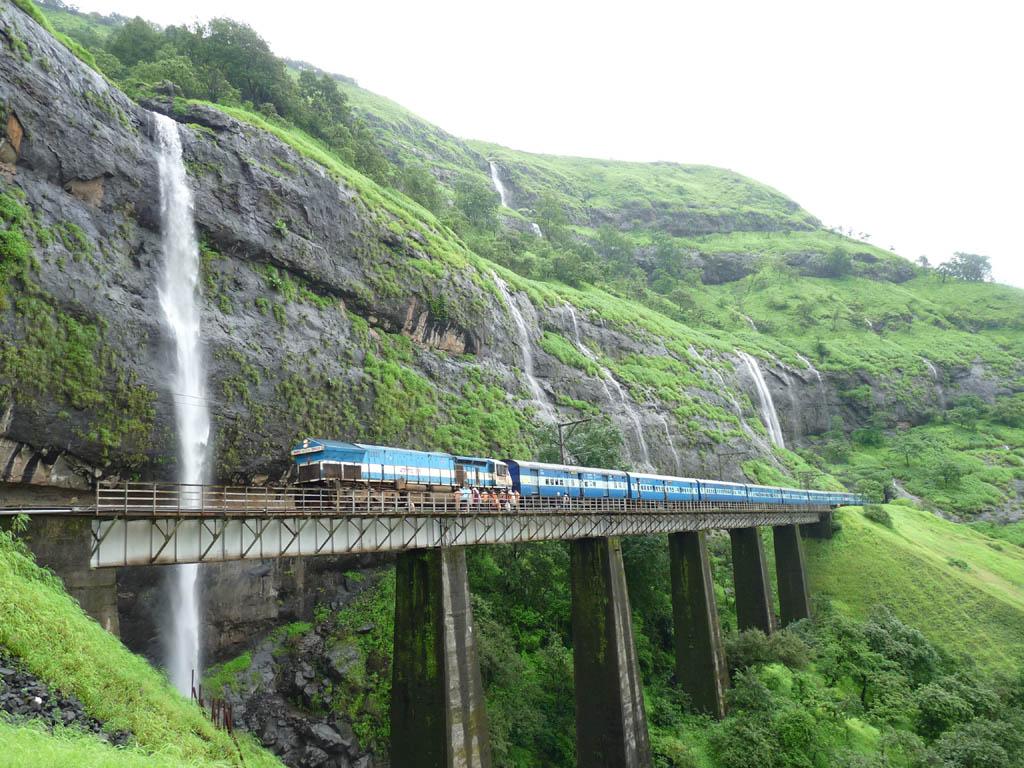 5. KUNMING TO HANOI
The 350-mile (563km) mountain route from China to Vietnam was carved by the Chemins de Fer de L'Indo-Chine in 1910. Since then the cross-continental route has been snipped, bombed, re-routed and closed by landslides, until it reopened in 2014.
The journey can be made in 16 hours, with a soft sleeper cabin through Vietnam. But it's far better to break it up with side trips to China's Tiger Leaping Gorge and the Stone Forest of petrified rock. The route then races downhill through the rice terraces of Sapa, Vietnam's premier hiking territory, before barrelling through the working suburbs of Hanoi.
6. JAKARTA TO JOGJAKARTA, INDONESIA
If Jakarta is Indonesia's business city, Yogyakarta is the country's cultural capital. Its historic streets and batik workshops – and its bookshops and pavement cafés – form a Unesco World Heritage Site.
Twenty miles north sits Borobudur, the world's largest Buddhist temple complex, another shining Unesco star. The eight-hour route from Jakarta's Gambir station bowls past rice paddies and orchards of tropical fruit, plus the active volcano of Mount Cereme, a popular hiking and spa spot. Orders for chicken and rice ready meals are microwaved in batches then delivered to your seat.
7. BEIJING TO SHANGHAI, CHINA
In 2017 the world's fastest passenger train resumed service. It completes the 819-mile (1,318km) trip from Beijing to Shanghai – twice that of Glasgow to London – in four and a half hours. It's luxury all the way.
Three abreast Business Class seats are comparable with airlines, folding into completely flat beds at the push of a button. The £200 price tag even includes a meal and dedicated VIP lounge.
For £60 a comfy second class seat grants the same whizz-past views of misty mountains and China's rapidly developing countryside. All new sleepers also ply the route for £50 in "soft" class, which features duvets and pressed linen.
8. KANDY TO ELLA, SRI LANKA
Sri Lanka's colonial railway was built to transport tea, and it still meanders through manifold plantations shrouded in morning mist. The tourist-centric first class service uses recently renovated Chinese rolling stock, with a regular glass-fronted observation car pulled behind.
In the second class, train doors are frequently yanked open to allow in forest breezes, while fresh mango and pineapple are served by hawkers en route. The views are immense, not least as the vintage blue train juxtaposes with the bottle green of Sri Lanka's forest interior. A night mail sleeper operates on the same route.
9. YOKOHAMA TO SHIMODA, JAPAN
The Royal Express Japan does luxury rail like no other: to wit, the Fujisan View Express – with wonderful views of Mount Fuji – and the first luxury sleeper train in Japan, the Seven Stars "cruise train" around Kyushu.
In 2017 the new Royal Express put both in the shade. Instead of travelling the long distance, it ushers 100 lucky passengers installed in armchairs across eight carriages from Yokohama to the seaside retreat of Shimoda, a three-hour meander away.
The bar car has a piano. There's even a dedicated children's area with a ball pool. The picture windows promise to crash sea views and take in the hot springs for which Shimoda is renowned.
10. REUNIFICATION EXPRESS, VIETNAM
The Reunification Express takes 36 hours to wind up Vietnam's coast, connecting Hanoi to Ho Chi Minh City and all points in between. However, one could spend a week using the line to hop off at silk towns like the coastal resort of Nha Trang and endless swathes of sand such as those at Da Nang, Vietnam's third-largest city.
The view is a 1,000-mile (1,600km) pastoral parade of pagodas, paddies and conical farmers hats. The sleeper is best booked in one of private operator Livitrans' soft sleeper compartments with comfy bedding and a welcome pack with free beer.
Source : http://www.telegraph.co.uk/travel/rail-journeys/asia-best-train-journeys/
Proud
30%
Sad
3%
Excited
15%
Indifferent
3%
Inspired
3%
Amazed
45%