With Asia's largest air show taking place in Singapore currently, Virginia Harrison of BBC.com wrote on the outlook of Asia's aviation industry.
According to the report, Asia's airlines have more new planes on order than anyone else. Its airports are some of the fastest-growing in the world.
The region is also home to the most popular aircraft journey on the planet and here is where several Southeast Asian 'elements' are spotted.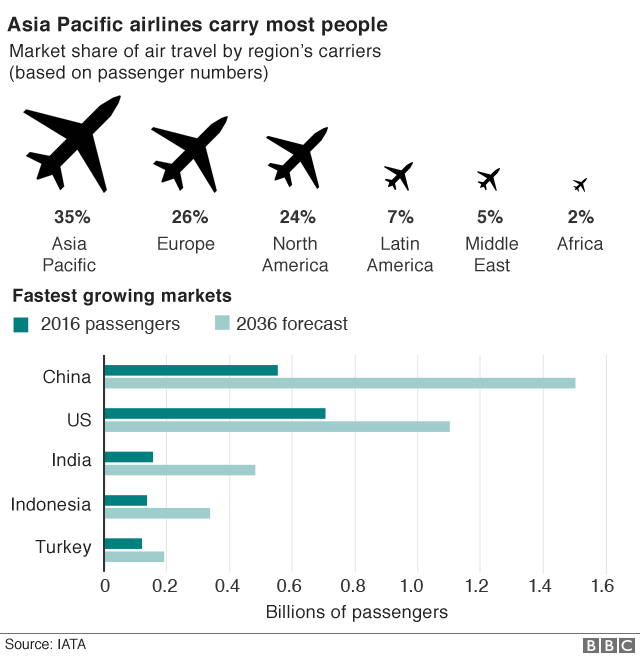 Asia is the world's dominant region for air travel. Of all the passengers which airlines carried globally in 2016, 35% flew on Asian carriers.
And that market share is going to grow.
Every year, tens of millions of Chinese travellers choose to take an aeroplane for the first time.
Airline body IATA forecasts China will comfortably overtake the US in the next two decades to become the biggest aviation market. While there were about 537 million passenger journeys in 2016, that's predicted to hit 1.46 billion by 2036.
From the chart, Indian passenger numbers are expected to more than treble, though it is starting from a relatively low base.
"Growing incomes, a burgeoning middle class and peaking working-age populations... has translated into the rapid rise in the propensity to travel," says Angela Gittens, director general of Airports Council International World.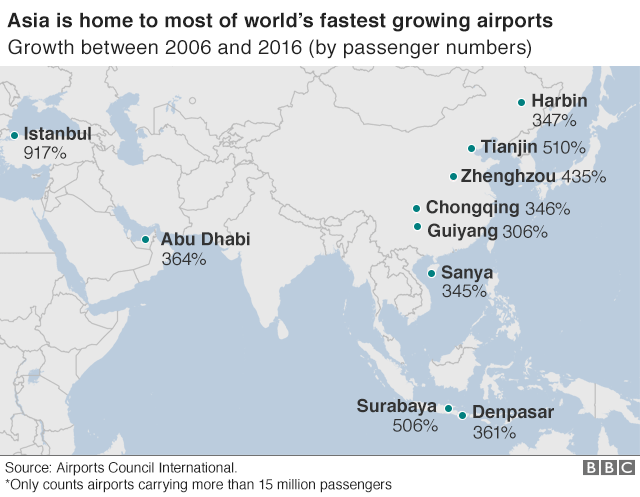 More travellers generally means busier airports (as well as new ones being built).
And Asia has eight of the ten fastest growing airports on the planet, according to Airports Council International.
Of those eight, six are in eastern Chinese cities like Tianjin, Zhengzhou, Harbin and Chongqing.
Tianjin, for example, had just 2.7 million passengers in 2006 but in 2016 it saw more than 16.8 million people using it.
Remember though, busier isn't always better. China has one of the worst records for on-time departures in the world.
Indonesia also has some rapidly expanding airports, including Surabaya and Denpasar in Bali.
While the latter is an indicator how much the holiday island has become a destination for tourists, Surabaya's growth is largely down to Indonesia's booming domestic aviation market.
When measured by volume of passengers, Beijing and Tokyo Haneda and Shanghai all make the list of the world's top ten busiest airports - a list that is incidentally topped by Atlanta.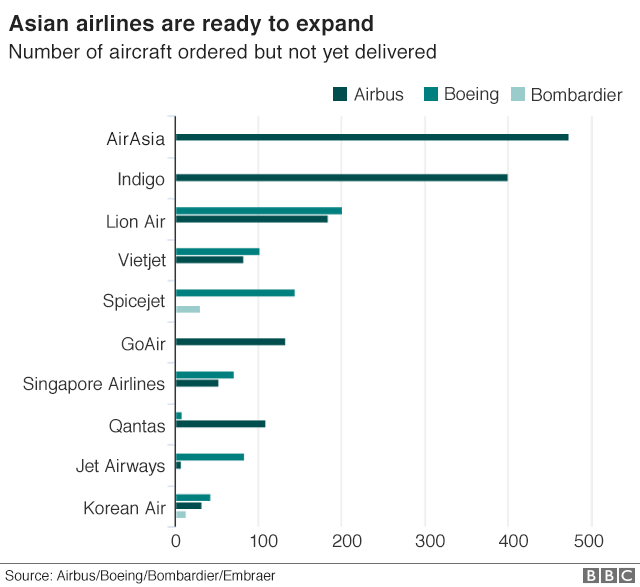 To see which carriers are expanding the fastest, there's no perfect measurement. But one decent indicator is to look at outstanding orders for new planes.
It's a snapshot of which airlines are going to grow.
BBC has trawled the data available from Airbus, Boeing, Bombardier and Embraer. And studying this backlog (the difference between planes ordered and planes delivered) shows that it's Asian airlines who have the biggest future orders.
Using this measurement, Malaysia's AirAsia is currently Airbus's biggest customer, with 472 aircraft still to be delivered.
Meanwhile, Lion Air, an Indonesian low-cost carrier, has split its business between Airbus and Boeing and is waiting for 381 planes.
And in India, the country's airlines apparently positioning themselves to capture the growth in domestic travel as more affluent, time-conscious travellers get off the railways and into the skies.
Indigo has almost 400 Airbus planes due (mainly A320neo) while Spicejet is waiting on 167 jets, some from Bombardier but mainly from Boeing. GoAir and Jet Airways also have sizeable backlogs.
And why Chinese carriers aren't on the chart, the answer is partly that China's early expansion phase is over and its biggest carriers already have large fleets.
There are more on the way of course, with both Airbus and Boeing desperate to tap into that demand. But the volumes of outstanding orders is far lower than the airlines mentioned above.
Source : BBC