If you couldn't get your hands on one of the gigantic unicorn pool floats from Sam's Club before they sold out, here's a better idea: Visit this giant floating unicorn playground in Asia instead.
Located in Subic Bay in the Philippines, about 80 miles west of the capital city of Manila, Inflatable Island is "the biggest floating playground in Asia," per their website.
It's an easy claim to believe, considering that the whole thing covers nearly 36,600 square feet of water—or about eight basketball courts placed side by side—with inflatable slides, bridges, swings, towers and something called a "human launcher."
Here's what it looks like from above.
In addition to the unicorn at the center of the playground, there's also a "wavy dinosaur" and bright blue "seaunicorn" to play on, too.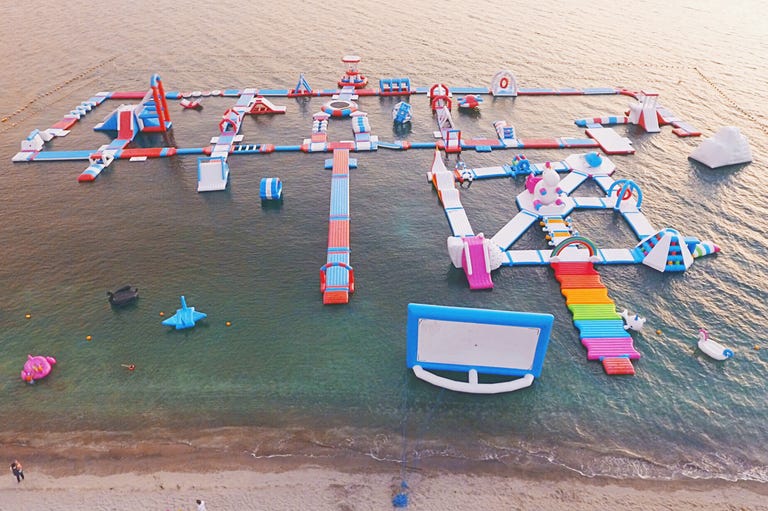 But that's not all. After you exhaust yourself on the unicorn obstacle course, head back to shore to take it easy at the Pink Bali Lounge, a section of the beach decorated with millennial pink and lavender loungers and umbrellas.
For 499 Phillippine Pesos—or roughly $9.60 American dollars—you get access to the beach all day and an hour's worth of time on the inflatable and unicorn islands. But go ahead and splurge for a longer session. A whole day pass, which lasts from 8 a.m. to 5:50 p.m., is only 849 Pisos or just over $16 U.S.
Source : Cosmopolitan.com | wheninmanila.com
Proud
50%
Sad
0%
Excited
0%
Indifferent
0%
Inspired
25%
Amazed
25%