Credit by Cambodian garment workers © IndustriALL Global Union
ECONOMY
Beyond
The New Fashion Label of 'Made in Cambodia' Is Even Possible Now!
The next designer handbag you buy is less likely to bear a "made in China" label, Bloomberg reported.
Fashion companies, eager to diversify their supply chains, were already expanding into production sites in Southeast Asia as alternatives to China. Then the trade war happened.
Now, with tariffs on products such as Chinese handbags set to rise, nations like Cambodia and Vietnam are looking more attractive than ever for consumer-goods makers such as Steven Madden Ltd. and Tapestry Inc.'s Coach.
And while the Trump administration has slapped duties on goods from many of its largest trading partners this year, it's allowed some Cambodian products to continue duty-free access to the U.S. market.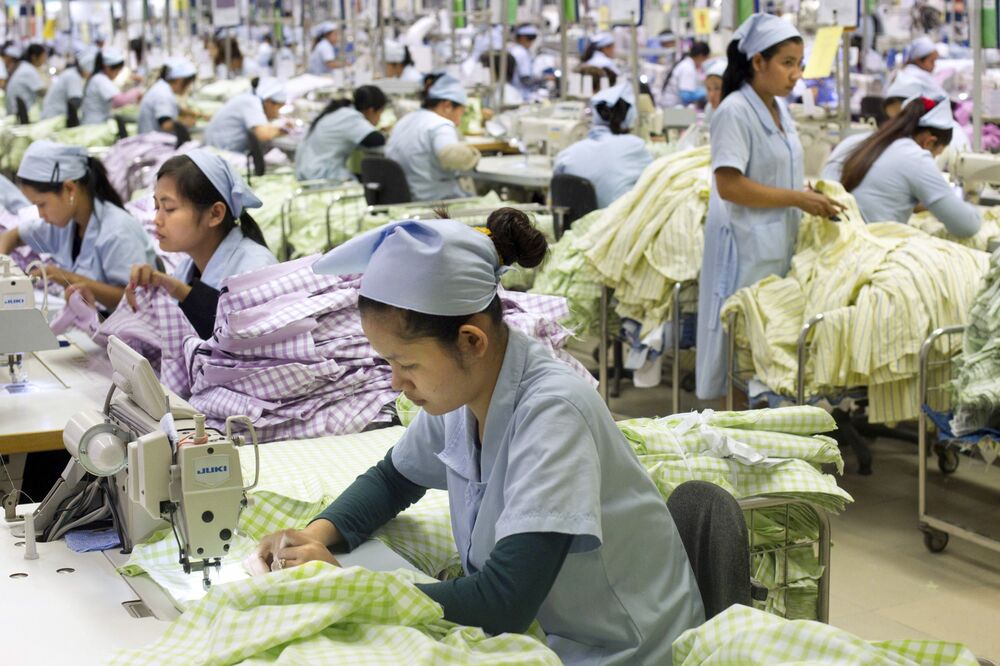 "The shift has been underway," said Steve Lamar, executive vice president of American Apparel & Footwear Association. The talk of tariffs has created "a lot of anxiety" and companies are gauging how fast they can make more changes to their sourcing, he said.
A study released in July by the U.S. Fashion Industry Association showed that, while all of the companies participating in the survey sourced goods from China, 67 percent expected to decrease the value or volume of production in the country over the next two years. U.S. trade protectionism was listed as the number one challenge for the industry.
Moving Output
Steven Madden Chief Executive Officer Edward Rosenfeld said on the company's most recent earnings call that it has been shifting production of its handbags to Cambodia from China. The maker of shoes and accessories sees 15 percent of its handbags coming from Cambodia this year, with this percentage doubling in 2019.
"That gives us frankly about a three-year head start on most of our peers, because many folks are just now trying to make that move," Rosenfeld said on the July 31 conference call. "Our head of handbag sourcing is actually over there right now, working on a plan to ramp that up."
Tapestry, the luxury company behind Coach and Kate Spade handbags, has adopted a similar strategy, boosting its Vietnamese production and leaving less than 5 percent of its sourcing from China. Vera Bradley, meanwhile, mentioned last December it is looking at sending manufacturing operations to Cambodia and Vietnam from China.
Investment Incentives
"Cambodia does offer pretty good investment incentives like tax holidays," said Matt van Roosmalen, country manager for Cambodia at Emerging Markets Consulting, an investment advisory firm focused on Southeast Asia. "As long as the tariff exemptions persist, companies will be more incentivized to invest production capacity in Cambodia."
The moves to shift production have had an impact in China: Hong Kong-based Stella International Holdings Ltd. -- which develops and manufactures footwear for brands like Prada SpA and Guess? Inc. -- has seen its stock drop to its lowest point since 2009 as China and the U.S. ratchet up the trade rhetoric.
Cambodia footwear exports rose 25 percent in 2017, while garment exports increased 8 percent in the same period, according to an annual report by the National Bank of Cambodia, which attributed the growth in part to increased demand from the U.S.
Vietnam, meanwhile, has enjoyed a foreign investor-led economic boom for years, attracting billion-dollar investments from the likes of Samsung Electronics Co. and Intel Corp. It is transforming from mainly an exporter of agricultural commodities, such as rice and coffee, to a Southeast Asian manufacturing hub.
"The country enjoys relatively low inflation, a stable currency, and political stability – all of which helps to attract foreign investment," said Adam Sitkoff, executive director of the American Chamber of Commerce in Hanoi. "The opportunities are clear – Vietnam is a country of 95 million people traveling pretty quickly on the path from bicycles to motorbikes to BMWs."
Even before China and the U.S. escalated trade tensions, Cambodia enjoyed duty-free privileges for products such as handbags, suitcases and wallets, part of a U.S. program to help boost development in low-income countries. This designation has so far been maintained by the Trump administration.
In addition to the tariff threat, wages have risen steadily in China, while Cambodia remains one of the lowest-cost countries when it comes to labor. According to estimates provided by Oxford Economics, labor cost in Cambodia is a quarter of China's.
'Not Easy'
Lamar, of the American Apparel & Footwear Association, does recommend caution, however.
"The reality, unfortunately, is that shifting out of China is not easy," he said.
Another reason is that Cambodia's infrastructure is well behind China's. The nation's infrastructure ranked 106 out of 137, behind neighbors Vietnam and Laos, in the World Economic Forum's Global Competitiveness Report.
This can cause difficulties in getting merchandise out of the country, Lamar said.
Source: https://www.bloomberg.com/news/articles/2018-08-19/trade-war-surprise-gives-cambodia-added-appeal-for-u-s-firms?cmpId=flipboard
Proud
33%
Sad
33%
Excited
33%
Indifferent
0%
Inspired
0%
Amazed
0%