Like many a Hollywood star before it, Maya Bay, made famous in the 2000 Leonardo DiCaprio blockbuster The Beach, has become victim of its own success. Over the last five years, its blonde bombshell of a beach, circled by a curtain of wavy limestone mountains and kissed by dazzling jade-green waters, has attracted nearly 10 million people.
But as of last week, it's closed indefinitely to allow the corals and marine life to recover from the devastating effects of overtourism.
Initially, the plan was to close Maya Bay from June to October 2018 so that it could heal. But you don't need to be a marine biologist to know that that was never going to be enough time for a full recovery. Having lived in Phuket, I have seen how the high-season crowds can overwhelm the delicate environment. On my last visit to Maya Bay, I headed to the famous cove not long after sun-up in the hope of getting ahead of the 5,000 holidaymakers that hit the beach daily. But by 8am, barely a square foot of sand was visible and dozens of long-tail boats were parked three-deep along the shore. The engine noise was deafening and the surface of that luminous green water was shimmering with sunscreen and gasoline. It was not an enjoyable experience.
"With so many long-tail and speedboats arriving every day, plus ferries pulling for photo ops, we've seen the shallow corals dying off," said Klaus Thumm, long-time resident and owner of H2O Sportz Phuket. "On top of that, visitors are urinating in the sea – thousands of them - and most of the boats use marine toilets, which they also dump into the water."
Mr Thumm added, "Hard corals grow very slowly, at a rate of just 1cm to 3cm a year. It could take years for a full recovery."
Happily, Thailand – and its neighbours - have dozens of beautiful beaches worth seeking out.
Telegraph.co UK has compiled a list of some of our favourites. Whichever new hot spot you hit, be responsible by removing all of your own rubbish, don't abscond with seashells or sands and use an ocean-safe sunscreen such as All Good Sunscreen Butter (£7.50) – no one wants a repeat of Maya Bay.
1. An Thoi Islands, Vietnam
The diamond-shaped island of Phu Quoc in the far south-western reaches of Vietnam flew under the tourist radar for years. Today much of its shimmering shores come with a construction site soundtrack and increasing beach traffic. But just off the south coast a slice of Eden remains. Pack a picnic and hire a boat from Phu Quoc's port to take you the mesmerising An Thoi Islands, a speckling of 15 isles, secluded coves and colourful coral reefs almost completely devoid of humans.
2. Khlong Rahan, Thailand
The island of Koh Kood on Thailand's eastern seaboard is beautiful, which makes it a miracle that it has remained relatively untouched by tourism. More than a dozen beaches frame the island, each a vision of crystal waters, icy-white sands and tranquil tidal pools, but if you want to ensure the only footprints on the beach are yours, seek out Khlong Rahan's brush of baby-soft white sands. The only company you're likely to have are the hermit crabs which scuttle back and forth.
3. Sok San, Cambodia
You can always find a quiet spot on Sok San, also known as Southwestern Beach, which unravels across seven sandy kilometres on the island of Koh Rong, swaying in the Gulf of Thailand below Cambodia's Sihanoukville Province. From shore, slip straight into an aqua wonderland of seahorses, diamond fish, goat fish and grumpy-looking grouper. In the evening, bioluminescent plankton will flicker and dance in a glitter-fest of light. The tiny star-like creatures are more sparkly the darker it is, so avoid a week around the full moon.
4. Binh Lap, Vietnam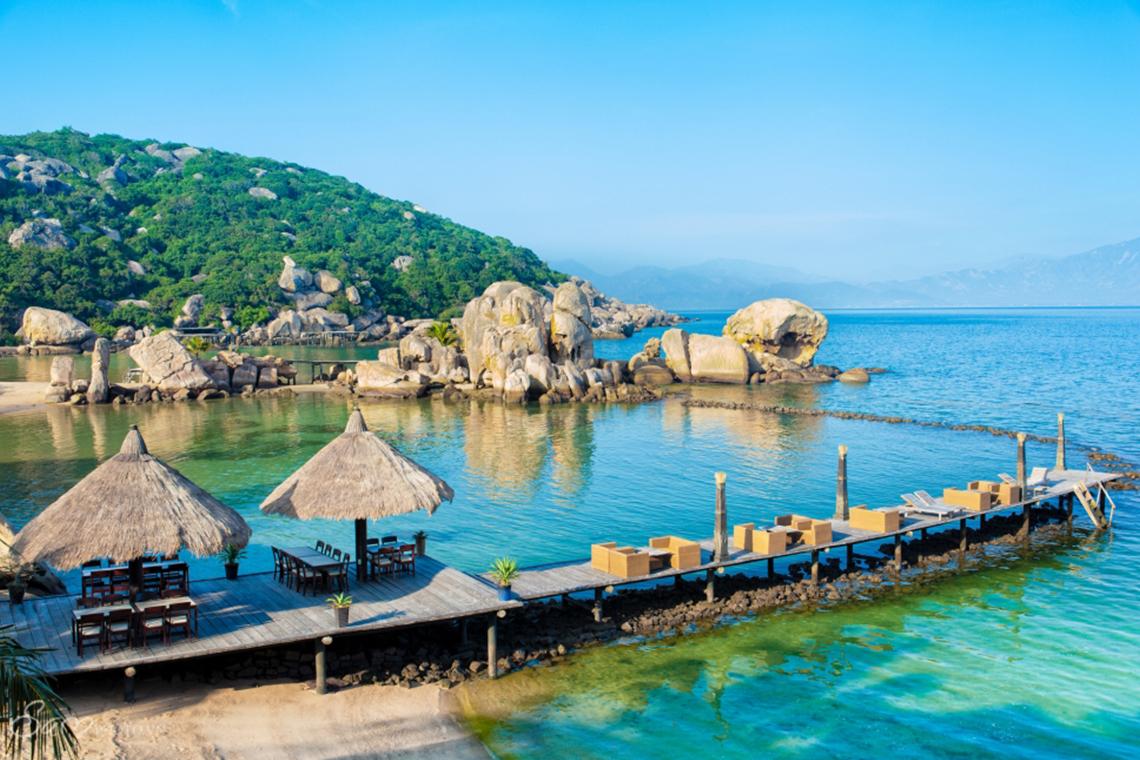 Naval base turned island idyll, Cam Rahn Bay, on Vietnam's eastern flank, is pinch-me perfect – jungle-painted isles, screenwash-blue waters, snowy beaches, and barely another person in sight.
The entire bay is speckled with sensational island beaches, such as Binh Tien, Binh Hung and Na Cu, but the most enchanting of them all is the secluded Binh Lap, a lick of sands dotted with large shiny boulders – more Seychelles than South-East Asia.
5. Pink Beach, Great Santa Cruz Island, Philippines
The Philippine archipelago is made up of 7,640 islands. Parakeet-green mangroves blended with baby-blue waters and salmon sands paint a fantasy backdrop on Pink Beach on Great Santa Cruz. The rosy hue is the result of billions of bits of red organ-pipe coral eroding into tiny fragments, scarlet chunks of which can be seen as the sand slips through your fingers. Visitor numbers are restricted (arrange entry through the local tourist board) and facilities are few (pack a picnic) which makes it the perfect spot.
6. Tanjung Rhu, Langkawi, Malaysia
Tanjung Rhu is far and away the most beautiful beach on Langkawi: three kilometres of broad ivory sands fronted by a glassy aquamarine seascape punctuated with dramatic limestone karsts. A handful of high-end resorts, including the Four Seasons Langkawi, are set around this public beach but day-trippers are few, giving the entire stretch the feel of a private escape. If you're looking for something to do, swathes of shadowy mangrove forest frill its edges and make for fabulous kayaking.
7. Tubkaak, Thailand
It's only 20 kilometres along the coast from Krabi but feels a world away from the millions of tourists that descend there every year. White sand swirls along the shore forming dipping pools and Insta-perfect sandbanks. Long-tail boats wrapped in rainbow-coloured ribbons bob along the luminous green Andaman Sea. Flag one down for a ride over to nearby Hong Island where you'll find another, magnificent M-shaped beach and a secret lagoon hidden deep in the rainforested interior.
8. Don Daeng Island, Laos
Beaches don't get much more secret than Don Daeng's in the wilds of landlocked Laos, which only materialises in the November to April dry season as the Mekong River recedes. Recognised by Unesco World Heritage as as Cultural Landscape, the entire scene looks like something from a 19th century watercolour painting; wide sandy banks, rickety bamboo bridges, baby-faced novice monks puttering past in wooden boats, rice fields swaying on the hills above. The swimming is wonderfully cool and refreshing but stick close to shore to avoid deceptively strong currents.
9. Pulau Tiga, Malaysian Borneo
A gorgeous 20-minute wind-in-your-hair boat ride from the Sabah mainland lies a cluster of small islands which burst to the surface as mud volcanoes in the late 1800s. Two centuries later, they were made famous as the setting for the first series of both the British and American versions of the TV show Survivor. And while not exactly a secret, the island's earthy beauty remains intact. There's plenty of vibrant marine life – fan corals, parrotfish, green turtles - to keep snorkelers happy, while inland there are warm gooey mud pools for a DIY spa.
Source : Telegraph.co UK