Credit by Asia PR Werkz | Amit Saberwal, founder and CEO of RedDoorz
ECONOMY
Singapore
Singapore's RedDoorz Raises US$70 Million to Target Budget Travellers
Singapore's hotel booking and management platform RedDoorz has raised US$70 million in an ongoing funding round, its second this year, as it targets the region's growing breed of domestic travellers seeking budget accommodation options, Channel News Asia reported.
Singaporean private-equity firm Asia Partners led the round, with participation from Japan's Rakuten Capital and Mirae Asset-Naver Asia Growth Fund, a joint venture between South Korea's Mirae Financial Group and Naver Corporation, and existing investors, RedDoorz said in a statement.
The company will use the fresh funds to launch in new markets, boost hotel staff training programmes and build a technology hub in Vietnam, its second after India. Currently, the startup operates in 80 cities across Indonesia, Singapore, the Philippines and Vietnam.
The latest funds will help Saberwal fend off SoftBank-backed Indian lodging startup Oyo Hotels and Homes, which plans to pour $100 million into Indonesia -- the largest market for RedDoorz -- as part of a global foray that encompasses the U.S.
Both startups are riding a surge in independent travel as younger Asians grow more affluent and develop a taste for going it on their own. By 2022, Southeast Asia should host a middle class of 350 million, according to Bain & Co. There are 125,000 budget hotels in the three-star or below segment and RedDoorz aims to grab 2,000 of those by the end of this year.
Similar to Oyo, RedDoorz signs on budget hotel owners, provides them with software and standardized supplies, and trains their staff. They split the revenue. Unlike Oyo, Saberwal said he prefers to focus on Southeast Asia. He's gearing up to enter Malaysia and Thailand this year before expanding to other nations like Cambodia.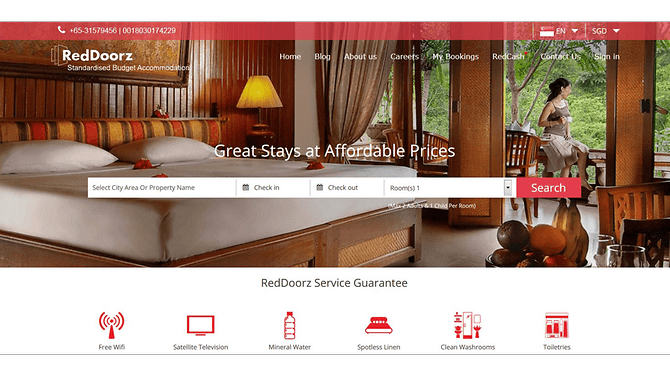 The startup, which has raised $140 million to date, has been seeing "tremendous interest from investors, so it is decided to do a back-to-back rounds," said Amit Saberwal, founder and CEO of RedDoorz, in an interview with TechCrunch.
Saberwal wants to build a company with a valuation of $1 billion by next year, possibly $5 billion in two to three years, by which time he hopes to take RedDoorz public.
"It is an entrepreneur's dream to take his or her company to a logical conclusion. And I think the most logical way for us to do is an IPO," he said to Bloomberg.
Proud
100%
Sad
0%
Excited
0%
Indifferent
0%
Inspired
0%
Amazed
0%