The Dubai-based international award-winning airline announced on Monday its plan to launch a new daily service from Dubai (DXB) to Penang International Airport via Singapore from April 9, 2020, Gulf News reported.
Emirates operates quite a few fifth freedom flights (where they're flying between two countries other than the UAE), and they've just announced their latest such route.
Passengers will be able to book Emirates between Singapore and Penang, or can book it as part of a larger itinerary connecting to Dubai and beyond.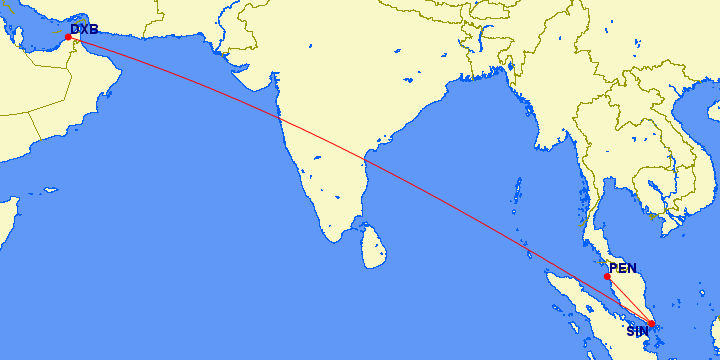 Penang will be Emirates' second destination in Malaysia, after Kuala Lumpur, which the airline currently serves with three daily flights. According to Forbes, its planned service from Singapore to Penang is short at 373 miles, although not as brief as Emirates' fifth freedom flights between Luanda and Harare (250 miles), Accra and Abidjan (260 miles), or Bangkok and Phnom Penh (313 miles).
From Changi airport, Emirates has fifth freedom flights to Brisbane, Colombo, and Melbourne.
The flight will depart Singapore at 15:35 and arrive in Penang at 17:15. It will depart Penang at 22:20 and arrive in Singapore at 23:50.
Malaysia's second largest city - Penang
Located on the North-western coast of Malaysia, the state comprises a mainland portion as well as an island, connected by Malaysia's two longest road bridges. Penang is the country's second largest populated city and is known for its rich heritage and architecture, vibrant multicultural society, modern entertainment and retail options, cuisine as well as the natural beauty of its beaches and hills.
The city is home to a Unesco World Heritage Site and a variety of tourist attractions. Besides its appeal to tourists, Penang is also considered to be an economic powerhouse in Malaysia, being an important trade and industrial city and attracting business travellers from around the globe.
"Penang is a major centre for tourism, business travel, as well as medical tourism and the increased levels of inbound travel is consistent with the growth in numbers of visitors to the country," said Adnan Kazim, Chief Commercial Officer at Emirates.
Proud
100%
Sad
0%
Excited
0%
Indifferent
0%
Inspired
0%
Amazed
0%