Petronas Tower still holds the record as the tallest building in Southeast Asia. Its stunning height shapes Kuala Lumpur skyline, and becoming an icon for Malaysia. But, apparently this record will not stay very long. A new building, tall, very tall building is under construction in Kuala Lumpur and it hosts 118 floors and certainly will be among the tallest in the world.
The KL118 Tower (known as Menara Warisan Merdeka) by state-owned fund manager Permodalan Nasional Bhd (PNB) is set to be among the world's top 10 tallest structures when completed. It would have a top-of-crown elevation of 570 metres and together with the building spire will give it a total official height of 682m. A true new landmark to already-packed-with-tall-buildings Kuala Lumpur.
Currently, the world' tallest structure is Burj Khalifa in Dubai, the United Arab Emirates, standing at 828 metres (163 levels). However, Kingdom Tower in Jeddah, Saudi Arabia, is under construction and it would be the world's tallest, surpassing Burj Khalifa with 252 floors (1,000m) when completed in 2019.
There are other structures in the pipeline, including the Azerbaijan (1,050m), Wuhan Riverfront Erqi Tower (808m) and Qianhai Tower (800m), both in China. The Signature Tower Jakarta in Indonesia will take to the skyline, standing at 638m (113 levels).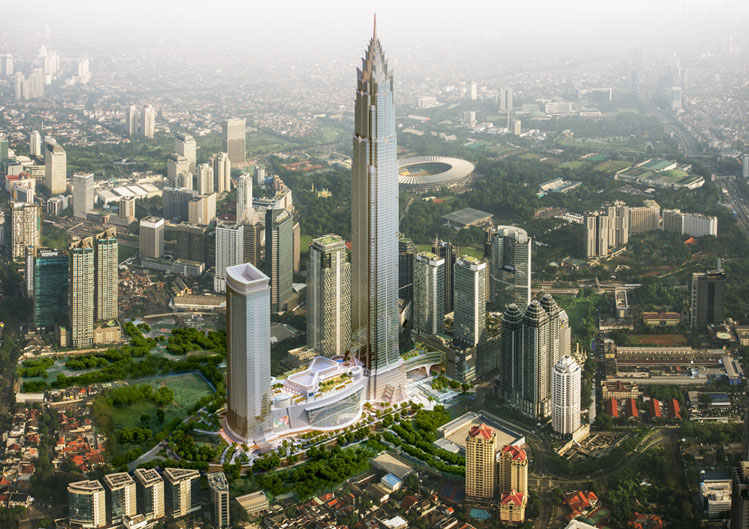 KL118 is part of a larger development complex known as Warisan Merdeka (Heritage Independence), which will feature four residential towers and a shopping mall.
The whole development, located in the vicinity of many heritage buildings, including Petaling Street, Methodist Boys School and Victoria Institution, will take shape on a 7.6ha site located within the area of Stadium Merdeka and Stadium Negara.
KL118 will be connected to a mass rapid transit station. The building will have green features that will enable the company to apply for leadership in energy and environmental design (LEED) and green building intiatives (GBI) ratings.
There will be 105 elevators and escalators which will be supplied by Finnish firm KONE Corp. The top elevator speed will be 10m/s.
Meanwhile, a consortium of South Korea-listed Samsung C&T Corp and its local partner UEM Group Bhd has won a US$505 million (RM2.12 billion) construction job for the KL118 Tower.
Samsung C&T has experienced in building skyscrapers, which include the Petronas Twin Towers and the Burj Khalifa.
Other groups which submitted bids for the construction contract were IJM Corp-Norwest Holdings Sdn Bhd-Shimizu Corp, Malaysian Resources Corp Bhd-China State Construction Enginerring Corp, WCT Bhd-Arabtec Construction LLC, TSR Capital Bhd-Daewoo Group and Seacera Group Bhd-Spaz Sdn Bhd-China's Shinohydro Corp-Shanghai Construction Group.
The first contract for the KL118, worth RM74 million, was won by Pintaras Jaya Bhd for foundation and piling works more than a year ago.
International consultancy firm, Turner International, is the project manager. The company is also involved in TRX-Kuala Lumpur's future purpose-built business district.
(from various sources)