Credit by Komodo dragons in Komodo National Park, Indonesia © Namaste Cruises
Want to befriend the locals? Sometimes the locals of entire islands are cute and friendly, or even dangerous, animals. Check out this list, as some are those located in Southeast Asia!
1. Ursula Island, The Philippines
Ursula Island Game Refuge and Bird Sanctuary features seedlings and saplings which are commonly present at lowland forests. Visitors are only allowed to visit the area after securing permits from the Provincial Environment & Natural Resources Office (PENRO) of Palawan, and even then it is forbidden to enter the fiercely protected wooded area, according to Atlas Obscura.
2. Komodo Island, Indonesia
In Indonesia's Komodo National Park, 1.200 dangerous Komodo dragons coexist with few thousand villagers. Although the 90-kilogram predatory lizards are responsible for some attacks and deaths, villagers say that the dragons are their friends. This island can be reached by tourists by chartered boats or cruise liner.
3. Cat Island, Tashirojima, Japan
As of today, the feral cat population outnumbers humans 6 to 1 on this small Japanese Island. People believe that cats are a good luck charm and take care of them. The cats were originally brought to the island to help with the mice problem as they would horde fishing boats.
4. Assateague Island, Maryland, United States
It's thought that the horses of Assateague Island survived a shipwreck long ago, and they've called this windswept isle their home ever since. Whatever their origins, these friendly animals love a good frolic in the sea or a wander in the wild flower meadows.
5. Seal Island, False Bay, South Africa
Seal Island, which is almost 4 miles long, in False Bay is home to well over 60,000 howling and squalling Cape fur seals. "They're top of the menu for the great white sharks that patrol this area, and there's always a chance to see a spectacular (and bruising) encounter between the two species." The island has no vegetation or human settlers.
6. Rabbit Island, Okunoshima, Japan
Okunoshima, a Japanese island that was once the site of chemical weapons' manufacturing and is now home to hundreds of cuddly, friendly bunnies. There are no natural predators for the rabbits on the island. As a result, there are around 700 of the hoppers hanging out on the island, according to estimates by the island's tourism sites
7. Snake Island, Ilha De Queimada Grande, Brazil
The island is dominated by golden lancehead snake, which responsible for 90 percent of snakebite-related deaths in Brazil. Marcelo Duarte (http://www.atlasobscura.com/places/snake-island-ilha-de-queimada-grande), a biologist who has visited Snake Island over 20 times, estimates there is one snake per square meter, although locals claim it is five snakes per square meter. Reaching the island is dangerous and illegal, except you obtain research permission from Brazilian Navy.
8. Crabs in Christmas Island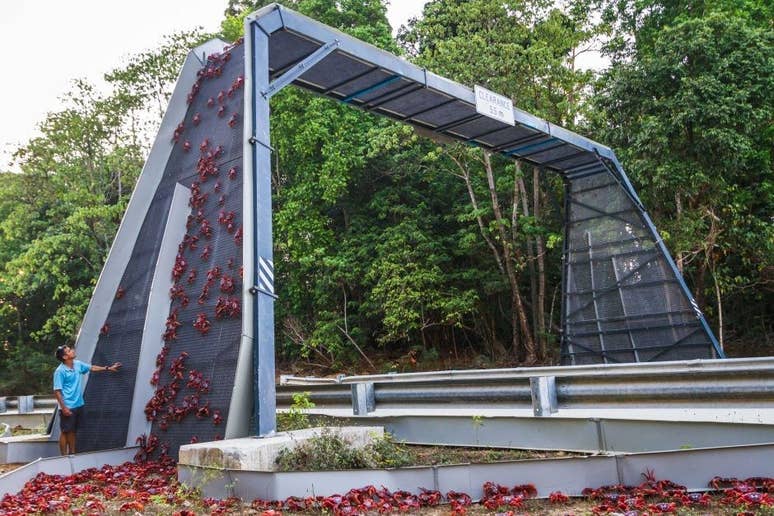 For every one of the 2,000 or so people on Christmas Island, there are 25,000 red crabs. Every year around October or November, 50 million or so adult red crabs abandon their forest homes inland and march to the coast, where they breed en masse and send their eggs into the sea.
9. Pig Island, Big Major Cay, Bahamas
This is an uninhabited island known for being populated by many swimming feral pigs. They participate in all kinds of aquatic activities that visitors to The Bahamas usually enjoy, from snorkeling with tropical fish and sea turtles, to shark and eel sightings, to scuba diving, according to Bahamas.com.

Source : Time | Live Science | Wanderlust | Atlas Obscura
Proud
18%
Sad
9%
Excited
45%
Indifferent
0%
Inspired
0%
Amazed
27%