Credit by Featured Image Caption © Source
Photos have emerged online of the Indonesian Army's (Tentara Nasional Indonesia-Angkatan Darat; TNI–AD) first Boeing AH-64E Apache Guardian attack helicopter. It is undergoing tests in the U.S.
Jakarta has eight AH-64Es on order from a $1.42 billion U.S. deal which includes 140 AGM-114R3 Hellfire-II anti-tank guided missiles (ATGM), spare engines, electronic subsystems, training, spare parts, simulators and other requisite support items. The value of the major defence equipment appears to be $500 million.
Indonesia inked the deal in August 2013 and Boeing received a $296 million order to manufacture the AH-64Es in January 2015. Indonesia will join Qatar and India as among the Apache's new users (the latter is responsible for manufacturing the Apache Guardian's fuselage).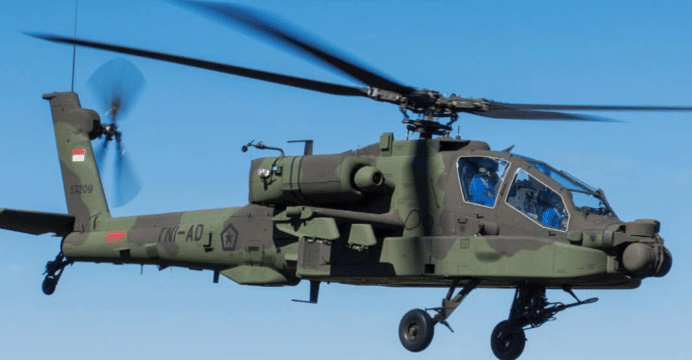 The TNI-AD sought the AH-64E for close air support in counterinsurgency and counter-piracy operations.
Jakarta is pursuing a comprehensive modernization effort for its armed forces. To pair with the AH-64E, the TNI-AD also has the Kaplan MT armoured fighting vehicle – jointly developed by Turkey's FNSS and Indonesia's PT Pindad – in the pipeline.
The Indonesian Navy has three Type 209 Chang Bogo-class submarines and SIGMA 10514 frigates on order from South Korea and the Netherlands, respectively. It is also interested in the Reis-class Type 214. The Indonesian Air Force is growing its F-16 fleet through Excess Defence Articles (EDA) Block-25s. It is also pursuing Sukhoi Su-35s from Russia.
Source : Quwa.org
Proud
77%
Sad
15%
Excited
0%
Indifferent
0%
Inspired
0%
Amazed
8%