Credit by Cloud Forest , Costa Rica © Wikipedia
What's amazing about rainforests is their place in nature and a tropical wildlife paradise. Known for high amounts of rainfall, these tropical paradises only cover about 6% of the Earth's surface. But, they're home to over half of the plant and wildlife species in the world. It's the most biologically-diverse ecosystem we have to explore and to complete our travel, tropical vacation lists.
They help maintain global weather patterns, which is why it's so critical to prevent deforestation (since they, sadly, experience the most harm). They play a key role in the maintenance of the Earth's health and our health. Travel to any of these around the world and I guarantee that you'll have the best tropical vacation. Here are the world's most beautiful masterpieces of nature:
Daintree, Australia
Daintree is the only place in the world where two World Heritage sites join side-by-side: Daintree National Park and The Great Barrier Reef. A natural wonder of awe-inspiring beauty, it shares its hidden treasures with you at every turn for travel lovers. It's one of the three oldest tropical forests, with flora and wildlife found nowhere else.
Daintree is an Instagram-worthy, tropical paradise for practicing escapists. When you travel to Australia, you can explore Daintree solo or with an expert guide. You'll get the chance to travel to stunning beaches, gorgeous forest-clad mountains, crystal-clear waters, and charming farmlands. Go see wildlife on a river cruise or zip-line through Daintree's canopy! Travel to Australia for an Aussie-good time!
Harapan is a beautiful tropical stretch in the province of Jambi, Sumatra, Indonesia. It's one of the biodiversity hot-spots of the world. It's also home to many of the world's threatened wildlife species: the Sumatran Tiger, Orangutan, Asian Elephant, Malayan Sun Bear, and Clouded Leopard. Sweetly and understandably, its nickname is "The Forest of Hope." It's heaven for wildlife adventurers; the sights will blow you away as a travel lover!
Like many other tropical greens, unfortunately, Harapan experiences the same mistreatment from logging, mining, and other harmful commercial acts. We're finally starting to see a turn-around for Harapan, with projects and conservation efforts building it back to its health! Travel to Indonesia for a tropical vacation of a lifetime!
North Western Ghats, India
The North Western Ghats Rainforest of India runs parallel to the Arabian Sea and represents another one of the top-ten biodiversity hot-spots. It's also a World Heritage Site! With national parks, wildlife sanctuaries, and forest reserves, this tropical land has thousands of animal species. The Western Ghats, themselves, belong to a mountain chain that's older than the Himalayan mountains!
The site's high montane forest ecosystems actually signify some of the best examples of the Indian monsoon system on Earth. India's North Western Ghats is just as important as other tropical forests, as they track weather patterns across lands. If you're looking to see an extraordinary landscape with endless adventure possibilities, travel to India to view one of the world's tropical creations!
Khao Yai National Park, Thailand
Khao Yai National Park is Thailand's first and oldest national park. Established in 1962, it's the third largest national park in the country and is just three short hours away from Bangkok. It covers 2,166 square kilometers of the Dong Phaya Yen Mountain Range. The best way to travel around the park is to bike or rent a motorcycle or a scooter. If you want to take a guided tour or participate in a wildlife viewing, Khao Yai National Park is the place for you!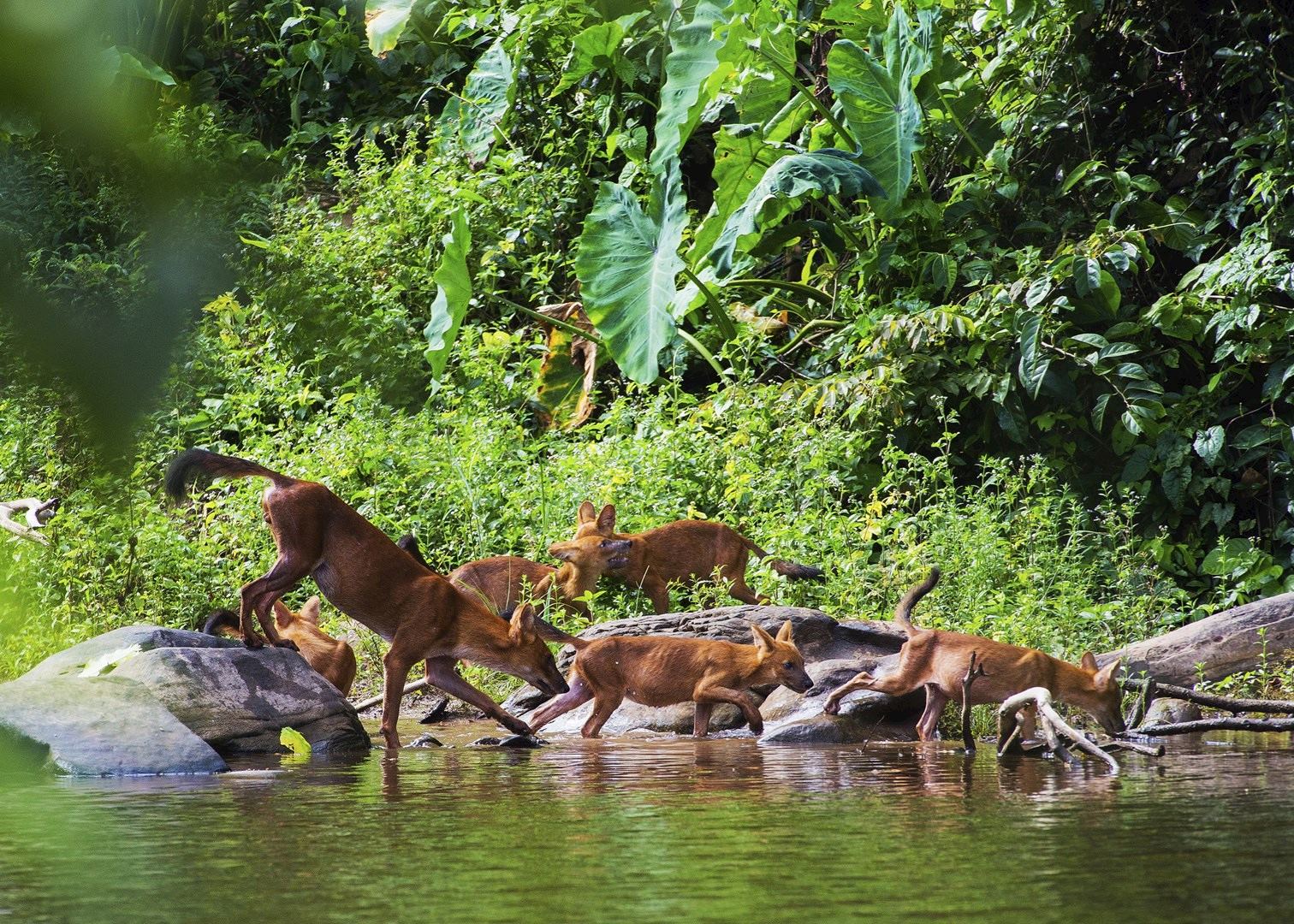 Some common wildlife species include elephants, otters, bears, Gibbons (apes), and macaques. Wondering when is the ideal time for hiking? Thailand's cold season is perfect for trekking through Khao Yai's wonders and runs from November to February. Travel to Thailand for your ultimate wildlife spotting escape now!
Primorsky Krai Region, Siberia, Russia
The Primorsky Krai Region in Siberia borders the Pacific Ocean and China. It's interestingly known for its temperate climate in the cold frames of the barren snowscapes of Russia. This picturesque region is also one of the best and last examples of temperate forests in eastern Asia. Primorsky Krai is a treasure cove of natural discoveries: its rich flora, the colorful landscapes, the glistening seas, and its healing springs.
There are actually more than 500 unique, natural sites in the region, all ranging from waterfalls and volcanoes to hollowed caves and clear, blue lakes under cloudless skies. Who would've thought this tropical paradise was hiding in a place famous for its winters? Get ready to travel to Russia for an amazingly memorable trip!
The Monteverde Cloud Forest Reserve and rainforest region are two Costa Rican reserves in the Puntarenas and Alajuela provinces. It's termed a "Cloud Forest" because clouds hover around the upper canopy before condensing onto the leaves of trees. This creates a cycle of moisture that characterizes all rainforests, this life-giving condensation that allows for a large amount of biodiversity.
As a fun fact, Monteverde has incredible wildlife – over 100 species of mammals, 400 species of birds, and 1,200 species of amphibians and reptiles. It's also one of the few habitats left that support all six species of "big cats": jaguars, pumas, margays, ocelots, oncillas, and jaguarundis. Travel to Costa Rica to walk on the tops of clouds and to see this stunning landscape!
Amazon, Brazil, South America
Amazon (my personal favorite) covers most of northwestern Brazil and branches into Colombia, Peru, and other South American countries and is the largest tropical rainforest in the world! If you travel to the Amazon, you'll find that is an incredibly unique place. It's comprised of a mosaic of ecosystems: seasonal forests, flooded forests, savannas, and deciduous forests.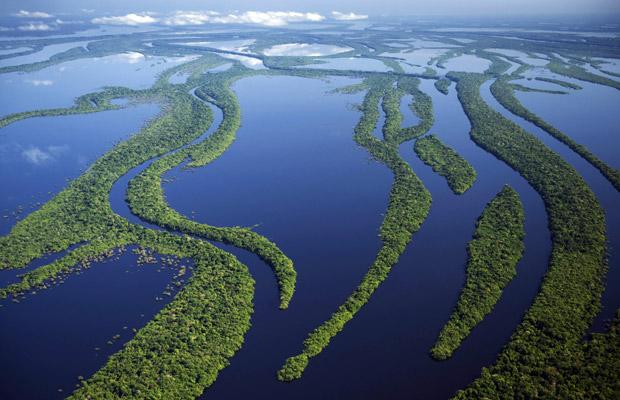 The Amazon also contains millions of wildlife species, most of them still undiscovered! The diversity of the region is completely staggering with nearly 40,000 plant species and 3,000 freshwater fish species! Travel to the beautiful Brazil in the bounds of South America to see this natural, world wonder for yourself!
Tongass National Forest, Alaska, United States
Tongass in Alaska is the largest national forest in the United States at 17 million acres in total. It's a land of ancient forests, towering mountains, and crisp glaciers, and it's like nothing you've ever seen before! This beautiful stretch is home to five species of salmon, humpback and orca whales, otters, beavers, and some of the largest populations of brown bears found in the United States. How's that for incredible wildlife viewing?
It's not only a place of refuge for wildlife and plants, but also a residence for Alaskans as well, since many people depend on the region's resources to support their families on a daily basis. To date, the Tongass has about 70,000 people living across 32 communities. So, travel to Alaska to live like the locals and be one with nature!
Andaman and Nicobar Islands, India
The Andaman and Nicobar Islands of India have a tropical canopy comprised of mixed flora species. Even though it's isolated from masses of land, it's still extremely rich with a diversity of wildlife and plant life. Its crystal-clear, azure-blue waters that reflect white, puffy clouds in the sky are only a fraction of what makes these islands beautiful and majestic in character – a treat for any travel lover.
Some of the more common wildlife animals of the islands are wild pig, hornbill, Andaman teal, Nicobar pigeon, white-bellied sea eagle, Andaman Cat snake, and other unique species of the India. There are so many adventurous things to do in this wonderful travel destination! Travel to paradise for an experience of a lifetime!
Proud
18%
Sad
5%
Excited
3%
Indifferent
10%
Inspired
35%
Amazed
29%