Credit by nterContinental Da Nang | Honeymoon in Vietnam
For many, a perfect honeymoon checks a few key boxes, including but not limited to idyllic and sunny sandy beaches, a romantic resort with fluffy king-size bed, and mouthwatering cuisine and cocktails.
Central Vietnam excels in all those areas, plus many more.
Da Nang & Hoi An
The city of Da Nang (Vietnam's fourth largest, at one million people) and the colorful UNESCO World Heritage Site town of Hoi An (the one city not damaged by the Vietnam War) are part of an up-and-coming stretch of picturesque beach and sparkling cerulean sea, which is oftentimes made all the more dramatic by the presence of mountains butting up to the sand.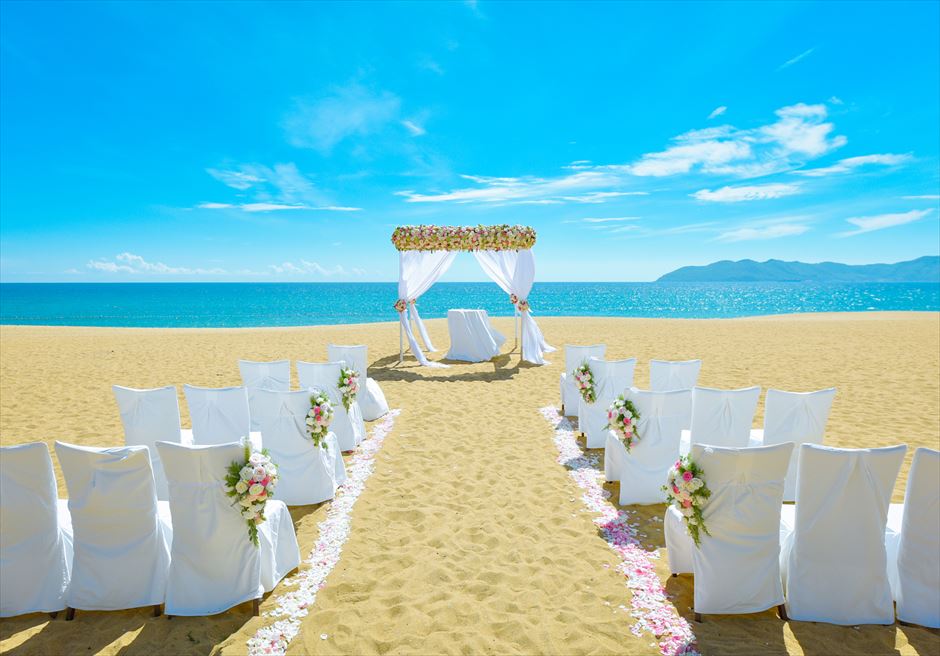 The expansive beaches at Banyan Tree Lang Co are evidence of that phenomenon and provide a perfect backdrop for sunbathing or, if you're strong swimmers, playing in the surf.
Guests can hop on bicycles to ride over canals decorated with colored lanterns and explore the lush, jungly landscape—all these elements conspire to create a dreamy atmosphere.
Down the coast a bit, closer to Hoi An, the new Four Seasons The Nam Hai provides perhaps the most exotic and luxurious ideal. Alongside water sports and yoga, this region also has opportunities for wandering through lotus flower fields, hiking and perusing ruins of temples and other carved, impressive stone structures built from the 4th to 7th centuries at My Son, which means beautiful mountains.
Food
It's a given that foodies, especially, should be drawn to this part of the world. Many know Vietnamese eats are fantastic—pho, banh mi—but in Hoi An it's far better (each part of the long, skinny country has distinctive signatures when to comes to food).
Influenced by French cuisine during the more than 60 years it was a colony of the iconic foodie country, and 1,000 of Chinese rule, the dishes in this district fuse French knowhow with Chinese staples such as noodles, pork, shrimp and Vietnam's signature freshness (almost everything you eat here will be covered in just-picked, vibrant herbs and greens).
Spa
And after all the eating is done, there's nothing else to do but submit to some TLC. The Heart of the Earth Spa may be the most zen, peaceful place on the planet, and its treatment villas set around a lotus pond are where massage magic happens. Couples can truly indulge and book treatments that may include flower baths, foot scrubs using local salt, tuning forks and crystal singing bowls for maximum relaxation.
In the evenings it's also the place to take part in a nightly ceremony in which guests write "love letters" to the earth, an apt act during a trip that's the ultimate celebration of love.

Source : Brides.com
Proud
100%
Sad
0%
Excited
0%
Indifferent
0%
Inspired
0%
Amazed
0%