The only daughter of Indonesian President Joko Widodo celebrates her wedding in full Javanese style.
An elaborate Javanese wedding tradition was held after newlyweds Kahiyang Ayu and Bobby Afif Nasution tied the knot on Wednesday morning.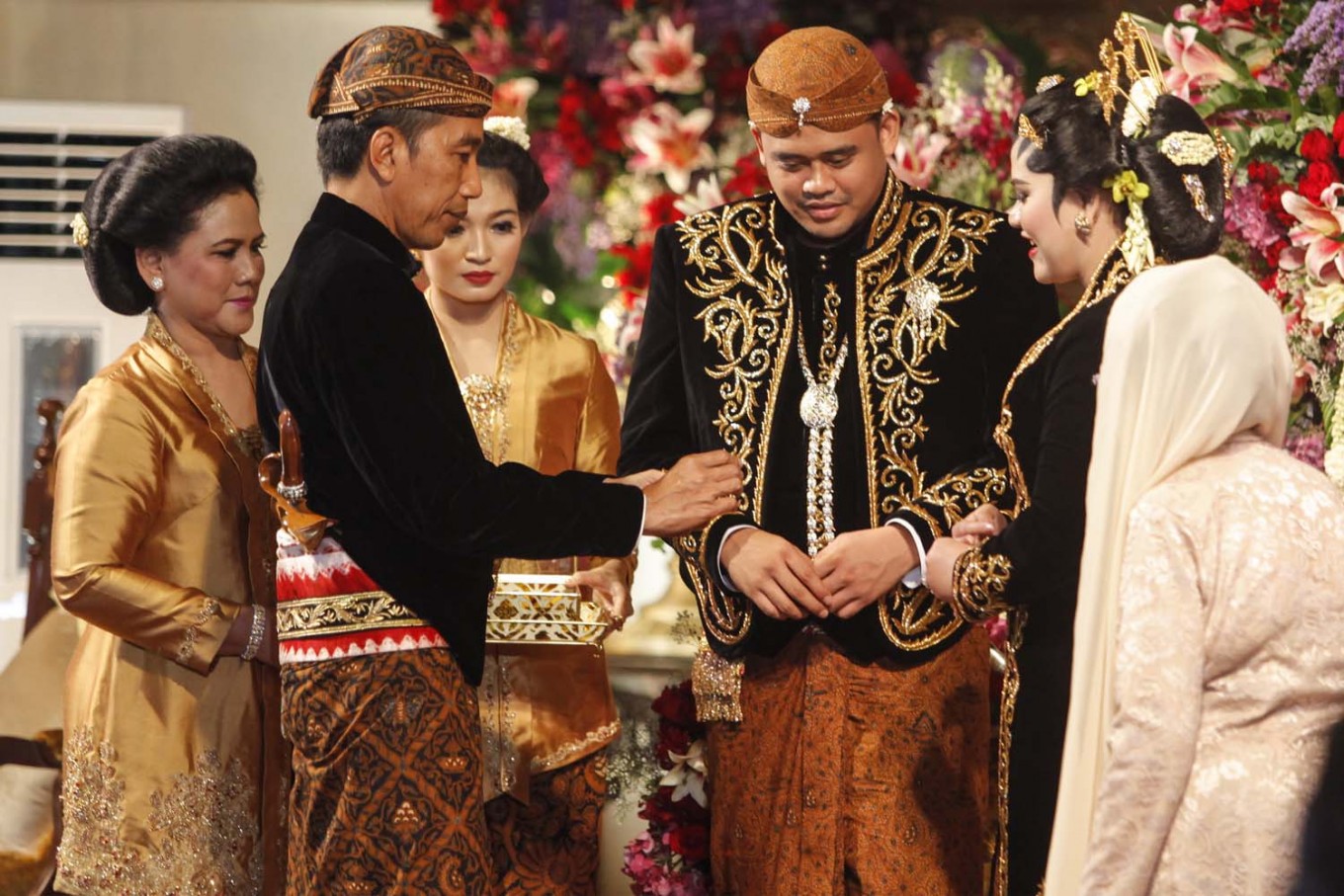 The who's who of Indonesian politics and business gathered in Solo, the hometown of President Joko Widodo in Central Java on Wednesday (Nov 8), to celebrate the nuptials of his only daughter Kahiyang Ayu, and property firm director Bobby Nasution.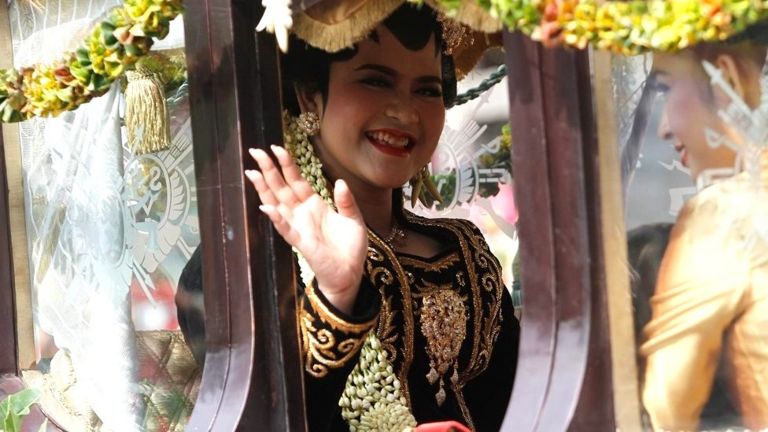 The First Family were all dressed in traditional Javanese formal wear - beskap for Mr Joko, and his sons Gibran Rakabuming Raka, 29, and Kaesang Pangarep, 22; and kebaya for First Lady Iriana - as they welcomed guests at the Graha Saba Buana grand hall in Solo.
To the sound of gendhing Kodhok Ngorek Laras moyo ladrang, gamelan melodies played at weddings, the bride and groom followed several rituals at President Joko "Jokowi" Widodo's family-owned function hall, Graha Saba Buana, in Surakarta, Central Java.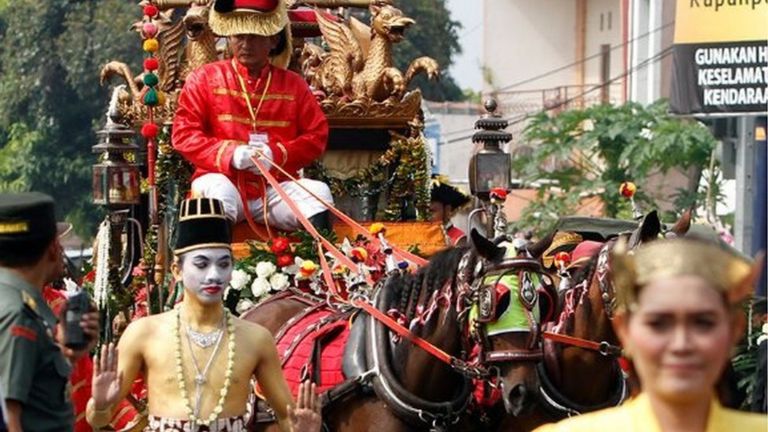 The groom arrived at the wedding in a horse-drawn carriage, which was also surrounded by presidential bodyguards in black suits, red ties and sunglasses.
Ms Kahiyang and Mr Bobby, both 26, were officially married in an Islamic solemnisation ceremony, or akad nikah, earlier in the morning, with Vice-President Jusuf Kalla acting as witness for the bride, while Coordinating Economic Minister Darmin Nasution, was witness for the groom.
"Thank you to sirs, madams, relatives and friends, for your prayers and blessings for the wedding of Kahiyang Ayu and Muhammad Bobby Afif Nasution, may Allah be pleased with our prayers," said Mr Joko after the ceremony, as quoted by The Straits Times.
His predecessor, Dr Yudhoyono, who was at the wedding with his son Agus, praised the way local traditions were celebrated during the marriage ceremony.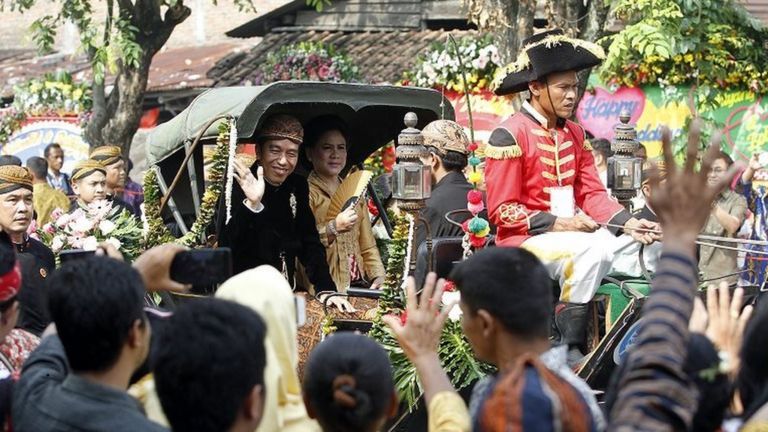 "This is a way to cherish and respect our culture," he told reporters.
Bandung mayor Ridwan Kamil, who attended the wedding with his wife Ataliya Praratya, expressed his admiration for the elaborate wedding ceremony.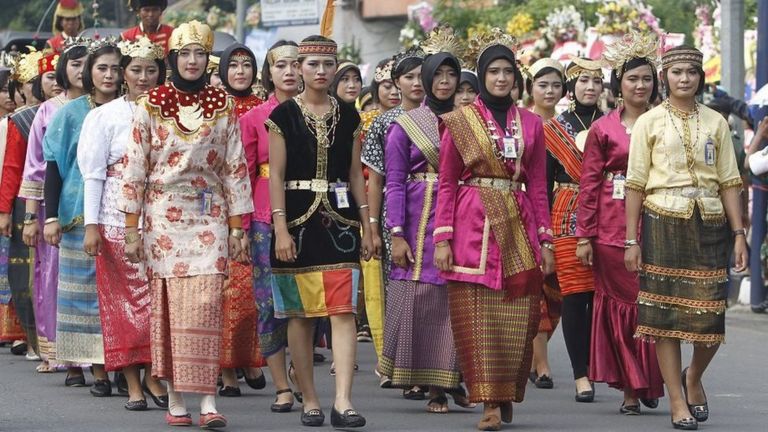 He said he had always admired traditional wedding ceremonies, adding that it had positive philosophical values.
"I think we need to introduce and promote traditional cultures to the young generation," Ridwan said to The Jakarta Post.
The couple first met in 2015 when they were in graduate school at the Bogor Agricultural University in Bogor, West Java. They are said to have dated for about a year.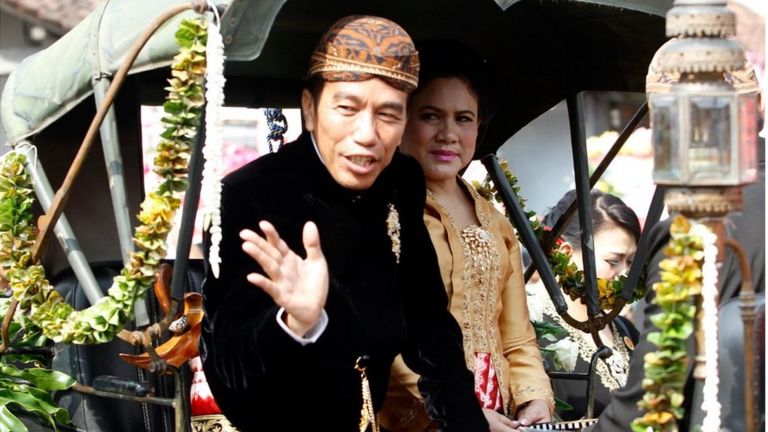 Ms Kahiyang is the President's middle child while Mr Bobby, a Batak, is the son of the late Erwin Nasution, a former director of state-owned plantation firm Perkebunan Nusantara IV, who died in January.
The Bataks are an ethnic group predominantly from North Sumatra, where the couple will travel to for receptions in Mr Bobby's hometown in the provincial capital Medan, in the last week of November.
Proud
70%
Sad
0%
Excited
10%
Indifferent
0%
Inspired
0%
Amazed
20%