Credit by Crystal Clear Lagoon at Treasure Bay Bintan, Indonesia © IDN Times
Treasure Bay is a 338-hectare waterfront resort city located on the Indonesian island of Bintan.
The destination resort integrates wellness leisure, residential and commercial real estate supported by the infrastructure to international standards.
Living up to its moniker – "A Gem of Possibilities", Treasure Bay Bintan offers many first-in-Asia, iconic tourism products, integrating leisure, entertainment, nightlife and health & wellness experiences, retail and hotels.
Opened in Q2 of 2015, Phase one spans across 90 hectares. Phase one of Treasure Bay covers Southern Precinct or Chill Cove and Northern Precinct.
Southern Precinct is designated as the 'Happening' spot to celebrate the beach lifestyle with diverse products and experiences, surrounding a 6.3-hectare Crystal Lagoon, South-East Asia's first and largest recreational sea-water body.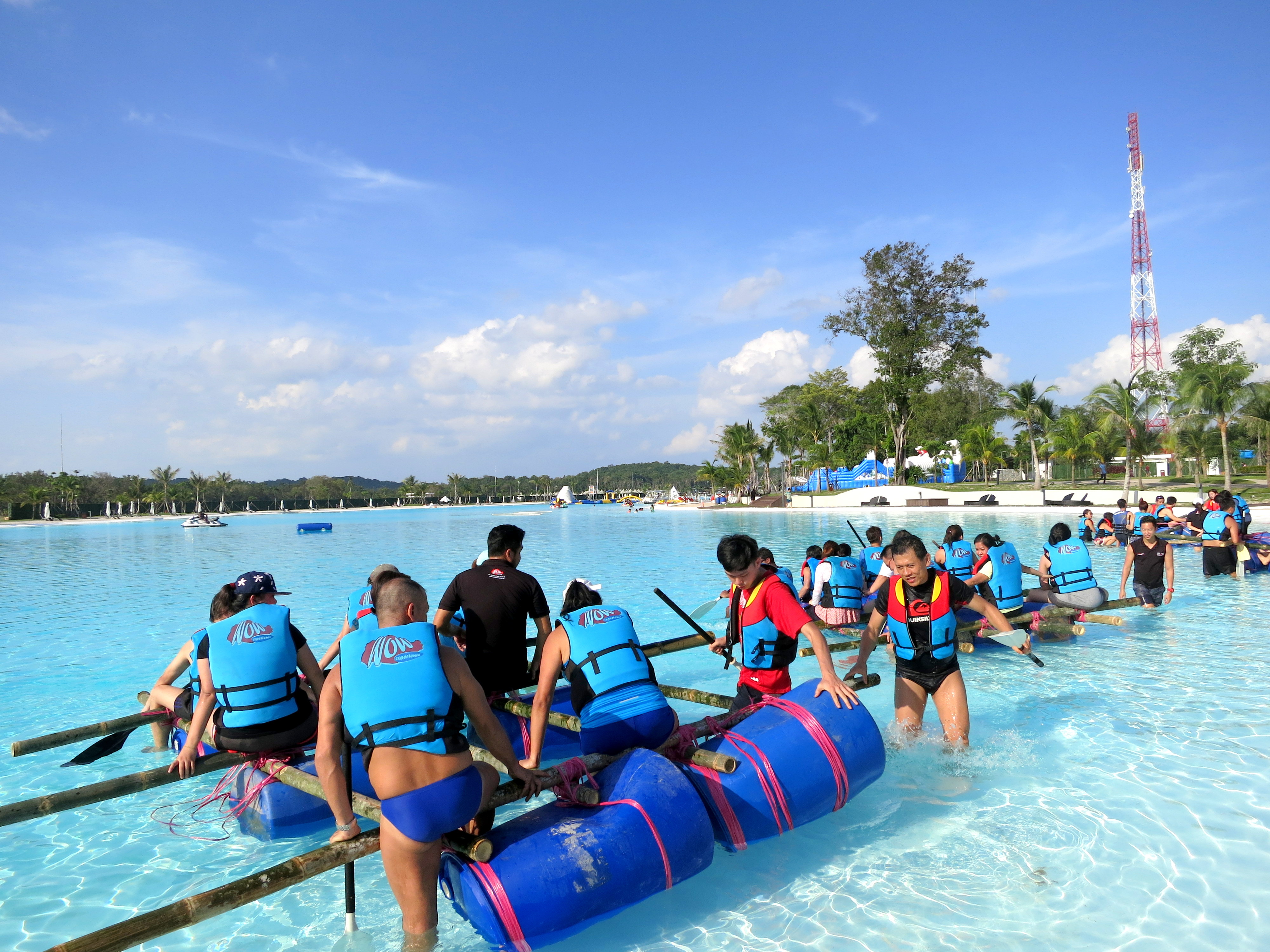 The Crystal Lagoon has undergone a process to make the sea-water "crystal clear".
The lagoon offers a wide range of recreational and interactive water activities suitable for the whole family such as swimming, kayaking, paddle boarding and sailing.
Treasure Bay offers experiences that can't be found anywhere in the region in Chill Cove, as well – a vibrant, exciting social hub that offers activities aimed at providing a host of dining and eateries serving local and international cuisine, bars to enjoy a pulsating night of music and dance, spas to rejuvenate and retail.
Chill Cove will further be further enhanced by a world-class retail presence which will comprise shopping, commercial centres, arcades and numerous food & beverage outlets.
In short, here are the fast facts both on the largest pool of the region that contains the region's first and largest recreational sea-water body.
Fast Facts and figures about Treasure Bay Bintan
338-hectare total development project
6.3-hectare Crystal Lagoon, South-East Asia's first and largest recreational sea-water body
Multiple award-winning leader in health and fitness destinations – Canyon Ranch will be opening, 1st time in South-East Asia
50 minute ferry ride from Singapore
75 minute car ride from existing Kijang Airport, Bintan, Indonesia
25 minute car ride from new International Airport in Bintan (scheduled to open by end 2016)
1,700 resort room keys in Phase One
Fast Facts and figures about Crystal Lagoon in Treasure Bay Bintan
6.3 hectares , largest lagoon in South-East Asia with 115,060m3 or 115,060,000 liters
1st in South East Asia
Patented and available in 160 countries
Eco-friendly technology, uses approximately 100 times less chemical products than conventional swimming pools
Energy efficient, consumes only 2% of the energy needed by conventional filtration pools
Crystal Lagoon's innovative technology is sustainable and safe for the environment, allowing limited resources such as energy and water to be used efficiently. The lagoon operates in a closed circuit that only needs to compensate for water loss caused by evaporation

Source : http://bintan-resorts.com/visitors/highlights/treasure-bay-bintan-a-gem-of-possibilities/
Proud
20%
Sad
10%
Excited
10%
Indifferent
10%
Inspired
0%
Amazed
50%