Credit by Illustration 'haunted house' © Pinterest
Filipinos grew up hearing tales about school campuses being a former cemetery, morgue or hospital. However, there are real places where people died in wars and in natural disasters. Their ghosts continue to haunt the living. A lot of the buildings and houses on this list can be found in Baguio where the tragic 1991 earthquake happened. Many of these places are either derelict ruins or abandoned places with caretakers who also act as the best story-tellers.
1. Laperal House, Baguio
A 1920 house built in victorian style is enough to elicit a sense of creepiness. When the Pacific war broke out, the Laperal House, just like other mansions in the Philippines, was used by the Japanese army as garrison. It was a witness to the many brutal tortures and killings. Previous caretakers said that women were raped and men were beheaded in this house. In fact, one of them has dug a skullcap from the mansion's lawn.
Footsteps were heard, lights would turn on and off by itself, and flowers or candles move from one room to another. Tales of apparitions are often heard from townspeople. Even cab drivers afraid to pass by the house.
2. Bahay Na Pula, San Ildefonso, Bulacan
An old house painted in crimson is sure to scare every passerby. Bahay na Pula was also used by the Japanese army during the war as a garrison where they killed Filipino guerillas and raped local women.
Currently, the house is abandoned, but townsfolk say that they hear wails and screams for help.
Some locals say they see ghostly apparitions of Japanese soldiers marching around the vicinity.
3. Teacher's Camp, Baguio
The camp has been a popular accommodation in Baguio, ideal for group seminars, business conferences, corporate events and even for solo travellers. This place is notorious for being one of the most haunted places in Baguio. Rumour has it that the site where it stands saw the bloodbath from indigenous people war during the American occupation.
Locals share stories of footsteps and screams heard throughout the night. Passersby also see ghostly shadows in the camp grounds.
4. Herrera Mansion (Tiaong Stone House), Quezon Province
The Mansion was built during the 1920's and designed by renowned Filipino architect, Tomas Mapua. It is considered the oldest stone house in Tiaong, Quezon. Many residents of the area have seen a ghost-like image of an elderly couple strolling around the vicinity.
Clinking sounds of dragging chains are also reported to be heard by the locals.
5. Malacañang House, Manila
The oldest house in this list, Malacanang Palace witnessed the unfolding of Philippine history including wars, atrocities and deaths. In one occasion, President Aquino said that his guards reported the piano playing on its own and foot marches were heard down the hall. According to the official website of The Palace, several apparitions of deceased presidents were sighted in the hall.
There were also stories circulating that the ghost of Manuel Roxas used to scare the Marcoses. And in 2012, Malacanang posted an image of ghostly silhouette of a beheaded man in Barong Tagalog.
6. Diplomat Hotel, Baguio
The derelict structure stands on top of the Dominican Hill, a rest house and seminary during the American Period before it was refashioned as a hotel. When the war broke out--as the usual turning point of the scary story-nuns and priests were decapitated at the area hence, the haunted place is notorious for pugot na ulo (beheaded men/women)
Locals and old Hotel staff would tell stories about hearing faint sounds at night, banging on doors and wailings of people in agony. Headless ghosts carrying their head on a platter are also seen by locals and visitors.
7. Hospital Ruins At Corregidor
The hospital ruins in Corregidor feels really eerie. You may have heard of haunted hospitals from other parts of the whole, but this one on Corregidor was specifically built to house and nurse wounded soldiers. The island hospital was built in 1912 and was bombed out by the Japanese during World War II. Its counterpart the 1,000 bed hospital inside Malinta Tunnel is just as creepy.
The worn out walls, the remains of white tiles and rusted railings all suggest the bloody past that this structure had witnessed. Sounds of footsteps and ghostly moans are usually reported by the people working in the island.
8. Manila Film Center
The Parthenon inspired center is home to Urban Legends and is the subject of many horror films. Twenty years ago, hundreds of workers were buried (some of them alive) at the site in 1981. The reason behind the tragedy? Former first lady, Imelda Marcos was in a rush to finish the building for the upcoming International Film Festival. Construction workers had to work 24/7 to finish the structure.
Because the cement wasn't given enough time to dry, on November 17, 1981, an entire floor collapsed. It was said that she ordered to pour out cement over the dead bodies as a form of sacrifice so that, as was traditionally believed, the structure be reinforced and strengthened.
9. Ozone Disco, Quezon City
The Ozone fire tragedy in 1996 is one of the saddest accident that happened in Philippine history. The fire that ravaged the disco bar burnt over hundreds of bodies into ashes, most of them graduating College students. Currently it houses food establishment in the famous Morato Area.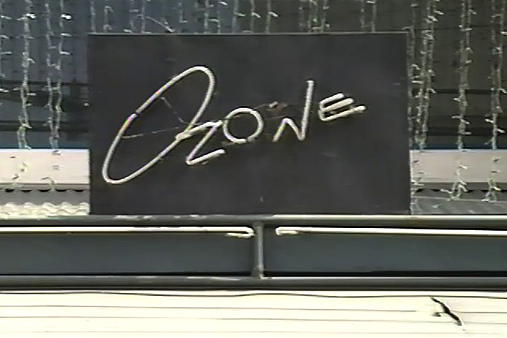 The horror of the fateful night haunts locals. Disco beats and faint voices coming from the decaying site were heard. And it was told that dancing ghostly figures can be sighted at the site.
10. Clark Air Base Hospital
At the rotting hospital in Clark Airbase, mysterious apparitions and muffled voices were witnessed by visitors and locals. It was even said that the place was fenced out of the public due to violent spirits hovering around the premises.
Ghost Hunters International has named this places as "One of the Most Haunted Places in the World". The National Geographic even visited the hospital to feature on one of their shows.
11. Manila City Hall
The seat of Manila mayor is known for its coffin-like structure and the cross traversing it center. City hall employees reported sighting ghostly spirits wandering around the building.
And as early as 6pm, strange footsteps, noises and faint voices were heard at night.
12. Balete Drive
The Philippines has its own version of Elms Street. Although not Freddie Kruger, but a White lady has been sighted haunting Balete Drive. But who is this white lady? Urban legends has it that, a young woman was killed on this road in a hit-and-run accident. There were also tales that this lady hailed a cab at Balete Drive but was raped and left for dead by the driver.
Since 1950's, various ghost encounters have been reported by those driving in the area. This 'White Lady' has been known to haunt motorists during wee hours, so drivers have learned not to pick-up hitchhikers, or even look into their rear-view mirrors when passing by this street. Many people believe that the White lady wants her killer caught. Half a century later, Balete Drive still terrifies many people.
Source : M2comms.com
Proud
4%
Sad
6%
Excited
4%
Indifferent
16%
Inspired
2%
Amazed
67%