While zip lines are often associated with military boot camps, the aerial runways are typically used by thrill-seeking vacationers these days. Folks choose to soar above trees and fly over beaches to feel like a superhero for a few minutes.
And while the jolt of adrenalin may not be enough to plan a vacation around, there are plenty of zip lines in beautiful destinations that you can probably reach on a day trip, should you wish.
Neil Gladstone from Oyster.com wrote about them and here are the most impressive places to go zip-lining, whether you're in it for the scenery or for the drop.
Would you expect there's one spot from the region? You better guess!
Kualoa Ranch, Hawaii
If you've ever marveled at an aerial shot from "Jurassic Park" and wished you could see the world from a dinosaur's perspective, Kualoa Ranch's zip line gives you the chance to make that dream a reality.
Kualoa Ranch's home, Oahu's Ka'a'awa Valley, is nicknamed "Hollywood's Backlot" because of the number of films and TV shows shot on the location, including "Godzilla: Skull Island," "Hawaii Five-0" and "Lost."
The Jurassic Valley zip-line tour takes visitors for a ride over Christmas berry trees, uluhe ferns, and the hallowed ground where Hollywood dinosaurs once roamed -- all while being 200 feet up in the air.
Blaenau Ffestiniog, Wales
While the majority of zip lines make it possible to soar over a landscape, Zip World Slate Caverns offers rides underneath the surface.
Located in Wales' Llechwedd Slate Caverns, the ride allows visitors to feel like bats gliding through former mine shafts. The experience may seem a bit claustrophobic at times, but being surrounded by the rock while soaring on a wire will undoubtedly ramp up your heartbeat.
If you're thinking of visiting, keep in mind that Zip World also has other locations, including one at Penrhyn Quarry in Bethesda, which claims to be the fastest in the world (it moves at over 100 miles per hour). Zip-line enthusiasts, take note: several places claim to have the fastest track in the world.
Arenal Volcano National Park, Costa Rica
When Costa Rica's Arenal Volcano erupted in 1968, the ash and lava buried three villages and killed 87 people.
For the next 40 years, the Arenal Volcano was in an active state, regularly spewing lava and smoke. And what could make visiting a volcano even more enticing? Zip-lining beside it, of course.
Arenal Volcano went back into a dormant phase in 2010, yet it's constantly monitored for changes, as it's located in a popular tourist destination.
Several zip lines run through the national park and over the rain forest, which is known for being one of the most biodiverse areas on the planet, with a colorful array of tree frogs, butterflies, and toucans. If whizzing past a volcano isn't nail-biting enough for you, some of the lines managed by Sky Adventures suspend riders 650 feet in the air for some stellar views.
St. Cloud, Florida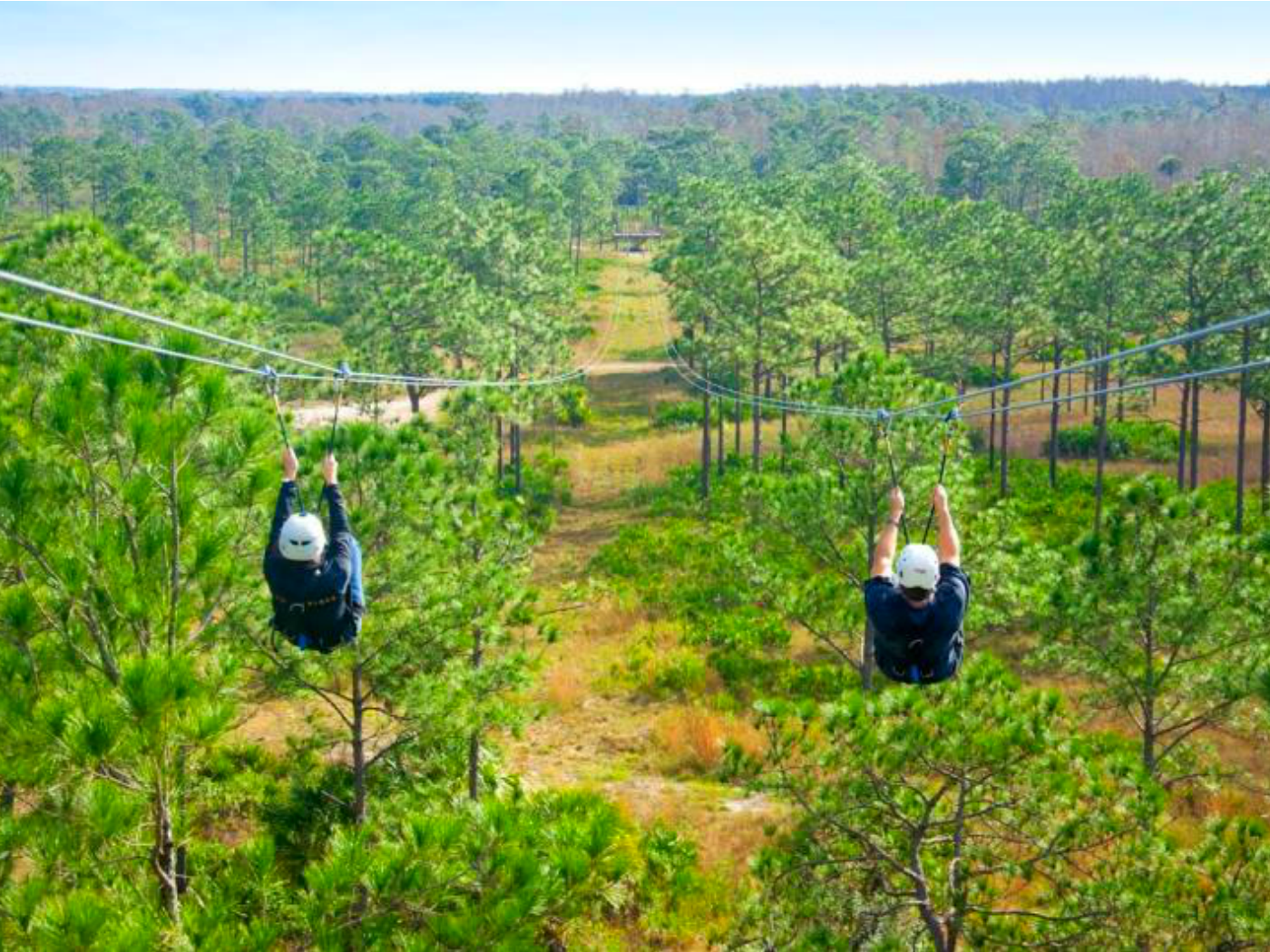 Looking for an outdoorsy alternative to Orlando's amusement park rides? Forever Florida adventure park is a one-hour drive away in St. Cloud.
The park's seven lines are located in a wooded preserve and include the only zip-line roller coaster in the United States -- just in case dangling from a metal thread isn't nerve-racking enough for you.
Riding all the lines takes about two hours and you can rent a GoPro camera, if you want a wide-angle video of yourself screaming your head off. Children must be at least 10 to take part.
Waiheke Island, New Zealand
Popular with day-trippers and weekenders, New Zealand's Waiheke Island is dotted with kid-friendly beaches and large, family-owned farms.
EcoZip Adventures has lines that come in a range of difficulty levels, from the easy Vineyard Cruise, which suspends riders over growing grapes, to the steep and speedy Kurinui adventure. A short trip from Auckland, this zip-line getaway is an easy detour for a family in search of a quick diversion.
Labadee, Haiti
The Dragon's Breath in Labadee, Haiti, claims to be the longest overwater zip line in the world. Starting at 500 feet in the air, the rider moves for 2,600 feet past Haiti's shoreline to Dragon's Breath Rock.
If you want to take a ride on Dragon's Breath, there's a slight catch: Labadee is a private resort leased to Royal Caribbean until 2050. So, to access the zip line, you must take one of the company's vacations.
Whistler, British Columbia
Chiang Mai, THAILAND
The Flight of the Gibbon in Chiang Mai turns a zip line trip into a tour of the rain forest. As the name suggests, visitors have the opportunity to see wild gibbons swinging between the branches and look down on the snakes that travel through the rain forest's floor.
The course is made up of several lines stretched between mountain trees in Chiang Mai's thick brush. In addition to organizing rides through the trees, the eco-minded company educates tourists on the animals and plants and what they've done to help conservation in the area.
Source : Oyster.com