Credit by Ujung Kulon National Park © The Fear Chronicles
Packed with wild parks, natural wonders and ancient temples – it is amazing that Southeast Asia region, alone, has 37 UNESCO World Heritage Sites.
Still, the world citizens are saying that 37 is just a few!
Seasia found the information on all 37 sites and we picked our favourites of all nations in the region.
For those who might not aware, UNESCO classified chosen sites into two categories or types: Natural and Cultural. Some sites can be in the mixed category.
You may find the details below and do not forget, to always 'stumbling upon' our website and get the latest update here because we might want to list down our favourites for must-see sights yet to gain recognition!
HALONG BAY - VIETNAM
(Natural Category)
The site was first inscribed by UNESCO in 1994.
Twenty-something years later, little has changed except how to see them and the increasing numbers of those who have. The slow-screw of erosion has notched hidden caves and dramatic arches into many of its rises. Kayak out for a more intimate look at the likes of Thien Cung, famed for its impressive stalagmites and stalactites; or drift past oysters farms and floating villages – ramshackle constructions linked by trembling walkways – to seek out secret beaches away from the boat-going hordes.
HOI AN - VIETNAM
(Cultural Category)
Far removed from the fogs of exhaust that envelop many a visit to South-East Asia, UNESCO-listed Hoi An is a quiet, sculpted riposte to the pace of modern Vietnamese life. It wasn't always the case, though.
The city was once a thriving port town and home to merchants from across Asia until the Thu Bon River silted up some 200 years ago and the traders moved on elsewhere.
Other UNESCO sites in Vietnam are:
1. Complex of Hue Monuments
2. My Son Sanctuary
3. Phong Nha-Ke Bang National Park
4. Central Sector of the Imperial Citadel of Thang Long - Hanoi
5. Citadel of the Ho Dynasty
6. Trang An Landscape Complex (both Natural & Cultural Category)
SINGAPORE BOTANIC GARDENS
Inscribed in 2015, it was just the third botanic garden to be listed by UNESCO (after Kew and Italy's Padua).
The site also has roots deep in Singapore's colonial past, and once nurtured the seeds that would go on to form the great 19th-century rubber plantations of Malaysia, shaping whole swathes of Southeast Asia.
LUANG PRABANG - LAOS
Pitched snug in a valley at the confluence of the Nam Khan and Mekong rivers and enfolded by lush mountains, Laos' UNESCO-listed city of Luang Prabang has a setting to melt any cynic.
It was once the country's capital, long before its monarchy drifted into obsolescence and was forced to accept French protection in the late 19th century.
VAN PHOU AND ASSOCIATED ANCIENT SETTLEMENTS WITHIN THE CHAMPASAK - LAOS
The Champasak cultural landscape, including the Vat Phou Temple complex, is a remarkably well-preserved planned landscape more than 1,000 years old.
It was shaped to express the Hindu vision of the relationship between nature and humanity, using an axis from mountain top to river bank to lay out a geometric pattern of temples, shrines and waterworks extending over some 10 km.
Two planned cities on the banks of the Mekong River are also part of the site, as well as Phou Kao mountain. The whole represents a development ranging from the 5th to 15th centuries, mainly associated with the Khmer Empire.
GUNUNG MULU NATIONAL PARK - MALAYSIA
(Natural Category)
There isn't exactly a shortage of national parks on Borneo, but the 528 sq km of old-growth rainforest trails, bottomless caverns and towering karst peaks that scatter Gunung Mulu makes this Southeast Asia's most diverse.
UNESCO recognised the park in 2000, citing its incredible wildlife and landscape. The two combine in a gruelling hike up namesake Mount Mulu (2,376m) – a route first discovered by a Berawan tribe rhino-hunter in the 1920s.
ARCHAEOLOGICAL HERITAGE OF THE LENGGONG VALLEY - MALAYSIA
(Cultural Category)
Situated in the lush Lenggong Valley, the property includes four archaeological sites in two clusters which span close to 2 million years, one of the longest records of early man in a single locality, and the oldest outside the African continent.
It features open-air and cave sites with Palaeolithic tool workshops, evidence of early technology. The number of sites found in the relatively contained area suggests the presence of a fairly large, semi-sedentary population with cultural remains from the Palaeolithic, Neolithic and Metal ages.
Other UNESCO sites in Malaysia are:
1. Kinabalu Park
2. Melaka and Georgetown, historic cities of the Straits of Malacca
SUKHOTHAI AND ASSOCIATED HISTORIC TOWNS - THAILAND
(Cultural Category)
As the capital of the original Kingdom of Siam, it was Sukhothai that kickstarted Thailand's Golden Age 750 years ago, when Theravada Buddhism first swept the land. It shone just a few centuries, though, before the rival Kingdom of Ayutthaya chipped away its power; jungle claimed the rest.
Today, the far less influential New Sukhothai greets visitors, acting as a base to explore the 70 sq km of its Old City (Sukhothai Historic Park).
AYUTTHAYA - THAILAND
(Cultural Category)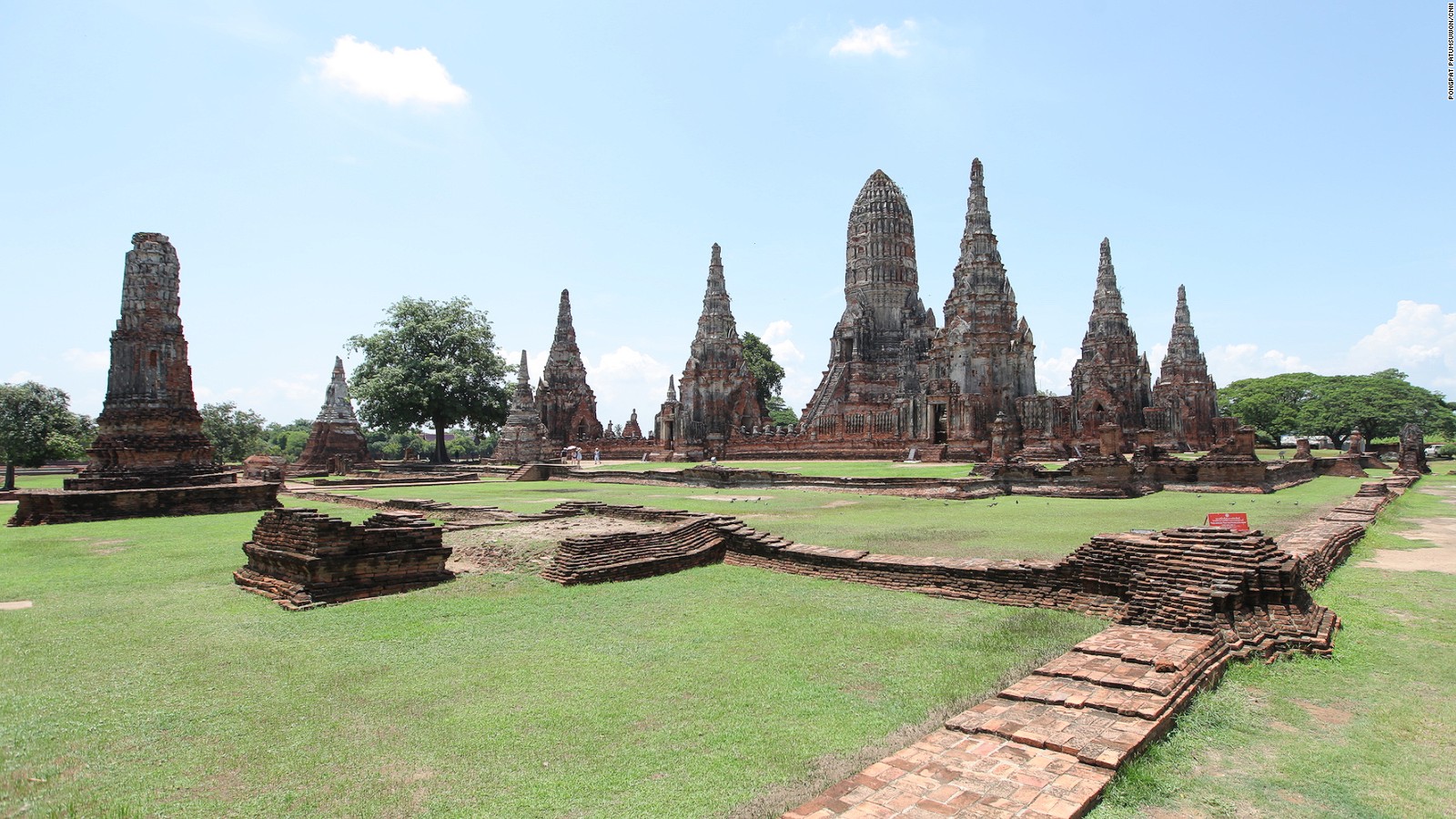 Founded in 1350 century, Ayutthaya became the second Siamese capital after Sukhothai. It was destroyed by the Burmese in the 18th century. Its remains, characterized by the prang (reliquary towers) and gigantic monasteries, give an idea of its past splendour.
Other UNESCO sites in Thailand are:
1. Thungyai-Huai Kha Khaend Wildlife Sanctuaries
2. Ban Chiang Archaeological Site
3. Dong Phayayen-Khao Yai Forest Complex
PYU ANCIENT TIMES - MYANMAR
(Cultural Category)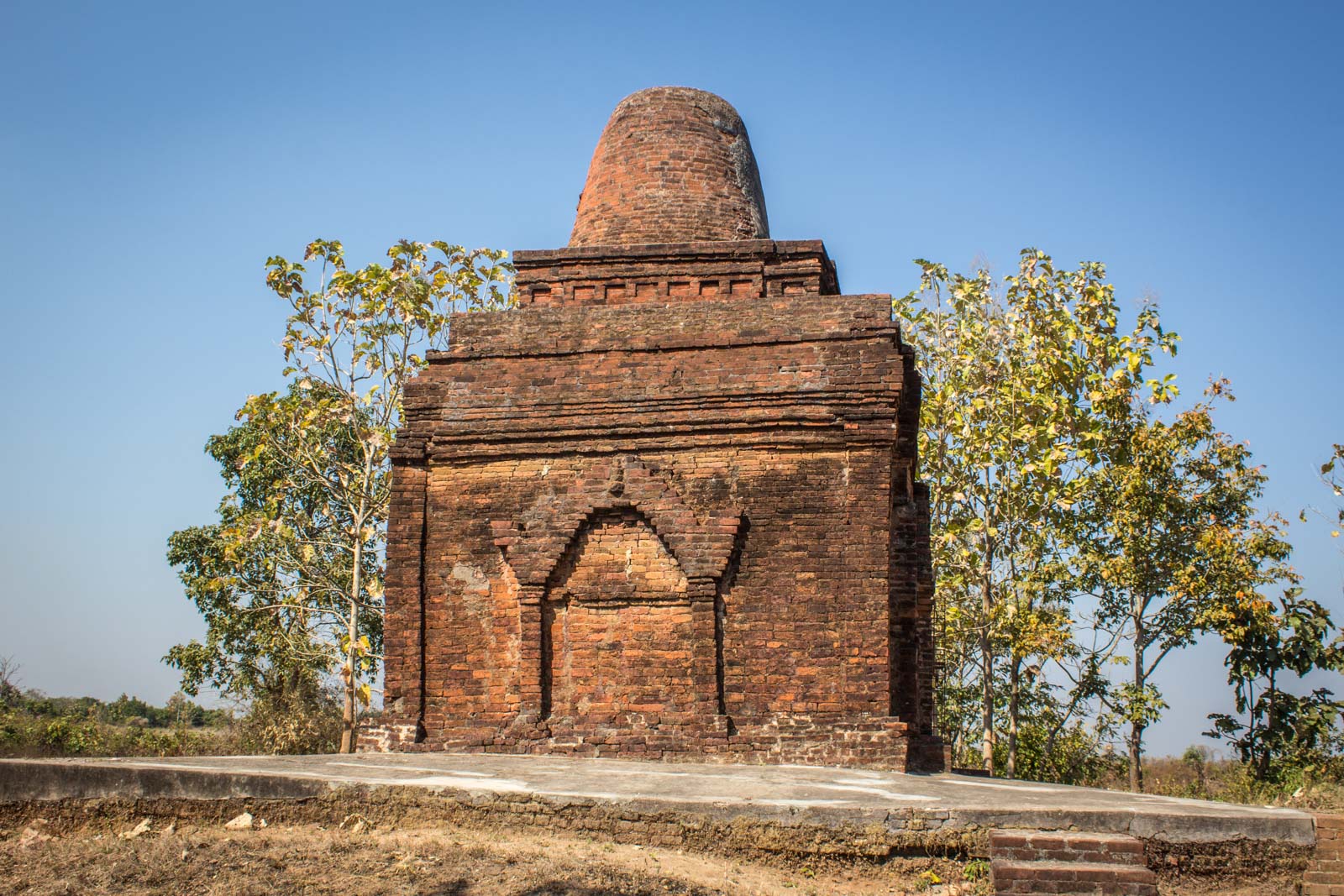 In 1996, Myanmar nominated eight sites for UNESCO inscription, and for nearly two decades struck out. Bagan is a prime example: popular with visitors, but accusations of temples being rebuilt dogged its reputation.
Today, the political landscape is very different. UNESCO is now working in-country to help preserve sites like Bagan, and in 2014 the partly excavated cities of the ancient Pyu people became the first area of Myanmar to achieve World Heritage status.
TEMPLE OF PREAH VIHEAR - CAMBODIA
(Cultural Category)
High up in the Dangrek Mountains, perched on a cliff-edge that drops some 500m to the unforgiving jungle below lies the notorious Temple of Preah Vihear.
The temple has conflict in its bones – it was built in the 11th century in honour of the Hindu goddess Shiva, to mark a victory by the Khmer over the invading Chams.
But, more recently, it has been at the centre of a fierce land row between Cambodia and Thailand, which in 2008 erupted in conflict when UNESCO declared it a World Heritage Site.
ANGKOR - CAMBODIA
(Cultural Category)
Angkor is one of the most important archaeological sites in South-East Asia. Stretching over some 400 km per square, including forested area, Angkor Archaeological Park contains the magnificent remains of the different capitals of the Khmer Empire, from the 9th to the 15th century.
They include the famous Temple of Angkor Wat and, at Angkor Thom, the Bayon Temple with its countless sculptural decorations. UNESCO has set up a wide-ranging programme to safeguard this symbolic site and its surroundings.
Other UNESCO sites in Cambodia is:
1. Temple Zone of Sambor Prei Kuk, Archaeological Site of Ancient Ishanapura
KOMODO NATIONAL PARK - INDONESIA
(Natural Category)
There's something unmistakably primordial about the way a Komodo dragon moves: haunches low, skin concertinaed about its limbs, bacteria-ridden saliva pouring from its mouth – enough to fell a beast three times its size.
It all adds to the fearsome reputation of a creature found on only five Indonesian islands, two of which (Komodo and Rinca) lie within the idyllic UNESCO site of Komodo National Park.
BOROBUDUR - INDONESIA
(Cultural Category)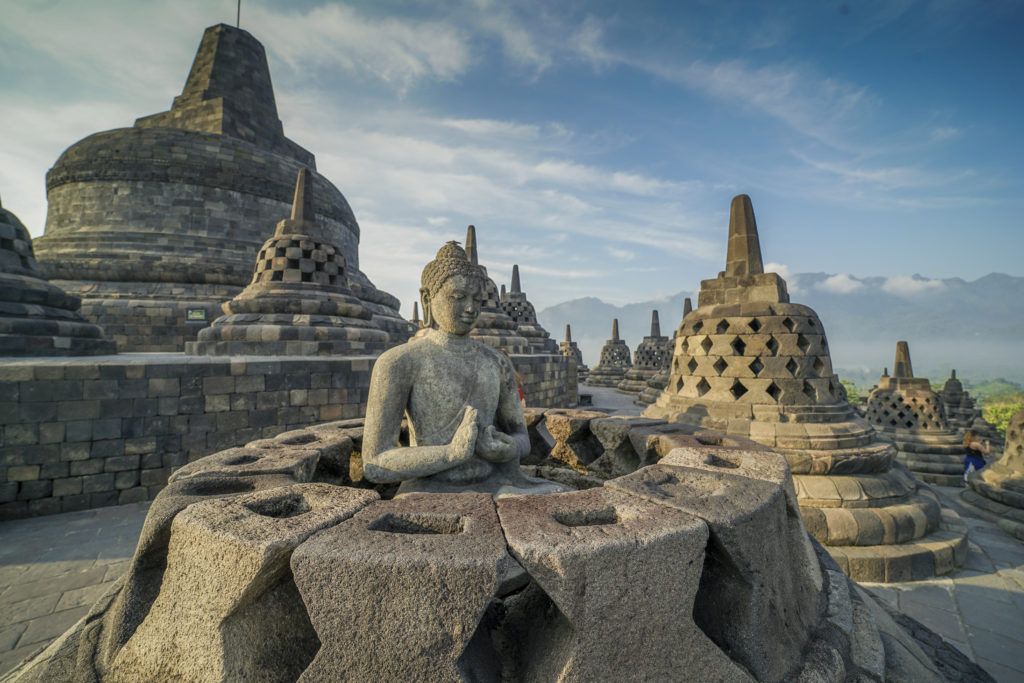 This famous Buddhist temple, dating from the 8th and 9th centuries, is located in central Java. It was built in three tiers: a pyramidal base with five concentric square terraces, the trunk of a cone with three circular platforms and, at the top, a monumental stupa.
The walls and balustrades are decorated with fine low reliefs, covering a total surface area of 2,500 meter per square. Around the circular platforms are 72 openwork stupas, each containing a statue of the Buddha. The monument was restored with UNESCO's help in the 1970s.
Other UNESCO sites in Indonesia are:
1. Prambanan Temple Compounds
2. Ujung Kulon National Park
3. Sangiran Early Man Site
4. Lorentz National Park
5. Tropical Rainforest Heritage of Sumatra
6. Cultural Landscape of Bali Province
TUBBATAHA REEFS NATURAL PARK - PHILIPPINES
(Natural Category)
Tubbataha Reefs Natural Park is easily overlooked, even by those who should know better – the US Navy and Greenpeace have both grounded ships here in the past.
Recognized by UNESCO in 1993, the park covers 130,028 ha, including the North and South Reefs. It is a unique example of an atoll reef with a very high density of marine species; the North Islet serving as a nesting site for birds and marine turtles.
HISTORIC TOWN OF VIGAN - PHILIPPINES
(Cultural Category)
Established in the 16th century, Vigan is the best-preserved example of a planned Spanish colonial town in Asia.
Its architecture reflects the coming together of cultural elements from elsewhere in the Philippines, from China and from Europe, resulting in a culture and townscape that have no parallel anywhere in East and Southeast Asia.
Other UNESCO sites in the Philippines are:
1. Baroque Churches of the Philippines
2. Rice Terraces of the Philippine Cordilleras
3. Puerto-Princesa Subterranean River National Park
4. Mount Hamiguitan Range Wildlife Sanctuary
Source : Wanderlust Travel Magazine, Skyscanner.com
Proud
29%
Sad
24%
Excited
6%
Indifferent
0%
Inspired
12%
Amazed
29%