Rickshaws or tuk-tuk don't only come with various names, but also in countless shapes and designs. An important means of transportation, especially in the cities all Southeast Asia, this three-wheeled vehicle has developed into many different forms, be it a motor or manually operated ones.
Herewith is a short list of the most common rickshaw types across the region, so you know exactly what to expect on your travels!
CAMBODIA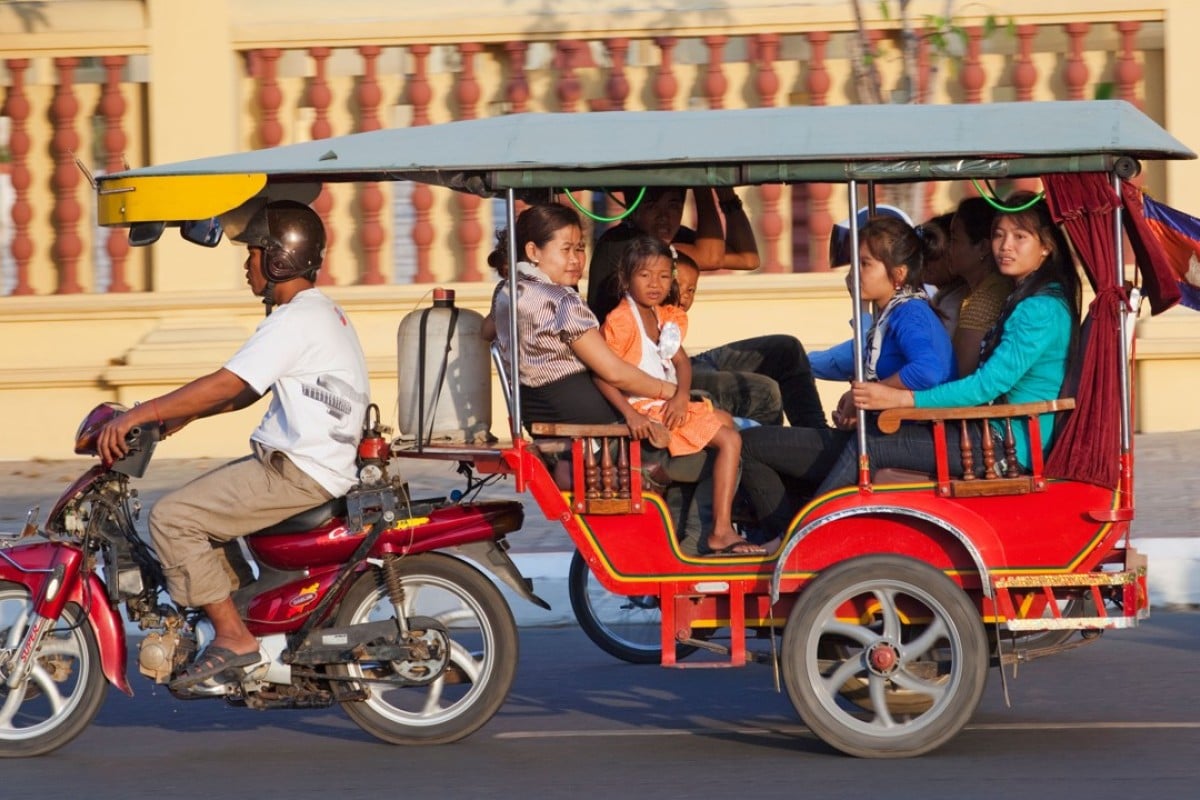 Cambodians prefer the term tuk-tuk. A tuk tuk is not necessarily one single vehicle, but rather a motorbike with an attached cabin for the passengers in the back. The trailer offers space for up to 4 people, although the two facing the direction of travel usually have to more comfortable seats.
These types of tuk-tuk, also called remorque, are generally found in Siem Reap, while in Phnom Penh tuk-tuks are common, where the power of the motorbike is directly transferred to the trailer with the help of a chain.
Overall, the Cambodian tuk-tuks offer more the feeling of sitting in an open carriage than in a motorized vehicle.
VIETNAM
In Vietnam old-fashioned cycle rickshaws, propelled by human work instead of an engine, are still rather popular, even though mainly used by tourists only anymore.
Operating these xích lôs, derived from the French word for bike cyclo and somewhat pronounced like that, the driver sits behind his passengers on the bike saddle. In front of him, two passengers can find a place next to each other.
THAILAND
Thailand's rickshaws, usually called tuk-tuk or samlor in Thai resemble very much the Indian ones. Nowadays, especially in tourist hubs like Bangkok, mainly used by foreigners, the small three wheelers still provide an advantage in navigating the cities insanely dense traffic, that should not be underestimated
Like the Indian rickshaws ,Thai tuk-tuks consist of one single cabin for two passengers (or three, if they are slim) and the driver. They are a little more open than their Indian cousins, especially in the back of the vehicle and leave the passenger more exposed to the weather and pollution.
LAOS
Laos' versions come as tuk-tuks or jumbos.
The jumbos have a larger engine and cabin sizes (for some cars, up to 12 people can squeeze in) and hive higher top speeds than their more 'conventional' cousin. Other than a few exceptions, the jumbos are only found in Vientiane and Luang Prabang.
PHILIPPINES
A wide variety of tuk tuk Philippines options are available to you, such as motorized, electric, and rickshaw.
In 2013, Tokyo-based startup Terra Motors put more non-polluting vehicles on the streets with an electric tuk-tuk for the Philippines.
The blue and white "e-tricycle" (or like the one in yellow in the picture above) is powered by a lithium-ion battery and can carry six people including the driver. It's just under 11 feet long and is steered with handlebars. It can travel some 31 miles per 2-hour charge.
INDONESIA
Possibly the most iconic image of the Indonesian capital Jakarta is that of a bright orange, generously dented, madly careening, three-wheeler scooter, with the word "Bajaj" painted in front.
Transporting everyone — from office workers to university students and even the odd, shell-shocked foreigner — thousands of these three-wheelers ply Jakarta's back lanes and byways.
MALAYSIA
Decked out with flashing lights and cartoon characters, with loud music pumping, rickety bicycle rickshaws have become a hit with tourists visiting the historic city of Melaka. Once a common sight in many parts of Malaysia, the three-wheelers, known locally as trishaws, were largely phased out as cars became more affordable and took over the country's roads.
But in Melaka, a former colonial settlement that is a Unesco World Heritage site and one of Malaysia's top tourist draws, the pedal-powered vehicles live on. They have adapted to the modern era in a bid to appeal to tourists, adding figures of cartoon characters such as Hello Kitty and Pokemon's Pikachu and blinking fairy lights that are turned on at night.
Source : Various sources including Adventure Herald, Free Malaysia Today and Exo Travel
Proud
11%
Sad
22%
Excited
33%
Indifferent
0%
Inspired
22%
Amazed
11%