Credit by Featured Image Caption © Source
ECONOMY
Beyond
Southeast Asian Rankings in City Momentum Index 2018
JLL's City Momentum Index (CMI), now in its fifth year, tracks a broad range of factors to identify those cities which possess the attributes for success over the short and long term.
These two components (short and long term) of the CMI index enable cities to be grouped according to their short-term economic and real estate dynamism, as well as the extent to which they have built the future-proofing capacity necessary for longer-term success.
The Index covers 131 major established and emerging business hubs across the globe, measuring each city's short-term socio-economic and commercial real estate momentum, together with its 'future-proofing' capacity – the ability to maintain this momentum over the longer term.
This year, for the first time CMI focuses on those cities which have the qualities necessary to manage and benefit from this rapid technological shift in the global economy and assesses their future-proofing potential – potential founded in factors such as innovation capability, talent and world-class higher education; high levels of technology start-ups and scale-ups; patent applications; public infrastructure; and the quality of the environment.
As predicted, few nations in the Southeast Asia region are listed within the mentioned components in the latest ranking by JLL, a property consultancy:
SHORT-TERM MOMENTUM TOP 30
Within this category, The CMI Short-Term Momentum rankings identify the urban economies and real estate markets which are currently undergoing the most rapid growth. They highlight the continued rise of Asia Pacific's cities as destinations for global capital, commerce and innovation, with markets from the region accounting for 25 of the Global Top 30:
| | |
| --- | --- |
| RANK | COUNTRY |
| 1 | Hyderabad |
| 2 | Bangalore |
| 3 | HO CHI MINH CITY |
| 4 | Pune |
| 5 | Kolkata |
| 6 | HANOI |
| 7 | Nanjing |
| 8 | Delhi |
| 9 | Hangzhou |
| 10 | Xian |
| 11 | Nairobi |
| 12 | Chongqing |
| 13 | Wuhan |
| 14 | Chennai |
| 15 | Shanghai |
| 16 | Guangzhou |
| 17 | Tianjin |
| 18 | MANILA |
| 19 | Shenzhen |
| 20 | Mumbai |
| 21 | Chengdu |
| 22 | Beijing |
| 23 | JAKARTA |
| 24 | KUALA LUMPUR |
| 25 | Lagos |
| 26 | SINGAPORE |
| 27 | Dubai |
| 28 | BANGKOK |
| 29 | Seattle |
| 30 | Bucharest |

Variables measuring this index included; population, connectivity, RE investment, property prices, economic output, corporate activity, construction and retail sales.
Among the highlights are:
1. The Vietnamese cities of Ho Chi Minh City (3rd) and Hanoi (6th) are attracting sizeable volumes of foreign direct investment (FDI) as they integrate into regional and global supply chains for high-technology manufacturing. This is helping to spur rapid economic and income growth, leading to among the world's highest rates of increase in retail sales and air passenger numbers.
2. Asian 'Megahubs' which act as regional gateways and have the scale to compete for talent, visitors and innovation – including Manila (18th), Jakarta (23rd), Kuala Lumpur (24th) and Bangkok (28th) – are continuing to drive forward on the back of significant economic momentum. Offering substantial growth potential, these cities are key expansion markets for many corporates and are drawing particular interest from Chinese companies as they internationalise. They also have some of the highest levels of real estate completions across the globe as they build out the infrastructure to service this demand.
GLOBAL TOP 30 – FUTURE PROOFING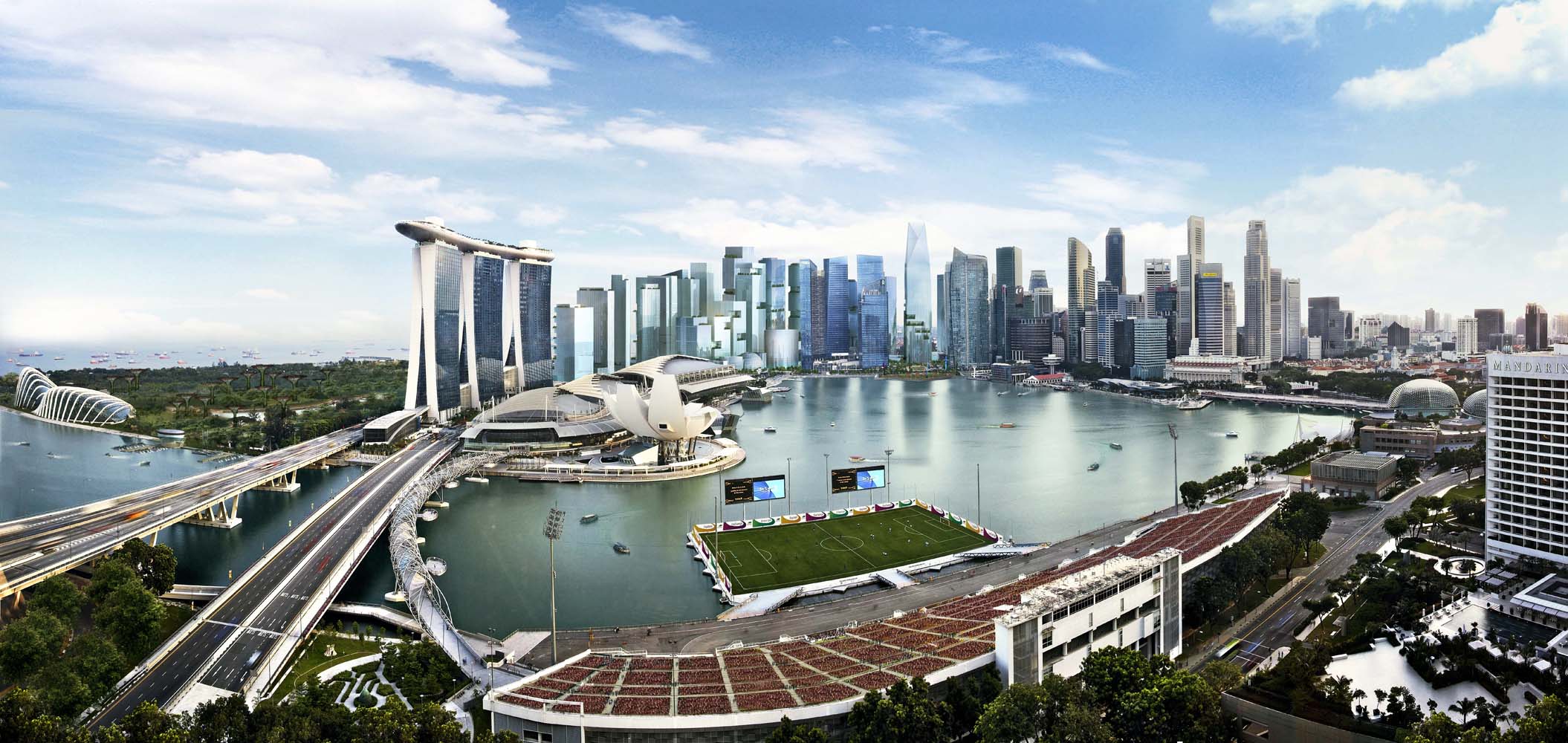 In this category, Singapore ranked 29th has supplemented its established strengths in high-tech hardware manufacturing with a growing focus on software innovation, supported by high levels of R&D spending and a robust education system.
The regional headquarters for several of the world's largest technology companies, it is also home to R&D centres for Google, HCL and Infosys as well as to one of the largest tech start-up scenes in Asia. Government commitment to fostering new technology – like piloting NuTonomy, the world's first autonomous taxi service – is also positioning it robustly for the future.
Variables measuring this index included; technology firms, education, environment, transparency, infrastructure and international patents.
SHORT TERM MOMENTUM VS FUTURE-PROOFING
Overall, scoring in the Global Top 30 on both measures (26th for short-term economic and real estate dynamism and 29th for its effort in future-proofing for longer-term success) Singapore is identified as being the only Asia-Pacific city that is in the "sweet spot".
Rising global trade levels have boosted economic momentum and contributed to an improvement in corporate demand, with net office absorption in 2017 doubling from the previous year. Singapore is projected to record the largest rental growth of any major office market globally in 2018.
Source : https://property.bangkokpost.com/news/1436450/bangkok-ranks-28th-in-city-momentum-index
Proud
50%
Sad
0%
Excited
29%
Indifferent
0%
Inspired
7%
Amazed
14%