Credit by Featured Image Caption © Source
Which is the very best airline in the world of long-haul First Class? In fact, many airlines are dropping their most First Class cabin and are instead upping their game in the world of Business Class.
The airlines that still offer a First Class product mainly offer them on their most 'high-yield' routes with heavy business traffic. These routes include New York to London, London to Singapore, Frankfurt to New York, London to Dubai, London to Abu Dhabi and so forth.
On these routes, people and corporations are willing to pay for all the extras that come with this upgraded product. The experience of flying in First will be very good whichever airline you fly and if you are privileged enough to experience life in First, you will be disappointed.
Luxury Travel Expert outlined differentiators below and have picked out the best First Class airlines in the world.
Hopefully, this an essential guide if you are lucky enough to afford air travel in First.
SINGAPORE AIRLINES
If you want the top experience of First Class in the air today, Singapore Airlines' new First Class A380 suites are probably your best bet for the ultimate in First Class in-flight luxury (pictured above). Their First cabin features 6 suites on the upper deck, compared to 12 suites on the lower deck of that carrier's A380s with the old layout.
Each suite comes with a separate full-flat (slightly hard) bed with adjustable recline and plush, leather chair that swings around. The bed can be made up for you or you can keep it packed away, and for couples travelling together, the beds in the first two suites of each aisle can be converted to form a double bed.
Each suite also has a 32 inch full HD monitor, a full-sized personal wardrobe, specially designed carpet and a feature wall with mood lighting, all exquisitely crafted to give a touch of luxury and intimacy.
We recently reviewed the new Singapore Airlines' First Class suite on the A380 and you can also read my First Class flight reviews across Singapore Airlines to see what you might experience on their other planes.
EMIRATES
Emirates' is the king of First Class and is one of the best in the world, although their Business Class falls short. Their most impressive First Class product is found on its new Boeing 777 aircraft, eith floor to ceiling sliding doors and sleek design features inspired by the Mercedes-Benz S-Class
The leather seat reclines into a fully flat bed and can be placed in a 'zero-gravity' position inspired by NASA technology, giving a feeling of relaxation and weightlessness. To ensure all First Class customers have a view, Emirates introduced the industry's first virtual windows for suites located in the middle aisle. These virtual windows project the view from outside the aircraft using real-time camera technology. The suites also come with a service window where customers can be served drinks and canapes undisturbed.
We recently reviewed the new Emirates First Class suite on the Boeing 777 and you can also read my First Class flight reviews across Emirates on their other planes.
ETIHAD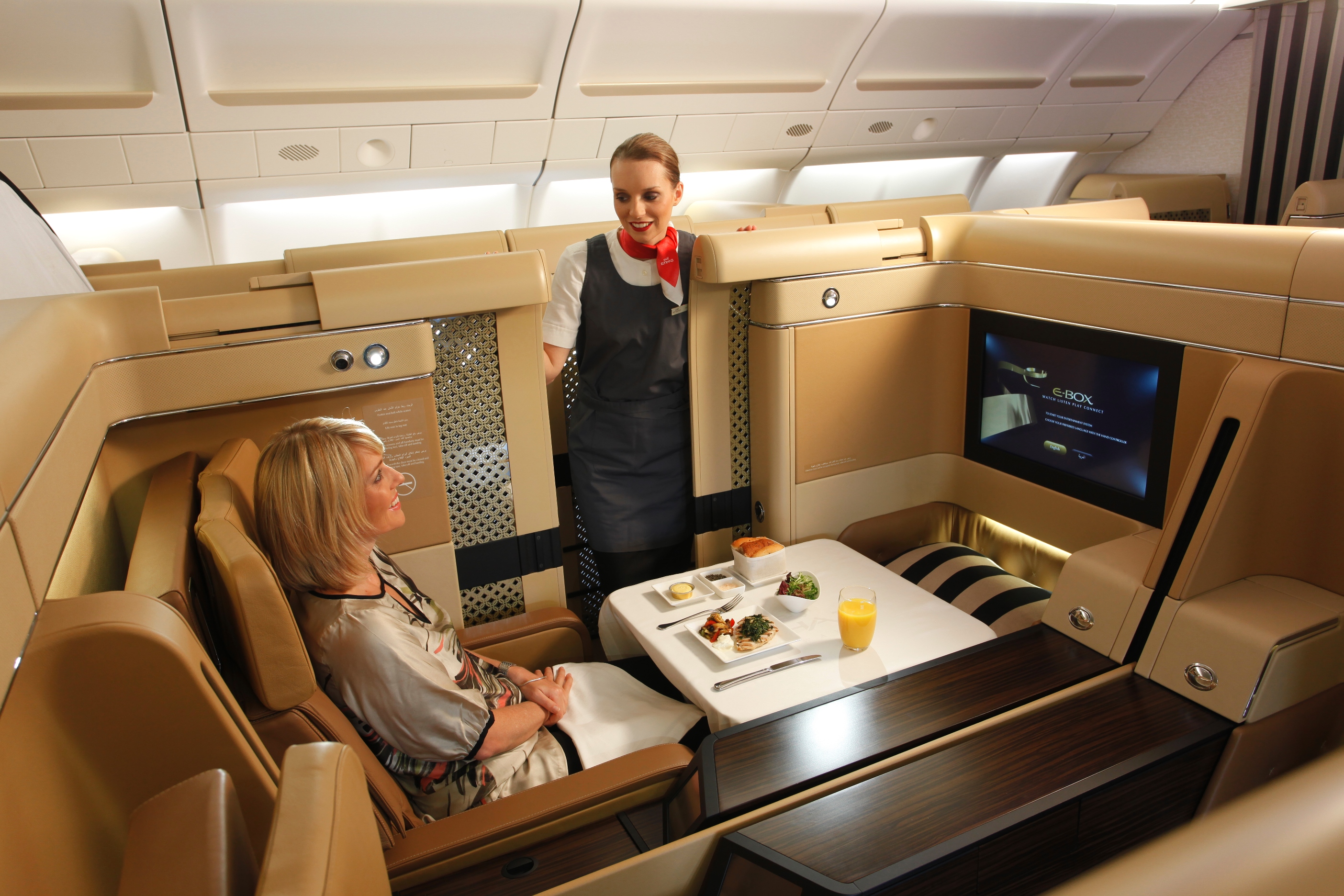 Etihad calls their First Class suite on their A380 an apartment, and it certainly is! This compact apartment which was launched in 2014 has been setting standards for other airlines ever since.
Its First Apartments on board it's small fleet of Airbus A380's offer a large leather armchair and separate bed of 208 cm (6 feet and 10 inches). There is space to walk around after closing the privacy doors. Six of the First Apartments are interconnecting, perfect for when you're travelling with a companion. Passengers can freshen up in the bathroom with an energising shower using exclusive amenities, before landing.
JAPAN AIRLINES
JAL offers a world-leading First Class. The airline also offers such cute bento box style food on their flights and such graciousness staff, that it has to feature in our top 10. The semi-enclosed suite onboard the Japan Airline's Boeing 777-300ER features a woodgrain interior, creating the feel of an at-home library with smartly placed furniture.
You will find a storage compartment, controller for inflight entertainment, a laptop power brick, and a 23 inch personal entertainment screen in your compartment. Passengers rest comfortably on airweave bedding that allows them to drift off into the perfect sleep. Far away one of the classiest of its kind, Japan Airline's First Class dining sets a high standard with tempting menus, featuring both Western and Japanese cuisine.
LUFTHANSA
We are big fans of Lufthansa. Not only is their product excellent but we LOVE the Luftansa First Class Terminal at Frankfurt airport.
Most of Lufthansa's long haul aircraft feature 8 First Class seats. When you want to sit back and relax, the seat's independently adjustable backrest and footrest and the moveable ottoman provide the greatest comfort. On request, a flight attendant will transform the seat into a super-comfy bed with mattress topper and temperature-regulating duvet.
Although there are now newer and visually more striking First Class products available, Lufthansa's First Class remains one of the most sought-after experiences in the skies, mainly because of the flawless service, delicious food, extremely comfortable bedding, and exceptional First Class lounges (when travelling via its hubs in Frankfurt and Münich).
You can read my review of Lufthansa's First Class in their Airbus A380 and all the rest of my Lufthansa First Class Flight reviews.
SWISS AIRLINES
Swiss Airlines offers fully enclosed First Class Suites nestled into the nose of its Boeing 777-300ER and Airbus A330 planes. It is a great First Class and is comparable to Lufthansa's equivalent First Class. In fact, we think Swiss is the best airline to fly to Europe in First. Each suite exudes a warm 'colour and materials' palette of browns, greys and accents of European oak wood, while soft walls, woven fabric bulkheads and curtain screens help dampen noise in the cabin.
Passengers can use the electric-mechanical window blinds on all three windows in their suite simultaneously. Each passenger has a personal wardrobe and a sliding door, which creates a partition between the seat and the aisle to offer greater privacy. And onboard entertainment is great on a 32 inch video screen.
Pre-flight, if you fly out of Zurich Airport you will be given access to the excellent Swiss First Lounge E In Zurich Airport, which is a great and natural feeling lounge with lots of woods and a relaxing vibe. The lounge only recently opened and offers an impressive eating area offering a la carte food (rather than a buffet) which is excellent and delivers fast.
You can read my Swiss Airlines First Class Flight reviews to find out more.
QATAR AIRWAYS
Qatar Airways should really come higher in this top 10 best listing. Certainly, the First Class cabin on Qatar Airways' fleet of 10 A380s features a great First Class product with ultra-wide seats tailored in the softest fabric.
Central and aisle dividers afford more privacy, which can be raised or lowered to provide a feeling of extra spaciousness when travelling with a companion. It is a flexible space: the seat automatically reclines into a fully flat-bed, or the table can be extended to allow two people to dine in style. First class flyers also get pyjamas, flight slippers, and amenities from Italy's Castello Monte Vibiano Vecchio, which means Qatar Airways' should probably come in position 3 or 4.
Unfortunately, the Luxury Travel Diary team have experienced less than thoughtful service on Qatar flights. From bumping into our legs in Business Class to loud chatter throughout the night when passengers were trying to sleep. So while Qatar wins on the hard product and the incredible Qatar First Class Loungein Doha airport, the thoughtlessness of the stewards in the air falls short of many other of our in-flight experiences.
CATHAY PACIFIC
Cathay Pacific offers a solid First Class Product that we have reviewed on their Boeing 777 and their Boeing 747.
They have recently refurbished their First Class Lounge at Hong Kong International Airport. Onboard, the new suites have dark, high-gloss surfaces, while inside, the side console and the interior of the seat are wrapped in natural leather with subtle linings and stitching for a clean, refined, sophisticated look. The warm-toned natural leather is used extensively on most interior surfaces of the suite for a soft, luxurious feel. The seat smoothly transforms into a fully flat-bed, and the bedding comes with high-quality fabrics for the duvets, pillows, cushions and the mattress to ensure a comfortable sleep.
BRITISH AIRWAYS
Although I moan about British Airways and although their Business Class is rather poor, their First Class is great. OK, you don't have your own apartment, an onboard chef and you can't shower in the air but we love the classic British style, the wonderful staff and pilots (their humour and service). We appreciate the pilot keeps us updated with turbulence etc. Of course, you can also occasionally book First using Avios which makes it even better (although the additional taxes and fees can be extortionate).
We also love the architecturally groundbreaking Terminal 5 at Heathrow and the fact you can Pod Park and Pod over to the Terminal, then take the Wingdirectly to the Concorde Room before heading to your seat in the sky. British Airways is not the best in the world, but their First Class product is great, with lovely toiletries and a much better seat than their Club World offering. You can read more in my British Airways First Class flight reviews.
AMERICAN AIRLINES
I have flown First Class On American Airlines's largest wide-body plane, the Boeing 777-300ER or B77W, which is their Flagship First Class cabin. AA owns 27 of these planes. While AA's B77W has one of the best long haul Business Class products in the world (and is your best airline and business choice for a transatlantic trip), I was less impressed by their American Airlines First Class product.
The difference between First Class and AA's excellent Business Class is only very marginal. Yes, the suite has more space, the seat can be turned into an office desk, there is turndown service (with a duvet and an extra pillow), and you get an extra course (soup) with your meal. But I really could not find any other differences. This is not the case with all airlines. As an example, I can't sleep on British Airways thin and uncomfortable Business Class seats but sleep like a baby in their First Class cabin.
Source : https://www.luxurytraveldiary.com/2018/09/top-10-best-airlines-for-first-class/
Proud
17%
Sad
32%
Excited
23%
Indifferent
0%
Inspired
9%
Amazed
19%