Credit by Featured Image Caption © Time Magazine
TECHNOLOGY
Singapore
One of the World's First, Largest Sea Water Floating Solar Systems in Southeast Asia. Soon.
Sunseap Group, Southeast Asia's leading sustainable energy provider, is developing one of the world's largest offshore floating photovoltaic (OFPV) systems to be located north of Woodlands Waterfront Park, along the Straits of Johor.
Supported by the Singapore Economic Development Board (EDB), the 5 MegaWatt-peak (MWp) floating solar system will generate about 6,388 MWh of renewable energy annually, once completed.
This is equivalent to powering about 1,250 4-room flats, with a reduction in greenhouse gas emissions of about 2,600 tonnes every year, over the next 25 years and beyond.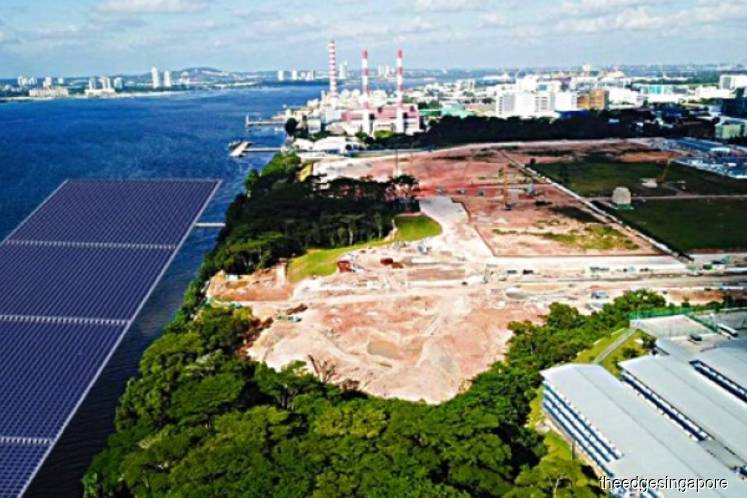 Most large-scale floating PV systems are built on freshwater ponds, lakes or reservoirs. Sunseap's latest is one of the largest sea-based photovoltaic (PV) projects.
Mr Frank Phuan, Co-founder and CEO of Sunseap Group, said: "Sunseap is excited to embark on this landmark project which demonstrates Sunseap's engineering capabilities in research and development. Our floating solar system supports Singapore's ambition to be a solar hub for Asia, and we hope it will ignite more deployment of alternative methods of tapping solar energy."
Mr Phuan added that in land-scarce countries like Singapore, the widespread use of PV systems is hindered by space constraints and limited roof space.
The successful delivery of this project is important in opening up similar opportunities for sea-based floating photovoltaic systems in Singapore and the region.
Mr Rob Khoo, Vice President, Marketing Communications, Sunseap Group commented: "Solar energy is a key renewable energy source in Singapore and Sunseap is constantly innovating and exploring more efficient ways to deploy cutting-edge technologies that will help us protect the environment for future generations," he said.
Mr Damian Chan, Executive Director, Energy, Chemicals & Materials, EDB, said: "Solar is one of the most viable and sustainable clean energy options in Singapore, and we continue to see innovative solar solutions being developed and deployed here. Beyond contributing to Singapore's energy security and climate change commitments, Sunseap's offshore floating photovoltaic system will help the clean energy ecosystem build new, exportable capabilities for potential scale-up across the region."
Sunseap has previously participated in the world's largest floating PV test-bed in Singapore at Tengeh Reservoir. Results so far show that the floating PV systems perform better than typical rooftop solar PV systems in Singapore, due to the cooler temperatures of the reservoir environment.
The 5-hectare (equivalent to the size of 5 football fields) OFPV pilot in Woodlands is expected to be commercially operational early next year. This builds on Sunseap's experience with freshwater systems in reservoirs and is expected to produce similar benefits.

Source : www.sunseap.com
Proud
100%
Sad
0%
Excited
0%
Indifferent
0%
Inspired
0%
Amazed
0%