TheEdgeMarkets.com reported merger and acquisition activities in Southeast Asia slowed in the first nine months of 2018 as volatile markets and the US-China trade tension dampened spirits
There were 301 deals (up to September 2017, it is increased to 321) valued at US$43.48 billion, down 21.3 per cent year on year, with Singapore seeing the most activity.
Here is the breakdown: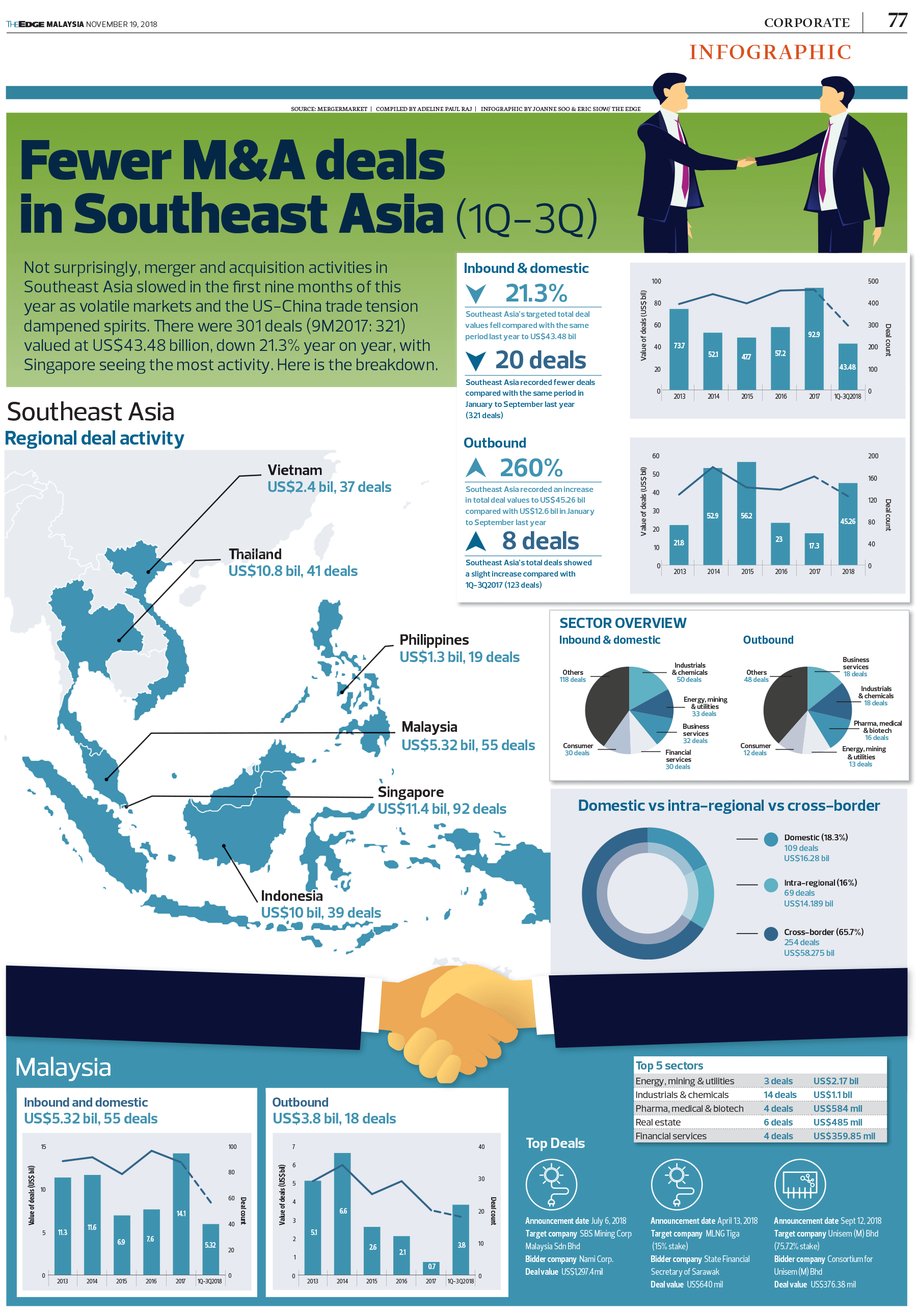 Meanwhile, CNBC International quoted ASEAN head of corporate and investment banking at Citi, David Biller as saying, despite the patchy near-term outlook, deal-making activity is expected to continue in the region, particularly in sectors like consumer, technology and telecommunications.
"Increasingly, we are also seeing more cross-border activity and going forward, this trend should continue as large local companies look to expand regionally and regional champions look to go global," he said.
In Singapore, where there is a well-developed and liquid public equity market and a well-established regime for mergers and acquisitions, Biller expects to see more "opportunistic transactions" to continue, despite higher valuations. That suggests companies would continue to pounce on deals with good value.
Malaysia, having elected a new prime minister a few months ago, should see a pick-up in deal-making activity, while in Indonesia, there's growing traction in "minority-focused pre-IPO type private market activities."
Another opportunity that could materialize in the region is the restructuring of conglomerates.
"The rationale to have a multi-industry company is becoming less significant," Biller said. "There is a real value that can happen through spin-offs or similar types of portfolio restructuring exercises, especially in some of the family-owned, multi-industry business that is prevalent across Southeast Asia."
Source : The Edge Malaysia and CNBC International.