Credit by Nicky Loh/Bloomberg © A Navya autonomous electric bus in Nanyang Technology University, Singapore
Singapore continues to remain at No.1 in Asia in terms of readiness to embrace autonomous vehicles (AVs) and second in the world after the Netherlands, unchanged from a year ago.
This is according to KPMG's 2019 Autonomous Vehicles Readiness Index (AVRI), which was established with the intent to provide an understanding of various countries' preparedness and openness to AV technology.
The index evaluates 25 countries worldwide against four pillars to measure readiness for AV adoption: policy & legislation; technology & innovation; infrastructure; and consumer acceptance.
Notably, Singapore is rated No. 1 worldwide in two pillars, namely policy & legislation and consumer acceptance.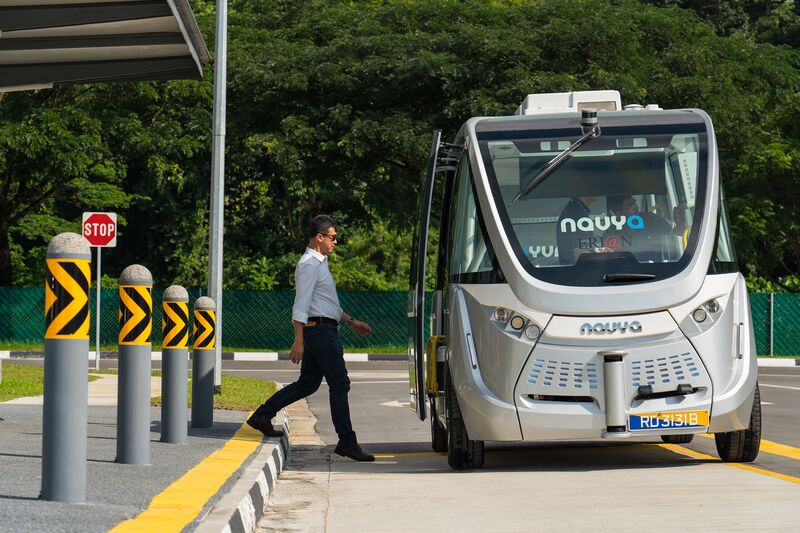 The city state is second only to the Netherlands in the area of infrastructure.
New countries ranked via the AVRI for 2019 included Norway, which came in third after Singapore globally, after it legalised AV testing on public roads.
Finland, which comes in at No. 6, was also featured for the first time in this year's index considering its focus on getting AVs to work in winter conditions as well as automated bus services.
In a Wednesday announcement, KPMG highlights that Singapore is currently working with the Netherlands on international standards for AV – with more related initiatives to come in the near future, such as plans for certain areas to use driverless buses and shuttles for off-peak and on-demand commuting from 2022.
Satya Ramamurthy, partner & head of infrastructure, government and healthcare at KPMG in Singapore, says this year's index is a clear indication that Singapore's ecosystem for AVs is "ready and very much aligned with how Singapore is establishing itself as a Smart Nation and centre for AV development".
"The government has certainly been very proactive in thinking about the future of mobility. Along with the release of TR-68, a set of provisional national standards that guide the safe deployment of AV, Singapore is well-positioned to harness the societal and economic benefits of AV," says Ramamurthy.

Source : The Edge Singapore
Proud
100%
Sad
0%
Excited
0%
Indifferent
0%
Inspired
0%
Amazed
0%