Mercer's 21st annual Quality of Living survey shows that the quality of living is an essential component of a city's attractiveness for businesses and mobile expatriate talent.
Globally, Vienna tops the ranking for the 10th year running, closely followed by Zurich (2). In joint third place are Auckland, Munich and Vancouver, the latter of which is the highest-ranking city in North America for the last 10 years. Singapore (25), Montevideo (78) and Port Louis (83) retain their status as the highest-ranking cities in Asia, South America and Africa, respectively.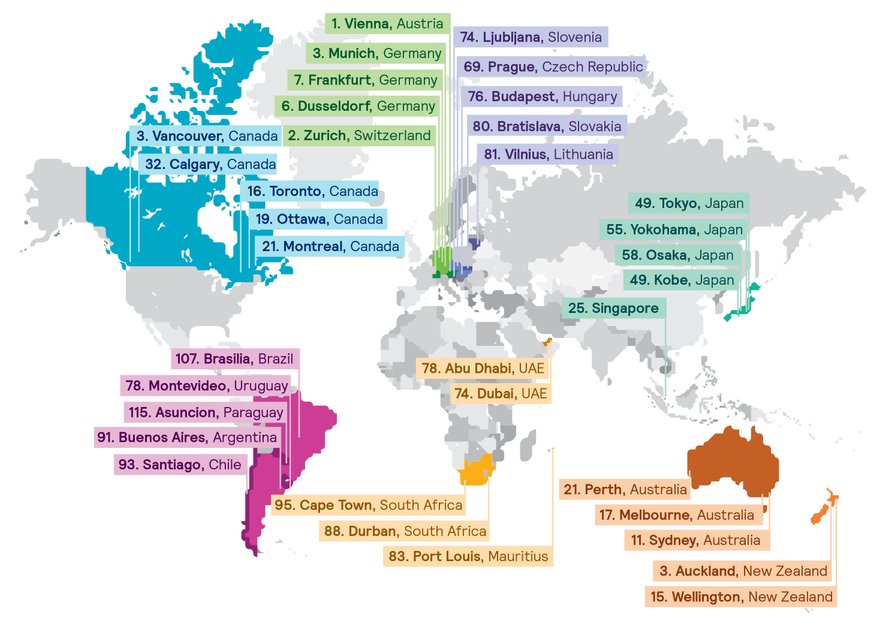 In Asia, Singapore (25) has the highest quality of living, followed by the five Japanese cities of Tokyo (49), Kobe (49), Yokohama (55), Osaka (58) and Nagoya (62), and then Hong Kong (71) and Seoul (77), which rose two places this year as political stability returned. In Southeast Asia, other notable cities include Kuala Lumpur (85), Bangkok (133), Manila (137), and Jakarta (142); and in mainland China, Shanghai (103), Beijing (120), Guangzhou (122) and Shenzhen (132).
Southeast Asia ranking:
Singapore
Kuala Lumpur
Johor Bahru
Bandar Seri Begawan
Bangkok
Manila
Jakarta
Ho Chi Minh City
Hanoi
Phnom Penh
Yangon
Source: Mercer | Brinknews
Proud
60%
Sad
20%
Excited
0%
Indifferent
20%
Inspired
0%
Amazed
0%