Credit by Featured Image Caption © Source
PEOPLE
Beyond
Five of the best moments from Southeast Asian football in 2016
From the recently concluded AFF Suzuki Cup where Thailand once again reigned supreme as the region's top guns to Albirex Niigata (S) rewriting S.League history in Singapore with a first-ever quadruple, it has been another good year for Southeast Asian football.
With the Asian Cup qualifiers and Southeast Asian Games taking center stage in 2017, we take a walk down memory lane to see what kept football fans buzzing with excitement in the last 12 months.
Here are five of the best moments in Southeast Asian football this year:
1. War Elephants continue regional domination
Kiatisuk "Zico" Senamuang's Thai warriors went into the 2016 AFF Suzuki Cup as overwhelming favourites to slay their opponents and defend their regional throne.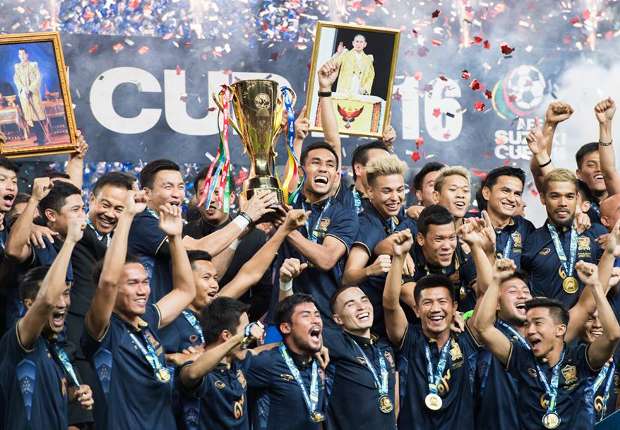 Seven games later, on the back of a golden boot performance from Teerasil Dandga, Thailand emerged champions to seal a record fifth title. While Indonesia put up a strong fight over the two-legged final, the War Elephants were never going to let slip the coveted crown with 15 goals scored and three conceded.
Having already qualified for the 2019 AFC Asian Cup, Thailand's immediate focus will switch to their remaining World Cup qualifiers where they will seek to continue improving their status as not just the region's top football side but to become one of Asia's finest.

2. Albirex takes slice of history in Singapore football
They started the season with quiet optimism as new coach Naoki Naruo inherited a solid team from his predecessor Tatsuyuki Okuyama.
Ten months on, they have swept all four Singapore domestic football titles -- Community Shield, League Cup, Singapore Cup and S.League - making them the first club to ever achieve the almost impossible feat.
Backed by the astute management of Daisuke Korenaga and Koh Mui Tee, Naruo balanced his team with the veteran leadership of goalkeeper Yosuke Nozawa, Naofumi Tanaka and Atsushi Kawata.
Naruo decided to return to Japan and his replacement Kazuaki Yoshinaga will have the task of building a new team for the 2017 season without star man Kawata, who has returned to sign for the White Swans' parent club in the J-League.

3. Minnows Cambodia no longer easy pickings
The Angkor Warriors had to take the long route of qualifying from the playoffs before joining Myanmar, Vietnam and Malaysia in Group B of the 2016 AFF Suzuki Cup.
Korean tactician Lee Tae-Hoon's team blitzed past their playoff opponents and refused to back down to superior oppositions in Yangon, only to be let down by naïve defending to lose all three group matches.
Despite the results, Cambodia showed that they are no longer the regional whipping boys they once were, and almost pulled off a remarkable upset against Malaysia only to go down 3-2 at the end.
Vietnam and Myanmar found it tough playing the gritty Cambodians too, and this tournament saw the birth of the country's biggest football star in Chan Vathanaka. The 22-year-old winger has already been dubbed "Cambodia's CR7" after Real Madrid's Portuguese superstar, and if he continues to develop as a player, it'll be a matter of time before the big Asian clubs come calling.

4. Tanaboon becomes first million-dollar transfer
The resurgence of the Premier League of Thailand has been credited for the national team's success at the international level and investors are lining up to back the country's No. 1 sport.
Traditional powerhouses like Buriram United and MuangThong United can no longer rest on their laurels, with Chiangrai United stepping up their game to rival the big guns.
The Beetles, backed by president Mitti Tiyapairat broke the Southeast Asian transfer record on Nov. 2 when they announced the signing of Tanaboon Kesarat for a fee of around 50 million Baht. That dwarfs the previous record of 35 million Baht that Muangthong paid for Theerathon Bunmathan.
The record fee made Tanaboon the most expensive signing in ASEAN football history and, at 23 years of age, the defensive midfielder looks to be a good investment.
He'll be joined by a slew of Thai national teammates like Suriya Singmui, Thitipan Puangchan and Pratum Chuthong.

Jason Dasey and Stanely Bernard discuss Faiz Subri's chances to win the FIFA goal of the year.

5. Faiz Subri carries Southeast Asian hopes with Puskas award
Little did he know that his goal for Penang back in February will be the country's saving grace in what has been a disappointing year for Malaysian football. Two million views on FIFA TV's Youtube channel later, Faiz Subri is now the man of the moment.
His goal has now made it to the final three-man short list for the FIFA Puskas award alongside Corinthians' Marlone and Daniuska Rodriguez. Even Lionel Messi's goal for Argentina and Neymar's flick and volley for Barcelona failed to make to make the cut.
Standing 35 metres out, the diminutive attacker smashed a Roberto Carlos-esque free kick that curled beyond the reach of Pahang's goalkeeper to give his team a 4-1 victory.
So when the winner is announced on Jan. 9, 2017, expect a social media buzz like never before should the name Faiz Subri be read out.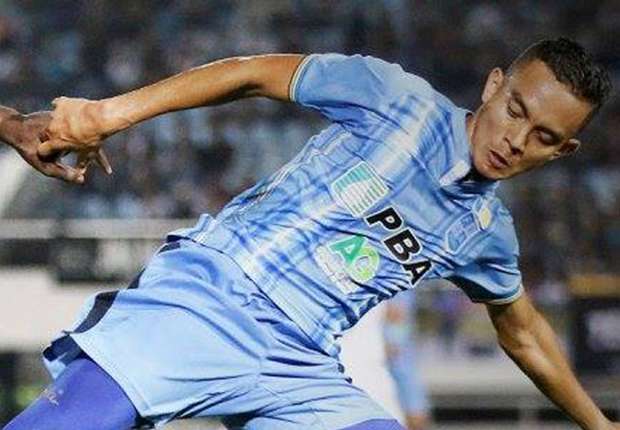 With that, we've come to the end of another magnificent year of football in Southeast Asia and it'll not take long before the football-mad region gathers their scarves and horns to kick start the 2017 season with the same fervor as this one.

ESPN FC editor Kelvin Leong is a former media officer for Singapore and ex-regional editor of ESPNSTAR.com.
ESPNfc.com
Proud
100%
Sad
0%
Excited
0%
Indifferent
0%
Inspired
0%
Amazed
0%