Credit by Featured Image Caption © Source
ECONOMY
Beyond
This Country will Lead Southeast Asia Economic Growth in 2017
The Philippine economy likely grew faster than any other in Southeast Asia this year, aided by stronger diplomacy with China and Japan and increased spending on infrastructure and the call-center industry.
The total value of goods and services in the Philippines climbed 6.7 percent in 2016, according to government estimates. Third-quarter values of 7.1 percent surpassed comparable figures for all of Asia. The International Monetary Fund estimates the Philippine economy to be worth $311 billion.
Philippine presidential spokesman Ernesto Abella cited achievements in foreign partnerships as a reason for the rise in economic growth. Since taking office in June, President Rodrigo Duterte has formed new ties with China and bolstered relations with already keen investor Japan.
China's impact expected to grow
"In terms of the impact on China, (the Philippines) is still one of the least dependent economies on China across the region," said Rahul Bajoria, regional economist with Barclays in Singapore.
"But over time, given the way the dynamics are playing out, the impact of China is expected to grow over the next three to five years," he said. "The real gains could come in the form of FDI (foreign direct investment), potentially both in manufacturing and in the mining sectors."
In October, Duterte visited heads of state in China and Japan as part of his policy to reduce dependence on the United States, the Philippines' former colonizer.
China pledged aid worth $24 billion, and economists expect Japan to invest in factories as well as fund development projects. Japan was the top source of direct investment in the Philippines a year ago, accounting for about 29 percent of the total.
In 2017 Duterte will chair ASEAN, a bloc of 10 Southeast Asian countries. His spokesman told local media that role would help develop more foreign partnerships.
Building on Aquino
Duterte's economic growth formula also extends partly from the past president, Benigno Aquino, Philippine socioeconomic planning secretary Ernesto Pernia said.
Aquino raised infrastructure to 5 percent of the gross domestic product this year for expressways, Metro Manila mass transit and railways in outer provinces. He also sought investors through what his administration called "China+1." That program gave foreign firms in China incentives to expand in the Philippines instead.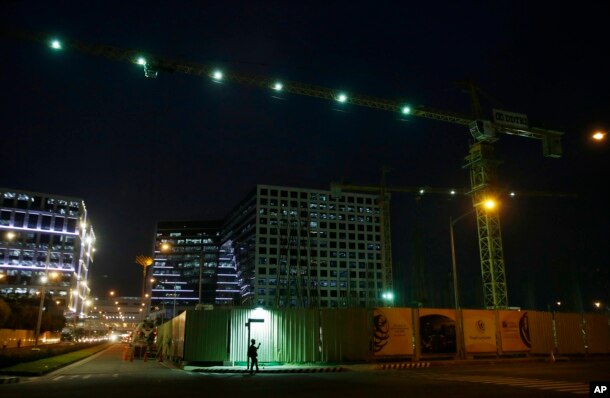 Duterte aims to focus infrastructure development on rural Philippines, home to many of the country's estimated 25 million impoverished people, Pernia told a news conference.
"We are carrying on with the macro-economic policies of the previous administration but ramping up infrastructure spending, promoting regional and rural development and investing heavily in human capital development, which includes health and education and nutrition," Pernia told the news conference in a video replay.
To sustain the infrastructure push, the Duterte government in September began spending $6.46 billion on schools, hospitals, flood control and airports.
The Philippines economy normally relies on consumption, remittances from Filipino workers stationed overseas and call centers for multinationals with headquarters offshore.
English fluency and low wages drive call centers to the Philippines, and the Business Process Association of the Philippines estimates those centers earned revenue of $25 billion in 2016. Remittances totaled $14.6 billion in the first half of the year.
The Manila-based Asian Development bank forecasts 6.4 percent growth this year for the Philippines and 6.2 percent in 2017. The country has outpaced the rest of Southeast Asia for the past five years, Bajoria said.
Other Southeast economies
Elsewhere in Asia, Asian Development Bank forecasts the Philippine economic expansion would lag China and India. India's GDP is expected to grow 7.4 percent this year and 7.8 percent next year.
Chinese aid to other parts of Southeast Asia may point to what the Philippines will receive. China is Malaysia's top investor and contributes heavily to economies in Cambodia, Indonesia and Laos.
A China-Philippine maritime dispute that erupted in 2012 and culminated with a pro-Manila world court arbitration verdict in July kept relations cool until Duterte took office.
But economists caution against high expectations for foreign investment. Laws on foreign ownership discourage investors in sectors such as mining. Money from China could be loans or earmarked for specific projects of Chinese interest. Foreign direct investment came to 2 percent of the GDP in 2015, the World Bank says.
"The headline numbers are quite large, but at the same time some of those numbers are not like actual sort of investment — some of them are like loans," said Christian de Guzman, vice president and senior credit officer with Moody's in Singapore.
"Just because these announcements are made, any number of things can happen with regard to the implementation," he said. "It's not going to be as significant as a case like Cambodia, where, as a share of GDP, those investments are actually quite large."
Proud
17%
Sad
0%
Excited
17%
Indifferent
17%
Inspired
0%
Amazed
50%