Credit by Nicholas Saputra in Ada Apa 2 Dengan Cinta 2 © Youtube
As millennials would have it, "Indonesia's film game in 2016 = strong." Let the box office numbers speak for themselves: as reported by SWA magazine, Indonesian films increased its domestic market share by 13 percent this year from 2015 to 33 percent.
And for the first time ever, 9 local films attracted more than 1 million viewers each, beating 2006's record of 6 films with more than 1 million viewers.
"Warkop DKI: Reborn," a reboot of the popular '80s comedy franchise, cracked the all-time box office record, toppling Riri Riza's paean to developmentalism "Laskar Pelangi" (The Rainbow Troops) from top spot.
Based on data compiled by film review website filmindonesia.or.id and ticket-booking app BookMyShow, here is a list of this year's biggest box-office earners.
Warkop DKI Reborn: Jangkrik Boss! Part 1
Ada Apa dengan Cinta? 2 (What's Up with Love? 2)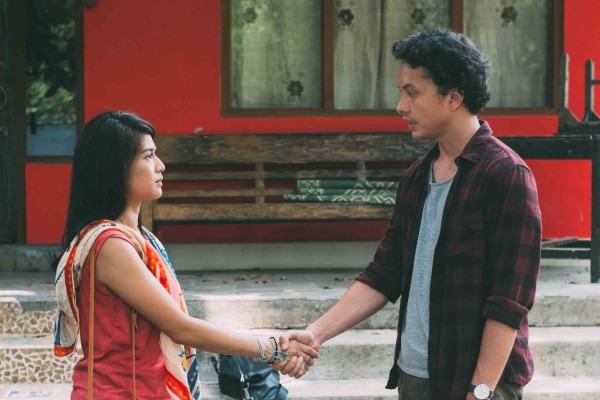 The sequel to Riri Riza's legendary high-school romance racked up Rp 109 billion ($8 million) with more than 3.6 million viewers. Apparently, many Indonesians still have not moved on from Cinta and Rangga's on again off again love story.
My Stupid Boss
The satirical comedy with cartoon-like characters played by Reza Rahadian and Bunga Citra Lestari unexpectedly earned Rp 91 billion ($6.7 million) from 3 million viewers.
Rudy Habibie
Reza Rahadian showed off his acting skills, playing a young B.J. Habibie, Indonesia's third president and aeronautical genius. Though its 2 million viewers were only half the amount scored by its prequel "Habibie Ainun," the coming-of-age biopic still managed to claim Rp 60 billion ($4.4 million) at the box office.
Koala Kumal (Ugly Koala)

Stand-up comic, actor and author Raditya Dika scored another hit with another adaptation of his biographical novels. 1.86 million viewers gave in once again to Raditya's low-brow charm, sending the comedian laughing all the way to the bank with Rp 55.9 billion ($4.1 million).
Comic 8: Casino Kings Part 2
Its prequel topped the box office two years ago, and now director Anggy Umbara, who also helmed Warkop DKI Reborn: Jangkrik Boss! Part 1, returned to the franchise (and the box office) with Rp 55 billion ($4 million) from 1.83 million viewers.
ILY from 38,000 Ft

Inspired by a tragic AirAsia plane crash in late 2014, this heart-wrenching romance starring newcomers Michelle Zudith and Rizky Nazar stole the hearts of 1.5 million moviegoers. 7th in this year's top ten box office list, ILY from 38,000 ft earned Rp 47 billion ($3.5 million).
Hangout
Raditya Dika wrote, directed and starred in this original comedy-thriller. Released on Dec. 22, the film attracted 1.17 million viewers in its opening week and is still going strong. So far it has earned Rp 35 billion ($2.6 million) at the turnstiles.
London Love Story
Adapted from a novel of the same name, the romance flick starring Dimas Anggara and Michelle Zudith was the last to pass 1 million viewers in 2016, grossing Rp 33 billion ($2.4 million).
Headshot
Starring "The Raid" star and martial arts champion Iko Uwais, "Headshot" by the Mo Brothers reaped Rp 20 billion ($1.5 million) from 718,000 viewers. Expect the numbers to go up as the movie's cinema run has gone longer than expected.

Source : Jakarta Globe
Proud
83%
Sad
0%
Excited
17%
Indifferent
0%
Inspired
0%
Amazed
0%