Credit by Sokha Beach © Sokahotels
The beaches in Cambodia are basically stand-out amazing! You tend to see and hear a lot more about Thailand's beaches but there's something rather more special about the slightly quieter beaches you find in Cambodia. If you are a beach lover, these are the Top 5 in Cambodia.
1. Southwestern Beach, Koh Rong
Unsurprisingly found on the southwestern side of the island, this incredible beach stretches on for nearly 5km. White sandy expanses with palm trees and stunning turquoise waters; this is your classic paradise beach. It's also a snorkeler's dream and the southernmost area of the beach is rocky and plays host to schools of colourful rabbitfish, sergeant fish and parrot fish.
2. Long Set Beach, Koh Rong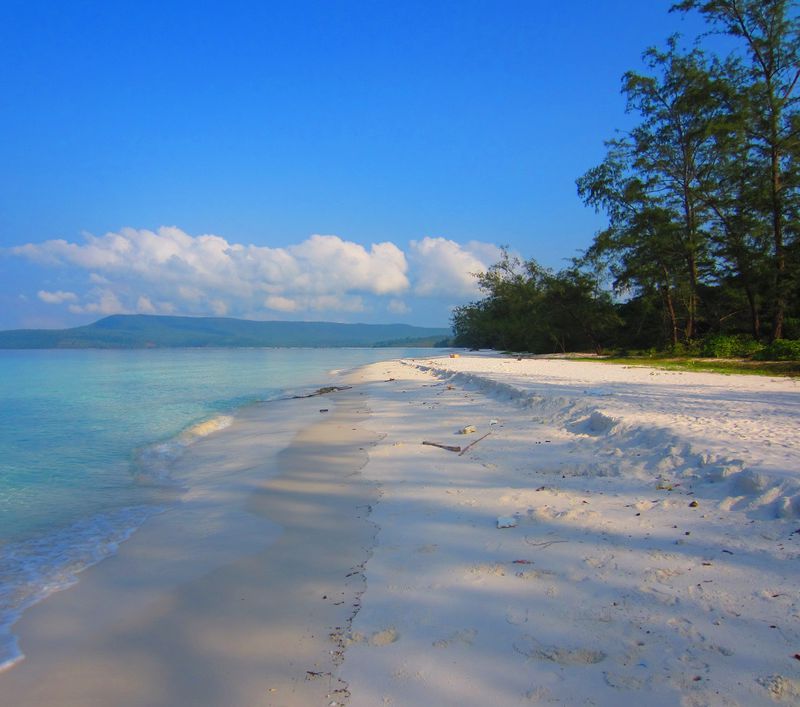 The second largest island in Cambodia, Koh Rong is the place to visit now before the masses descend on this up and coming resort. Long Set beach is the southernmost cove of the island, so named by the locals after the farmer who lives there growing coconuts, mangoes and cashews. The white sandy beaches are peaceful and quiet at the moment and the gentle aquamarine waters are very inviting. You could waste many an hour relaxing in the sands, crabbing and looking for pretty shells. By night a rather wonderful spectacle awaits, wade out about a metre into the water and the plankton lights appear! The bio-luminescent plankton creates an ethereal phosphorescence in the water, and any movement in the water; be it gentle waves or your splashes, create a fabulous sparkly effect! Bring a mask for a close-up look.
3. Koh Thmei Beach, Ream National Park
Well for something totally different, this beach is made entirely of seashells! A totally captivating sight and really unusual, great for photographs. And it's not just seashells, the Ream National Park houses several of Cambodia's top beaches and the ones are Koh Thmei (a mangrove forest covered island) are extra special. The island itself is currently virtually uninhabited, with stunningly clear waters. At the end by the boat dock you'll find the seashell beach but to the east of the dock is a beautiful, pristine stretch of yellow sand – rather more comfortable for lazing around! This is also a great place to bird watch as the island is home to dozens of species.
4. Lazy Beach, Koh Rong Samloem
Its 1km of golden sands are shaded by pine trees and are totally spotless thanks to being swept daily. This is also a great beach for snorkelling and there are two great dive sites at either end of the bay. Behind the beach is a beautiful stretch of grassland that spreads back about 100m to the jungle behind. There is also a bar on the beach so at the end of a busy day relaxing, it's hard to imagine a more perfect end than enjoying a tropical cocktail while watching the stunning sunset.
5. Sokha Beach, Sihanoukville
This pretty beach is privately owned with a long expanse (1.5km) of fine, white sand and shallow, safe waters. It's very quiet, partially as there are no hawkers selling goods allowed on the beach, so it's ideal for relaxing and the waters are great for swimming. Only a small section at the eastern end is open to the public as the Sokha Beach Resort there owns a large section. If you are not a guest of the hotel, you can still purchase a day pass and you also gain entry to the resort's swimming pool.
With all of these beaches, and many more that Cambodia has to offer, it's imperative to visit soon; there's been so much buzz and publicity around Cambodia recently that the growing crowds are soon going to take over and the peace and tranquillity will be disturbed. Currently, you can really find your own little spot of paradise on a Cambodian beach – what bliss.

Source : Luxury Travel Diary
Proud
100%
Sad
0%
Excited
0%
Indifferent
0%
Inspired
0%
Amazed
0%