Sultan Omar Ali Saifuddien Mosque at Bandar Seri Begawan, Negara Brunei Darussalam, is considered as one of the most beautiful mosques in the Asia Pacific (Wikipedia). The construction of the mosque was completed on 26th September 1958. It is named after Omar Ali Saifuddin III, the 28th Sultan of Brunei Darussalam, the country is ruled by Sultan Haji Hassanal Bolkiah, the 29th Sultan of Brunei.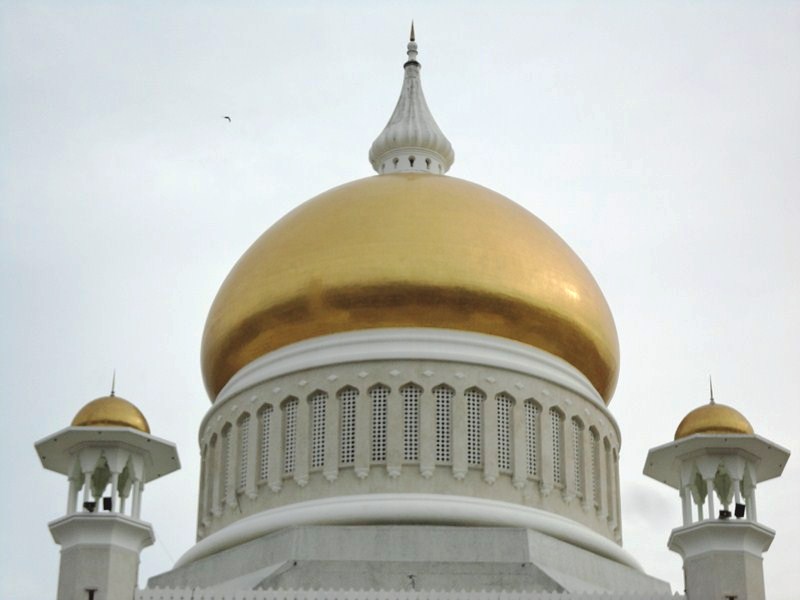 The Sultan Omar Ali Saifuddien Mosque was built between 1954 and 1958. The mosque reflects the influence of Islamic, particularly Moghul, and Italian architectural styles in its construction. The mosque was designed by A. O. Coltman of Booty and Edwards Chartered Architects of UK, based in Malaysia at the time.
The large dome of the mosque, covered in pure gold, is a prominent landmark in the capital city. The main minaret of the mosque, reaching a height of 171 feet, is constructed from marble and affords a beautiful view of the city from the top. The building is surrounded by trees and beautifully designed and maintained flower gardens. The prayer hall of the mosque has arches supported by marble columns and the walls, having stained glass windows, are adorned with beautiful carvings. The prayer hall can accommodate 3,000 worshipers at a time.
The marble for the construction were imported from Italy, the granite came from Shanghai, stained glass and the chandeliers came from England, and the carpets from Saudi Arabia and Belgium. The huge doors of the mosque were made from timber imported from the Philippines.
The mosque's 52m minaret makes it the tallest building in central Bandar Seri Begawan, and woe betide anyone who tries to outdo it – apparently the nearby Islamic Bank of Brunei building originally exceeded this height and so had the top storey removed by order of the sultan. The ceremonial stone boat sitting in the lagoon is a replica of a 16th-century mahligai (royal barge) where Quran-reading competitions were once held.
Source : Lonely Planet | Atlas Obscura | Thousand Wonders