Credit by Airplane Pictures | Lao Airlines at Narita International Airport, Japan
Lao Airlines is expected to launch direct flights between Vientiane's Wattay International Airport and Japan's Tokyo Narita International Airport, starting 29 October Lao News Agency (KPL) reported Tuesday.
The flight will be flown three times per week -- Wednesday, Friday and Sunday.
The new air route is expected to boost the economic development, investment and trade in Laos as well as the inflow of foreign visitors to the country over years to come, the company said in its announcement.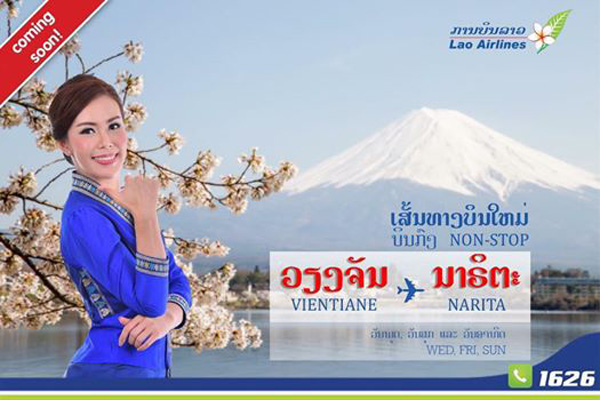 The planned opening of the new air route is also in line with the will of the government.
According to Vientiane Times, Lao Prime Minister Thongloun Sisoulith told his Japanese counterpart, Mr Shinzo Abe during their meeting in June in Japan that Laos hoped to increase the exchange of people and goods by establishing direct flights between Laos and Japan promptly
In 2016, Laos registered more than 4.23 million foreign visitors in total. Tourists from Japan accounted for almost 50,000, an increase from the 43,826 recorded in 2015, according to an information from the Ministry of Information, Culture and Tourism.
Recently, the airline announced it would re-launch direct flights from Vientiane's Wattay International Airport to Singapore's Changi International Airport starting on October 29 after halting the flight earlier this year.
Currently, Lao Airlines has direct air routes to various major cities in Cambodia, Thailand, Vietnam, China and the Republic of Korea.
It also plans to open direct flights to destinations in Myanmar, Indonesia and China's Taiwan and Hong Kong.
The national airlines company currently operates directly flights to 12 international destinations and six domestic destinations.
Proud
50%
Sad
0%
Excited
25%
Indifferent
25%
Inspired
0%
Amazed
0%