The US spacecrafts Voyager 1 and Voyager 2 were launched 16 days apart in August and September of 1977. Both the missions took advantage of a once-in-175-year alignment of planets that allowed between them to visit all the gaseous planets of the solar system.
PBS (The Public Broadcasting Service), n American public broadcaster and television program distributorlast month released a documentary to commemorate the 40th anniversary of the Voyager missions, The Farthest: Voyager In Space, which can be streamed online.
Here's the network's writeup of the event:
The twin spacecraft—each with less computing power than a cell phone—used slingshot trajectories to visit Jupiter, Saturn, Uranus and Neptune. They sent back unprecedented images and data that revolutionized our understanding of the spectacular outer planets and their many peculiar moons.
Still going strong four decades after launch, each spacecraft carries an iconic golden record with greetings, music, and images from Earth—a gift for any aliens that might one day find it. Voyager 1, which left our solar system and ushered humanity into the interstellar age in 2012, is the farthest-flung object humans have ever created. A billion years from now, when our sun has flamed out and burned Earth to a cinder, the Voyagers and their golden records will still be sailing on—perhaps the only remaining evidence that humanity ever existed.
More than 20 billion kilometers from home, Voyager is still yielding terrific science as it battles through the last fringes of our star system. Voyager was launched on September 5, 1977, a few weeks after its sister scout Voyager 2, and the pair carried out a magnificent tour of all the giant planets—Jupiter, Saturn, Uranus and Neptune.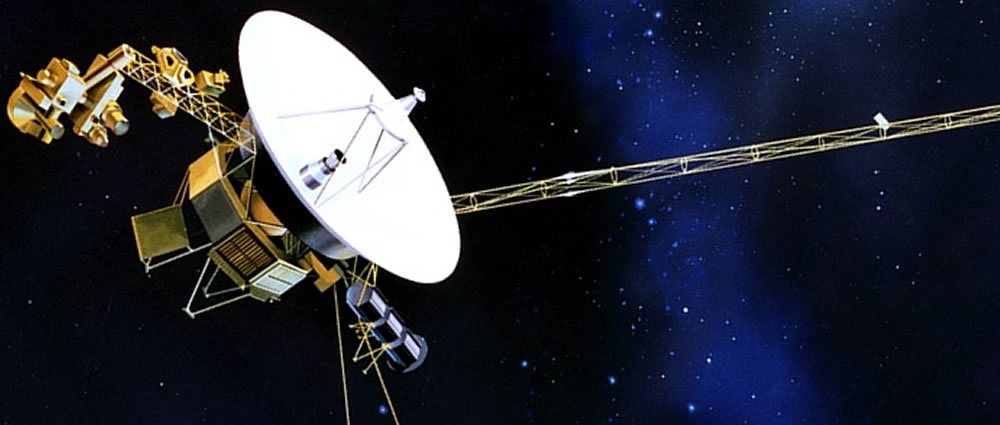 Afterwards, their missions were reconfigured so they would fly to the edge of the Solar System, and then beyond, into the utter unknown.
Speeding outwards at more than 17 kilometers per second (38,000 miles per hour), at a distance from where the Sun appears the size of a dot, they bear messages for any passing extraterrestrial.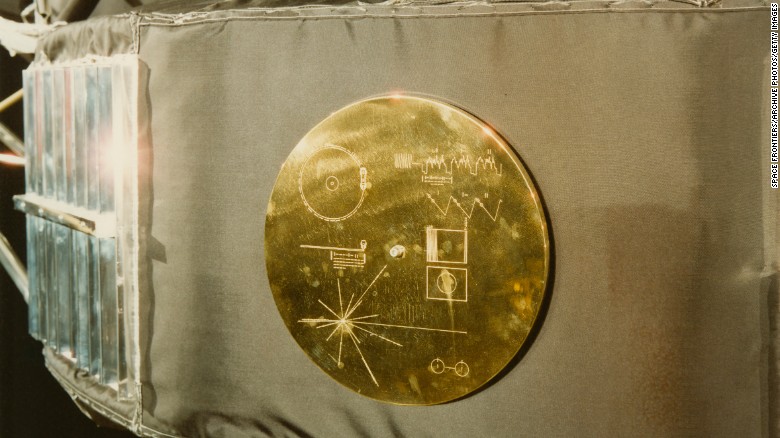 They are "the two most distant active representatives of humanity and its desire to explore", says NASA.
There is also a 30-centimetre (12-inch), gold-plated copper record (voyager.jpl.nasa.gov/spacecraft/goldenrec.html), along with a cartridge and a needle to play it with.
The record holds 115 images of life on earth, recorded in analog form, and a variety of sounds and snatches of music, from singing pygmy girls, Mozart and Bach to Javanese gamelan and Chuck Berry playing "Johnny B. Goode".
And there are spoken greetings from Earthlings in 55 languages, beginning with Akkadian—a language spoken in Mesopotomia about 6,000 years ago—and ending with the Chinese dialect of Wu, also including Hittite, Latin and Welsh in between.
The following music was included on the Voyager record.
Bach, Brandenburg Concerto No. 2 in F. First Movement, Munich Bach Orchestra, Karl Richter, conductor. 4:40
Java, court gamelan, "Kinds of Flowers," recorded by Robert Brown. 4:43
Senegal, percussion, recorded by Charles Duvelle. 2:08
Zaire, Pygmy girls' initiation song, recorded by Colin Turnbull. 0:56
Australia, Aborigine songs, "Morning Star" and "Devil Bird," recorded by Sandra LeBrun Holmes. 1:26
Mexico, "El Cascabel," performed by Lorenzo Barcelata and the Mariachi México. 3:14
"Johnny B. Goode," written and performed by Chuck Berry. 2:38
New Guinea, men's house song, recorded by Robert MacLennan. 1:20
Japan, shakuhachi, "Tsuru No Sugomori" ("Crane's Nest,") performed by Goro Yamaguchi. 4:51
Bach, "Gavotte en rondeaux" from the Partita No. 3 in E major for Violin, performed by Arthur Grumiaux. 2:55
Mozart, The Magic Flute, Queen of the Night aria, no. 14. Edda Moser, soprano. Bavarian State Opera, Munich, Wolfgang Sawallisch, conductor. 2:55
Georgian S.S.R., chorus, "Tchakrulo," collected by Radio Moscow. 2:18
Peru, panpipes and drum, collected by Casa de la Cultura, Lima. 0:52
"Melancholy Blues," performed by Louis Armstrong and his Hot Seven. 3:05
Azerbaijan S.S.R., bagpipes, recorded by Radio Moscow. 2:30
Stravinsky, Rite of Spring, Sacrificial Dance, Columbia Symphony Orchestra, Igor Stravinsky, conductor. 4:35
Bach, The Well-Tempered Clavier, Book 2, Prelude and Fugue in C, No.1. Glenn Gould, piano. 4:48
Beethoven, Fifth Symphony, First Movement, the Philharmonia Orchestra, Otto Klemperer, conductor. 7:20
Bulgaria, "Izlel je Delyo Hagdutin," sung by Valya Balkanska. 4:59
Navajo Indians, Night Chant, recorded by Willard Rhodes. 0:57
Holborne, Paueans, Galliards, Almains and Other Short Aeirs, "The Fairie Round," performed by David Munrow and the Early Music Consort of London. 1:17
Solomon Islands, panpipes, collected by the Solomon Islands Broadcasting Service. 1:12
Peru, wedding song, recorded by John Cohen. 0:38
China, ch'in, "Flowing Streams," performed by Kuan P'ing-hu. 7:37
India, raga, "Jaat Kahan Ho," sung by Surshri Kesar Bai Kerkar. 3:30
"Dark Was the Night," written and performed by Blind Willie Johnson. 3:15
Beethoven, String Quartet No. 13 in B flat, Opus 130, Cavatina, performed by Budapest String Quartet. 6:37
It also carries greetings from several languages, including in Bahasa Indonesia who was spoken by Ilyas Harun. It says "Selamat malam, hadirin sekalian. Selamat berpisah dan sampai bertemu lagi di lain waktu." o"Good night ladies and gentlemen. Goodbye and see you next time." (in english)
In the absence of solar energy in deep space, the two Voyagers are powered by long-life nuclear batteries.
In 2025, the batteries will die and their voices will be stilled forever. But the two probes will carry on their mission, to whatever strange fate awaits them.
NASA is celebrating the anniversary with a set of free, beautifully designed posters.
Source and reference : NASA | Quartz | Phys.org | The Sky Live