Credit by La Balade des Gnomes, the unusual hotel in Durbuy, Belgium © Travel + Leisure
Founded in the year 2000 by Laurent Vernhes and Michael Davis, a pair of new-media veterans in search of a cure for boring travel and an antidote to the internet's most common affliction: an overdose of options, Tablet (TabletHotels.com) is everything travelers need for unforgettable travel experiences.
As Forbes contributor named Jim Dobson wrote, Tablet has been his top choice to search for his favorite destination and he could choose from among the very best hotels available. He appreciates the special perks and low rates that Tablet offers in many of the hotels when you book through them including; upgrades and special amenities making this an extraordinary value to travelers.
This year, Tablet has its own breathtaking selection of the Top 25 Most Unusual Hotels.
Let's have a look at how 'unusual' they are!
Casa de Uco (Mendoza) - ARGENTINA
Casa de Uco is a stylish, sustainable, concrete and glass structure overlooking vineyards on the edge of a lake. An organic farm grows on the rooftop, and guests can explore the property on horseback, or dine on Argentinian-style steaks, in the resort's restaurant.
Longitude 131 (Yulara) - AUSTRALIA
Longitude 131° refers to the exact east-west location of Uluru, the rust-colored Ayers Rock, a popular attraction in Australia. The hotel is by far the most luxurious and offers the best view — with each of the tent styled cabins offering full windows across six miles of desert and the thousand-foot-high Uluru.
Explora Rapa Nui (Easter Island) - CHILE
This dramatic hotel on Rapa Nui, Easter Island was named after Posada de Mike Rapu, a diver, and entrepreneur who's a local partner on the project. The architecture features rounded, futuristic forms brought to earth with natural materials like raw concrete and unfinished wood. Open floor plans and wide windows offer sight-lines from anywhere in the rooms — and the view is, as Explora's custom, a large part of the appeal.
Tierra Chiloe (Patagonia) - CHILE
This sustainable luxury hotel in the Atacama Desert and Patagonia is notable for their striking minimalist architecture, and a plush escape in a dramatic location.
Tierra Atacama (Atacama) - CHILE
Located in an inhospitable location, the Atacama Desert, this hotel is surrounded by a visually striking environment, the Mars-like Atacama landscape.
Tierra Atacama is a 32-room boutique hotel in a modern minimalist style. With dramatic views of the volcano in the distance, the clean modernist design includes materials of local stone, adobe, and rough-hewn wood.
Vina Vik (San Vicente de Tagua Tagua) - CHILE
It's one of those hotels where the guest rooms and suites are nearly as impressive as the beautifully designed public spaces. There is a wow factor of the large central living area, the gardens, and the cantilevered granite swimming pool that seems to extend into the landscape.
All guest suites feature floor-to-ceiling windows that provide unobstructed views over the stunning surroundings — some overlook the vineyards and the Colchagua Valley beyond, while others face the snow-capped Andes.
The Lalu (Qingdao) - CHINA
This is the sort of hotel where an Ocean View Suite is the bottom of the range of accommodations as the offers are endless all the way up to the dramatic Presidential Suite, Sea Villa or the Cliff Villa.
The resort offers up six restaurants serving a range of cuisines and a world-class full-service spa, incorporating a Japanese-style onsen hot spring.
Nimb (Copenhagen) - DENMARK
Copenhagen's best-kept secret is the Nimb, a seventeen-room hotel that rivals the best hipster boutiques in the world.
The building, bordering on the famous Tivoli Gardens, was renovated in 2008, and while its present incarnation as a hotel is brand new, the look is timeless, with classic furnishings and top-quality materials to make you feel like you are in a private home.
Nobu Hotel Shoreditch (London) - ENGLAND
Following successful hotel openings in Asia and the US, the famous sushi restaurant has chosen London's hottest neighborhood for its first European hotel.
The building is equal parts industrial and contemporary and the rooms are nowhere near typical London style lodging. The hotel takes its inspiration from Shoreditch street art and traditional Japanese design. The rooms start out small, but the suites offer more room to spread out, and of course, it is guaranteed that the food and beverage experience will be stellar.
Hotel des Dromonts (Avoriaz) - FRANCE
Hotel des Dromonts is built with its eye-catching architecture located in the town of Avoriaz, one of a string of ski resorts built in the French Alps in the 1960's. The quirky ski-in and ski-out building is angular and pyramid style and was inspired by Le Corbusier's designs for economic urban dwellings, maximizing vertical space and providing great views from every room.
Nhow Berlin (Berlin) - GERMANY
Hotel des Dromonts is built with its eye-catching architecture located in the town of Avoriaz, one of a string of ski resorts built in the French Alps in the 1960's. The quirky ski-in and ski-out building is angular and pyramid style and was inspired by Le Corbusier's designs for economic urban dwellings, maximizing vertical space and providing great views from every room.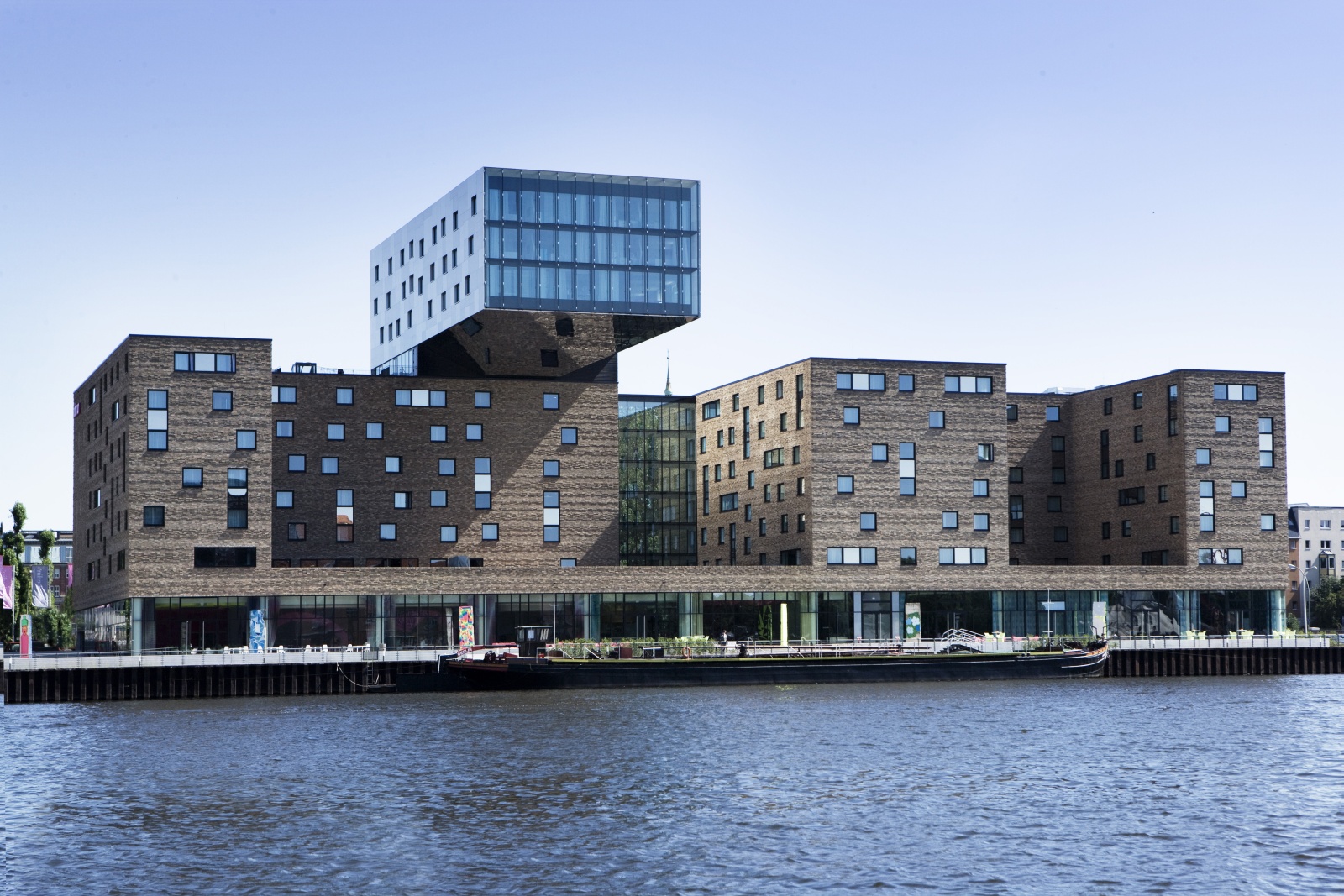 ION Adventure Hotel (Selfoss) - ICELAND
The alien landscapes of Iceland were in much need of a hotel with real architectural distinction and luxury. The Ion is located less than an hour outside of Reykjavik, on the edge of Thingvellir National Park, in a landscape of long-dormant lava fields.
The hotel is also totally sustainable, built largely from reclaimed and renewable materials and heated geothermically, even the hot water is collected underground at 190°C.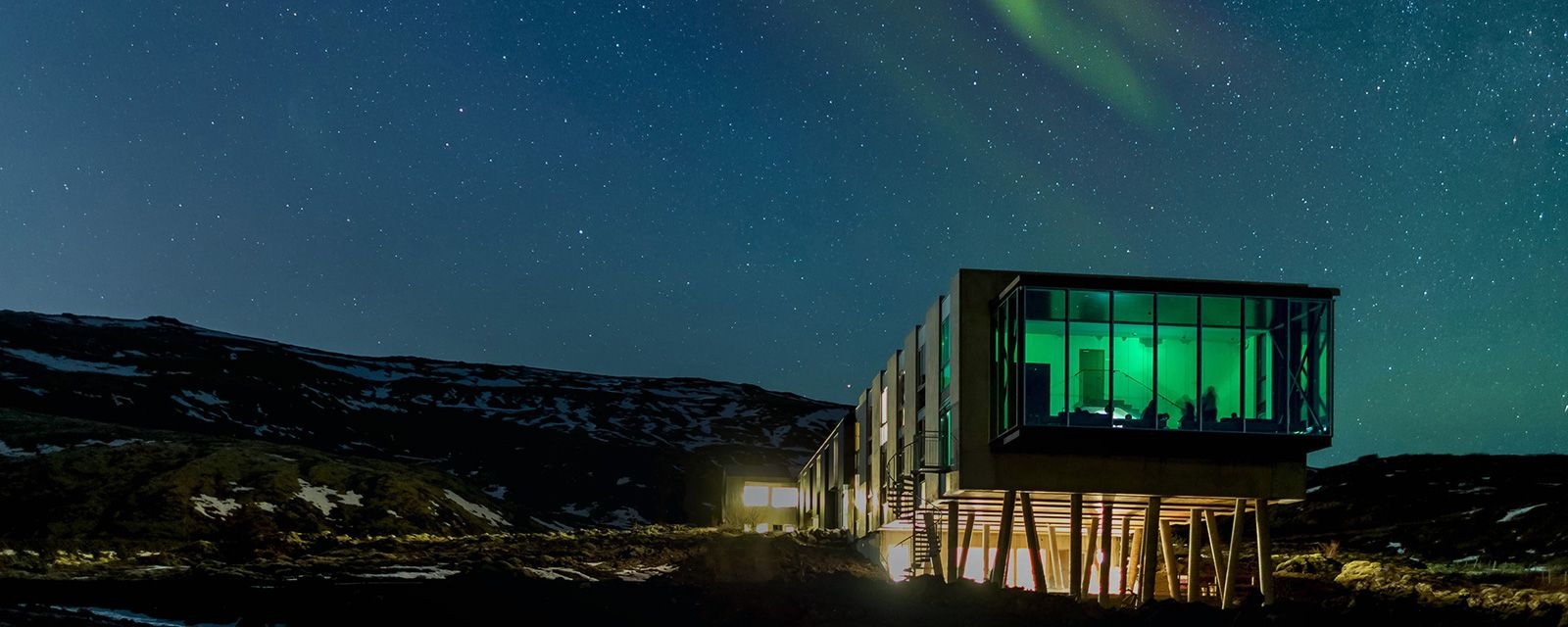 Sextantio Le Grotte Della Civita (Matera) - ITALY
The village of Matera, in far southern Italy, is famous for the houses carved into the volcanic hillsides, some of them dating back to Paleolithic times. Daniele Kihlgren created a hotel concept that is total immersion. Here the hotel rooms occupy the caves themselves.
Playa Viva (Juluchuca) - MEXICO
The accommodations remind you of what you would find in Bali with thatched-roof villas open to the air, and no walls to maximize the sea views. It's all very low-tech, and the hotel is about as green as they come, with a low-impact approach perfectly suited to the hotel's low-key charms.
This perfect retreat offers morning yoga, spa services, and meditation classes, as well as a wide variety of outdoor excursions, on land and on the water.
Mar Adentro Cabos (San José del Cabo) - MEXICO
Viewed from above, the hotel is a feast of modern design. Perfectly illuminated pathways lead across the water, winding between the hotel's various buildings and spaces, from the oceanfront pool to the art gallery to the cocktail bar to spa. There's a separate children's pool, too, and several restaurants including the sushi restaurant, Nido.
Each of the floating boxes contains 200 guest rooms: each its own modern retreat, all white with decor by the Italian brand Poliform and floor-to-ceiling windows letting in abundant sunshine and views of the sea. There's also a lighting menu, entertaining after dark; even the bath products are customizable.
Mar Adentro is always evolving, incorporating partnerships with Mexican fashion designers and an artist-in-residence program with its already lively offerings of film screenings and live music performances.
Kruisheren Hotel (Maastricht) - NETHERLANDS
This cutting-edge property is located in the unlikeliest of places, a fifteenth-century monastery that's now home to the Kruisherenhotel.
A thorough renovation by interior designer Henk Vos has transformed the character of the place; the original monks' cloisters have been converted into modern hotel rooms.
Alila Jabal Akhdar (Nizwa) - OMAN
This stylish luxury boutique hotel is located in a remote corner of the Middle East; Oman's Al Hajar mountain range. It requires some effort to get to Alila Jabal Akhdar, and that's exactly the appeal.
This is not just a hotel with serious design: it's also an oasis, secluded and self-contained, with a spectacular spa and an infinity pool that's perfectly positioned for dramatic views of the stark landscape.
Areias Do Seixo Charm Hotel (Povoa de Penafirme) - PORTUGAL
This high-end hotel is located on the coast north of Lisbon. The 13 rooms offer a comfortable, low-key affair, providing for a unique social gathering in the company of strangers.
All accommodations come with rustic fireplaces or wood stoves. Gnarled, salt-bleached tree limbs form support beams or bedposts; polished concrete and stone are frequently used; large windows or towering glass walls bring the outdoors in, and the main building has an organic garden covering its roof.
Hotel Viura (Villabuena de Alava) - SPAIN
At first glance, Hotel Viura is a bizarre looking stack of cubes, a modernist boutique hotel located in a traditional Spanish wine village in the Rioja Alavesa region.
The cube-stack layout ensures that most of the thirty-three rooms have panoramic, corner-office views of the village and the surrounding Sierra de Cantabria mountains. Interior lines are orthogonal, with just a tilt in the wall to remind guests of the exterior.
Santani Wellness Resort & Spa (Kandy) - SRI LANKA
Santani Wellness Resort and Spa highlight the stunning scenic landscapes while its interior is all modernist concrete architecture. This wellness resort isn't just a hotel with a spa, it's a place that's designed from top to bottom to promote relaxation and meditation.
Minimalist modern architecture isn't chosen because it's photogenic but inspired to promote meditative calm to truly escape.
Gorvalns Slott (Jarfalla) - SWEEDEN
This 17th-century Swedish castle is located on 900 acres on the shore of Lake Mälaren. The hotel's 38 rooms split between two original-construction wings and three auxiliary buildings, take rococo to its ornate, curlicued, filigreed, Louis XV extreme.
It's all about fur covered lampshades, cabriole legs, gilt-gesso-style headboards, and more.
7132 Hotel (Vals) - SWITZERLAND
Therme Vals, the thermal baths designed by architect Peter Zumthor, has long been regarded as a masterpiece, a place where design junkies visit to experience the quartzite temple that houses the geothermic waters. The Hotel 7132, now offers this village has a hotel that's worthy of sharing space with the famous spa.
El Cosmico (Marfa) - TEXAS
Liz Lambert's unique style first made headlines with her earlier ventures, Austin's stylish Hotel San Jose and the bohemian Saint Cecilia. El Cosmico has left the traditional hotel world behind, trading in rooms and suites for trailers, yurts, tents and teepees, a sort of post-hippie hospitality commune on the outskirts of Marfa.
X2 River Kwai Resort (Kanchanaburi) - THAILAND
If you're a fan of ultra-modern architecture and the stunning Thai countryside, then X2 is a resort you need to visit. The chain's third resort moves away from the coastline, into the Kanchanaburi province of western Thailand, but stays close to the water, taking the extremely picturesque Kwai Noi river for its backdrop.
X2 River Kwai includes just eight units; the ground-floor poolside rooms and suites down below, and the second-floor rooms and suites which resemble elevated shipping containers. From the inside, they are all crisp, clean, luxe and totally modern.
In the future, the resort will add 18 more units, all floating moored in the river. The resort also features the Bridge Bar & Bistro, a glass-fronted restaurant with a river view and an open-air deck.
Argos (Cappadocia) - TURKEY
Cappadocia is a region that offers the world's largest supply of habitable caves. And this repurposed monastery in the village of Uçhisar is now a boutique hotel called Argos in Cappadocia.
The rooms themselves pack in as much contemporary comfort as a cave can reasonably have. Some have terraces, others private in-cave pools, and they manage to make subterranean living feel like the most natural thing in the world. Not to be missed are Argos's amazing public spaces; the owners discovered a large tunnel network during the refurbishment, and from it, they've fashioned a restaurant, some meeting rooms, a wine cellar and even a concert hall.
Quoting the Tablet founder Laurent Vernhes as saying, ""We started Tablet because we believe that travel should be about experiences and memories, not amenities, rewards points, and prices." he says. "While we're no strangers to many of the world's most traditionally luxurious hotels, the ones that keep us interested, fifteen years on, tend to be the unusual ones. Sometimes it's a surprising location, sometimes it's a particularly inspired architectural statement, sometimes it's
"While we're no strangers to many of the world's most traditionally luxurious hotels, the ones that keep us interested, fifteen years on, tend to be the unusual ones. Sometimes it's a surprising location, sometimes it's a particularly inspired architectural statement, sometimes it's a hotelier with a strong point of view — and often it's all three. What these hotels have in common is that each, in its own way, offers an experience you won't soon forget."

Source: Forbes.com, TabletHotels
Proud
0%
Sad
0%
Excited
0%
Indifferent
0%
Inspired
0%
Amazed
100%