"I've been in the Philippines probably close to a hundred times. You just didn't know," said American action star Steven Seagal.
He is in Manila not just to serve as judge in the Miss Earth beauty tilt, but also to do preproduction work for a television series titled "General Commander" that he plans to make here in January 2018.
The 65-year-old American actor and martial artist is best known for a string of blockbuster action movies from the late 1980s to the early 1990s, which included "Above The Law," "Hard to Kill," "Marked for Death," "Out for Justice," "Under Siege," and "On Deadly Ground."
Hollywood action star Steven Seagal is back in Manila to support the advocacy of the #MissEarth2017 beauty pageant. pic.twitter.com/qafsWDaiF2

— Miss Earth (@MissEarth) October 10, 2017
He was one of the world's top action stars until the late 1990s when he started to star, producer and sometimes write films that were released direct-to-video and more recently as video-on-demand.
Seagal said to Inquirer that he kept coming back to the country because of "the people … Filipinos are gentle, kind, musical, fun, humble and have great sense of humor."
He added that he has spent most of his time in Manila, "but I have gone to Vigan, Boracay and all the small islands with Chavit."
Seagal was referring to Narvacan, Ilocos Sur Councilor Luis "Chavit" Singson. The action star and Singson turned out to be longtime friends. Singson later told the Inquirer that he'd be producing an actioner for Seagal here.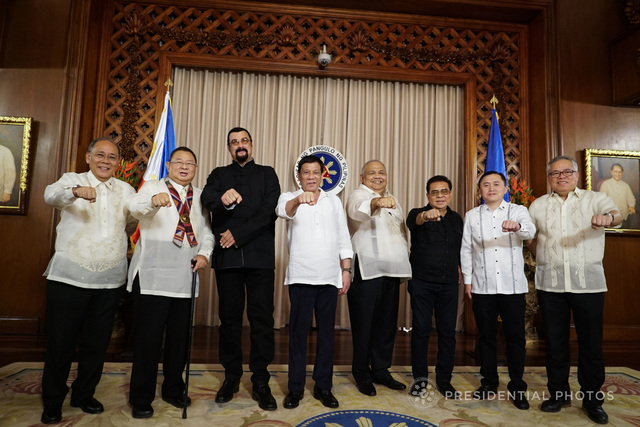 As to why the Philippines was picked as location of the main base in the story, Seagal explained: "We wanted a place that's exotic and different. We'll shoot 80 percent of the series here … and maybe in New York, Moscow, Kyrgyzstan and two more places."
Seagal, who's a seventh-dan black belter in the Japanese martial arts aikido, also showed interest in incorporating Filipino martial arts in the series, particularly eskrima and kali.
He likewise referred to Fil-Am martial arts instructor Dan Inosanto, best known as the training partner of Bruce Lee, as his "blood brother for more than 40 years."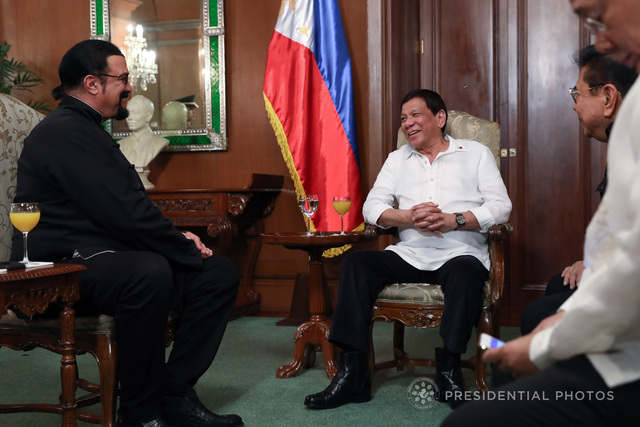 "He is the best knife fighter on Earth," beamed Seagal. "If you look at 'Out for Justice' (1991), you will see me doing some nice eskrima and kali there."
GMA News reported that Seagal met President Rodrigo Duterte in Malacañang on Thursday, October 12. Photos released by Malacañang on Thursday evening show Duterte chatting and laughing with Seagal, and even doing his signature pose with the actor.
Former Ilocos Sur governor Luis "Chavit" Singson accompanied Seagal during his meeting with Duterte, the Office of the President added.