Credit by Stunning Bangkok at night © Lonely Planet
The world's leading Wi-Fi event is going to APAC next month: On November 28-30 we're taking the Wi-Fi NOW expo & conference to the exciting city of Bangkok for three days of all things Wi-Fi.
The Wi-Fi NOW team has been working in Europe and North America for the past two years, sharing business-critical information and bringing the best of Wi-Fi personal networking to their readers and followers. Now they're taking Wi-Fi NOW to one of the world's most dynamic tech regions: Southeast Asia.
Covering all the business-critical Wi-Fi themes
Wi-Fi NOW APAC will be zooming in on all the most important themes in Wi-Fi: New technology, City Wi-Fi, new business models & monetization for the public-facing enterprise, carrier Wi-Fi, and – not least – the latest in Wi-Fi tech and applications for the smart home.
The event will also be featuring some of the regions most promising affordable connectivity Wi-Fi projects, including Google's free Wi-Fi project for India Rail.
Wi-Fi NOW is the world's only expo and conference 100% dedicated to Wi-Fi - and we're bringing together the entire Wi-Fi industry for three high-energy & informative days of all things Wi-Fi in amazing Bangkok this fall. Our goal is Wi-Fi everywhere for everyone. We help drive the industry forward by delivering a detailed Wi-Fi technology and business update from enterprises, carriers, technology leaders, a host of promising Wi-Fi startups, and service providers of all kinds.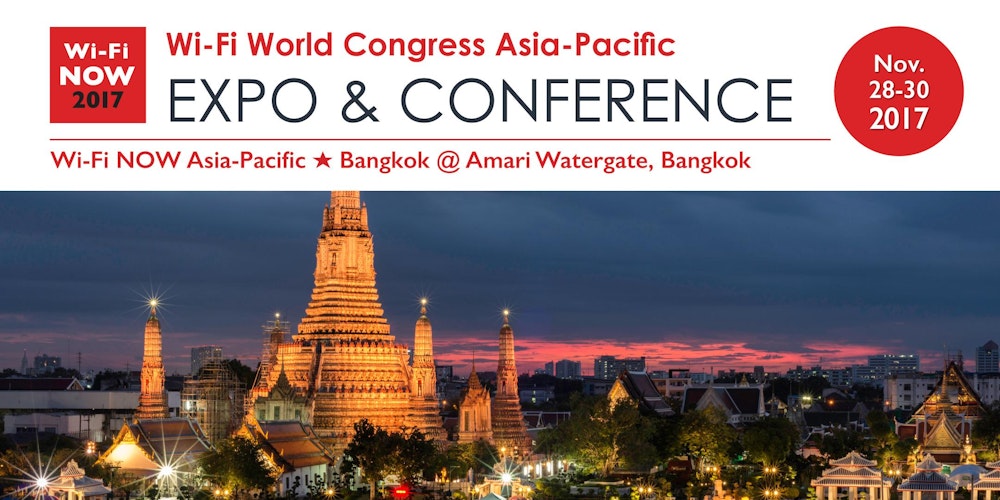 At this event we're zooming in on the following themes:
City Wi-Fi on the rise
Disruption or Convergence?
New Wi-Fi Business Models & Monetization
A New Breed Of Wi-Fi Service Providers: From Cable To Wi-Fi First
Hotspot 2.0 (NGH) Or OTT?
Performance, Performance, Performance!
Consumer Engagement For Venues
High-Density Wi-Fi
Wi-Fi That Matters: Cities & Governments Institutions
Wi-Fi Calling For Carriers
Security In Focus
Building The Perfect Wi-Fi Core Network
LTE-U/LAA vs. Wi-Fi – Is It A Real Threat To Wi-Fi?
Wi-Fi for everyone, everywhere
"We're excited that we're taking Wi-Fi NOW to APAC for the first time. It's a region with lots of innovation in Wi-Fi by carriers, cities, enterprises, and it's home to many of the world's most progressive tech vendors. We'll be doing what we do best: Bringing the Wi-Fi community together for more Wi-Fi everywhere, for everyone," says Claus Hetting, CEO and Chairman of Wi-Fi NOW.
Bangkok: A dynamic Southeast Asia hub within easy reach
The event will be held at the Amari Watergate Hotel in central Bangkok on November 28-30. And there's a reason why the Wi-Fi NOW management has chosen Bangkok for its first APAC event.
"Bangkok is within easy reach of most of Southeast Asia, and it's affordable for our delegates to fly in and stay for a few days. We want to make Wi-Fi NOW as accessible as we can for the broad Wi-Fi community," says Claus Hetting.
We invite you to join the World's Premier Wi-Fi Event with 50% discount. Use code SeasiaWFNEU50
Book your ticket here
View event website here
Proud
0%
Sad
0%
Excited
0%
Indifferent
0%
Inspired
0%
Amazed
0%