Credit by BBC | China's AG600 "Kunlong"
DEFENCE
Beyond
World's Largest Amphibious Aircraft Takes Off in China
The world's largest amphibious aircraft, China's AG600, has made a successful one-hour maiden flight.
The plane, codenamed "Kunlong" according to state news agency Xinhua, took off from the Jinwan Civil Aviation Airport in the city of Zhuhai, south China's Guangdong Province.
The plane has a 39.6-meter-long fuselage and 38.8-meter wingspan, said its developer. The aircraft is capable of carrying 50 people and can stay airborne for 12 hours.
"Its successful maiden flight makes China among the world's few countries capable of developing a large amphibious aircraft," the chief designer, Huang Lingcai, told Xinhua.
Reuters reports, state-owned Aviation Industry Corp of China (AVIC) [SASADY.UL] has spent almost eight years developing the aircraft, which is roughly the size of a Boeing Co 737 and is designed to carry out marine rescues and battle forest fires.
The aircraft has received 17 orders so far from Chinese government departments and Chinese companies. It has a maximum flight range of 4,500 km (2,800 miles) and a maximum take-off weight of 53.5 tonnes.
It can use conventional airports and also land and take-off from the sea.
According to BBC, the AG600 may be a record beater at the moment but is dwarfed by the famous flying boat of billionaire Howard Hughes.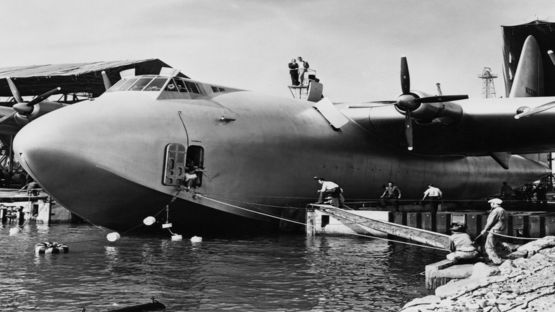 The Spruce Goose, or more technically the Hughes H-4 Hercules, had a wingspan of 97.54m.
However it made only one flight, which lasted about 26 seconds, in 1947, and never flew again. It is on display in a museum in Oregon.
Proud
20%
Sad
20%
Excited
0%
Indifferent
20%
Inspired
0%
Amazed
40%