Credit by Young buddhist monks playing Chin Lone in front of their monastery | Kuba Los Photography
Myanmar (or Burma), also officially called Republic of the Union of Myanmar , a country in Southeast Asia. Myanmar, is located in the western part of the Indochina Peninsula and bordered by Bangladesh, India, Thailand, Laos and China. Myanmar's coast is washed by the Andaman Sea, Bay of Bengal and the Gulf Moutama (Martaban).
There are a lot of people who are extremely attracted to mystery and mystique of this Southeast Asian country, because Myanmar is a real treasure box of ancient civilizations and cultural heritage. Our top 10 fun and interesting Myanmar facts will teach you some cool facts about this country, let´s go!
Quick Facts:
Area: 676,578 km2
Denonym: Burmese/Myanma
Capital: Naypyidaw
Population: 60,280,000
Currency: Kyat
Official Languages: Burmese
Religion: Theravāda Buddhism
Independence Day: January 4, 1948
Wine Country
It is a rather unknown fact that wine-making is a pretty popular industry in Myanmar. There is Sauvignon, Chardonnay, Late Wine and Inle Valley White Wine amongst of many other wines.
No hair cut days
Burmese people have no hair cut days: Don´t get a haircut on Mondays, Fridays and on birthdays
More Funny traditions
– Wedding days are picked by an astrologer, this should bring good luck for the couple.
– children wear holy thread around their necks and/or wrists for protection from bad spirits or spells
– birth you shouldn't wash your hair for a month
– Pregnant women are banned from doing and eating certain things, for example Bananas: this means the Baby will be too big, Chili: The new born Baby will have no hair, Women are also not allowed to participate in weddings or funerals during pregnancy.
Why Myanmar is called Myanmar and not Burma anymore?
The ruling military junta changed its name from Burma to Myanmar in 1989, a year after thousands were killed in the suppression of a popular uprising. Rangoon also became Yangon. In the most parts of the World Myanmar, but The UK does not recognize the legitimacy of the regime that changed the name
Myanmar has a pretty cool national sport
The traditional sport of Maynmar or Burma is called Chinlone. It is a combination of a team sport and dance. It is a non-competitive sport and is pretty similar to thais national sport.
The metric system is in Myanmar still not adopted
Myanmar is one of the three countries that have not adopted the metric system, the other two are the United States and Liberia.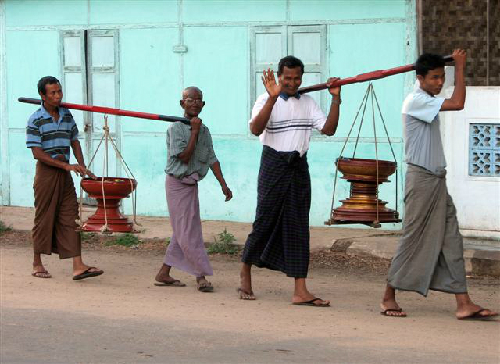 Scotland is not the only Country where you can see men wearing skirts
Men on the streets of Myanmar are proudly wearing skirts. These skirts are called Longyi . The males tying the knot in the front and females tying the knot on the side.
Poor Rich Country
Rich: Myanmar is a country rich in jade and gems, oil, natural gas and other mineral resources like Gold Zinc Nickel and many others. In 2013, its nominal GDP stood at almost US$57 billion and its GDP (PPP) at around US$222 billion. Poor: The income gap in this country belongs to the widest in the world
Myanmar´s Former Capital
Yangon is Myanmar´s former Capital, here you can find "Shwedagon Pagoda" , which belongs to the most revered buddhist shrines in Myanmar. Since the year 2006 is Naypyidaw Myanmars Capital City.
Interesting Burma Facts Snub-Nosed Monkeys In Myanmar you can find some special Monkeys
These cute Monkey´s live in Myanmar (Burma) and they are called the snub-nosed Burmese Monkeys. Due to their nose they have to sneeze when it rains. They are also a critically threatened species of colobine monkey.
Source: Factmonster.com
Proud
13%
Sad
11%
Excited
9%
Indifferent
13%
Inspired
16%
Amazed
38%