FUN FACTS
Indonesia
Asian Games 2018 Opening Ceremony in Cronological Photos: Absolutely Stunning
Indonesia put up a dazzling display of colours during the Opening Ceremony of the 2018 Asian Games. The loudest cheers were reserved for the contingent of hosts Indonesia while the united Korean and Palestinian contingent also drew a lot of noise. After the march of the countries, Via Vallen performed the theme song Meraih Bintang. Indonesian President Joko Widodo then declared the Games open. The ceremony then featured renowned Indonesian singers, such as Anggun, who is internationally recognised, Raisa, Tulus, Edo Kondologit, Putri Ayu, Fatin, GAC and Kamasean.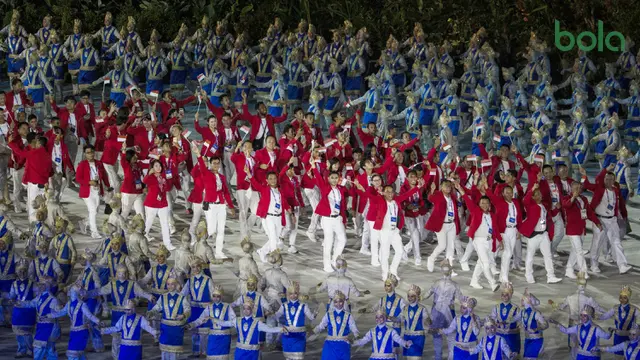 No surprises here, the loudest cheers are reserved for hosts Indonesia. The red and white contingent is easily the biggest parrading one, spanning the length of the stadium. Thet are followed by the mascots Bhin Bhin, Kaka and Atung.
Following the parade of countries, Via Vallen comes to perform the theme song Meraih Bintang. After that comes the national anthem of Indonesia, Indonesia Raya.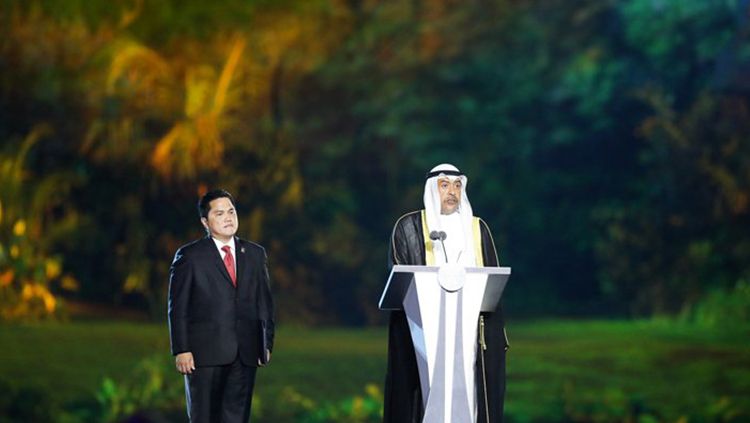 Olympic Council of Asia Sheikh Ahmad Al-Fahad Al-Sabah delivers his speech at the end of which he requests the Indonesian President to declare the Games open. Joko Widodo then proceeds to officially declare the Asiad open.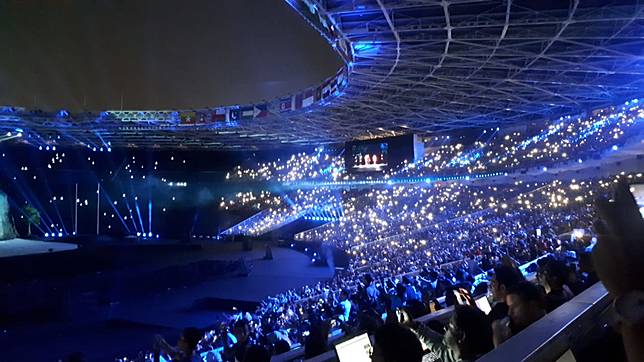 The creative segment is in full swing at the Gelora Bung Karno. The performances all signify the history and culture of Indonesia in some form or the other. The first segment signified water, showing the history of the early, sea-faring Indonesians. The seas then dissapear and the light baths the central stage of the stadium green as the segment starts. This was to signify Earth and the preservation of culture accross the country over the years.
The Asian Games torch enters the stadium, its design based on two traditional weapons of the host cities Jakarta (the golok) and Palembang (the skin). It makes its way to the top of an artificial volcanic mountain that has been the setting for the entire show. The torch reaches the top and the Games Cauldron, located in the crater of the mountain, is alight in spectacular fashion.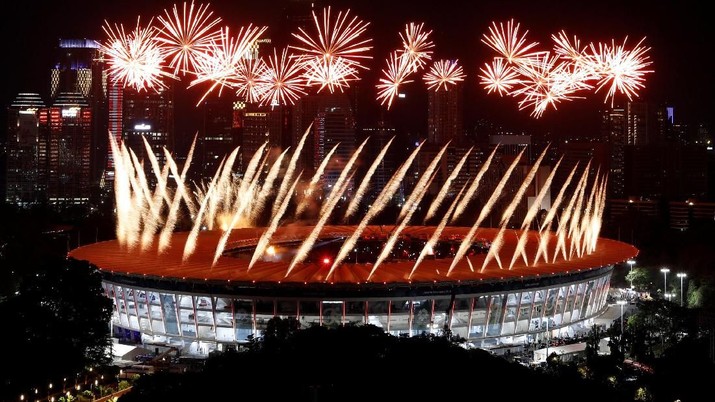 That is followed by Anggun, France's representative for the Euro Vision in 2012. The singer was born in Jakarta and is a naturalized French citizen. After her performance a host of skyscrapers appear in the stadium, signifying the modern Indonesia.
A sensational display of firecrackers ushers the end of this extravaganza. Jakarta has outdone itself here.
Proud
80%
Sad
1%
Excited
4%
Indifferent
1%
Inspired
1%
Amazed
13%