Laos' economic growth of expected to reach 6.9 percent in 2019-2020, according to the latest World Bank economic report on the region.
Supported by increased power generation, growing opportunities in the non-resource sectors from closer regional integration, and reforms to improve the business environment, growth is expected to pick up in 2019-2020 according to the World Bank's last update in September.
Economic growth is projected to ease to 6.7 percent in 2018, down from 6.9 percent in 2017, but is still robust compared to regional peers.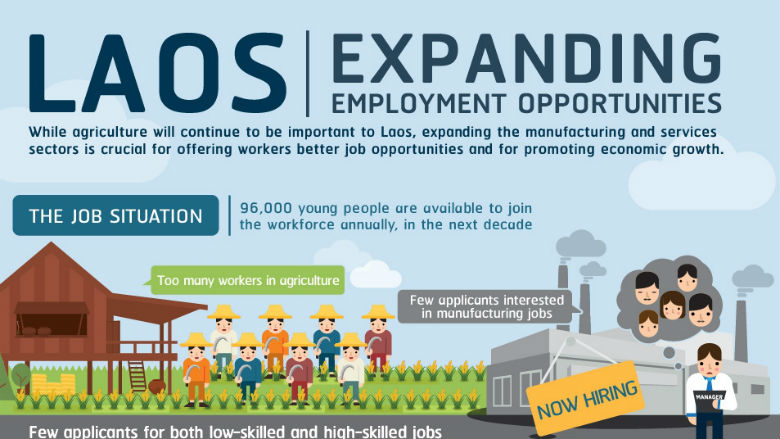 Laos is classified by the World Bank as one of East Asia and Pacific's (EAP) smaller countries. Economic growth prospects remain robust, averaging over six percent annually from 2018 to 2020.
Meanwhile, growth outlook for developing EAP remains positive despite a less favourable external environment.
Navigating Uncertainty, the October 2018 edition of the World Bank East Asia and Pacific Economic Update released yesterday, underscores however that in recent months a combination of trade tensions, higher US interest rates, a stronger US dollar and financial market volatility in many emerging economies has increased the uncertainty around the region's growth outlook.
At the same time, inflation has begun to rise across the region, particularly in Myanmar, the Philippines, and Vietnam.
China is expected to slow moderately to 6.5 percent in 2018, after growing faster than anticipated in 2017. Growth in developing EAP, excluding China, is expected to remain stable at 5.3 percent from 2018 to 2020, driven primarily by domestic demand.
In Thailand and Vietnam, growth is expected to be robust in 2018 before slowing in 2019 and 2020 as stronger domestic demand only partially offsets the moderation in net export growth. Indonesia's growth should be stable, thanks to improved prospects for investment and private consumption.
In EAP's smaller economies, growth prospects remain robust, averaging over six percent annually in Laos, Cambodia, Mongolia and Myanmar from 2018 to 2020.

Source : The Financial | Vientiane Times