Credit by Shot-putter Suparniyati with her rattling gold medal and Momo, the 2018 Asian Para Games mascot © Antara Photo/Dhemas Reviyanto
The Indonesia Asian Para Games Organizing Committee (INAPGOC) unveiled the 2018 Asian Para Games medals on Friday.
The medals feature the words "'The Inspiring Spirit and Energy of Asia" embossed in Braille on the front side, and engraved logo and Braille spelling of the Asian Paralympic Committee (APC) on the other side. The medal was designed by INAPGOC deputy secretary general Ferry Kono.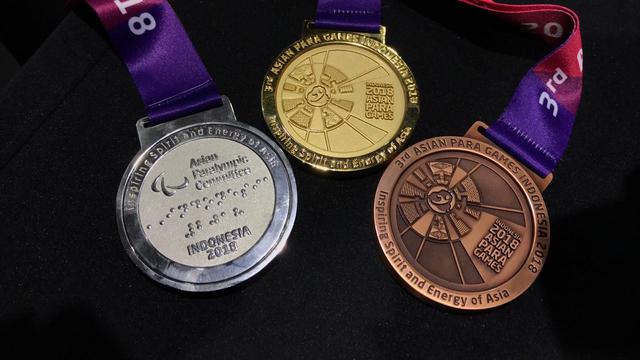 INAPGOC sport director Fanny Riawan said the medal production took four months.
"The medals were made in Guangzhou, China," Fanny said in Jakarta on Friday.
Wen shaken, each medal produces a rattling sound that comes from small balls implanted inside the medals.
Gold medals make the loudest noise with 26 small balls, silver medals have 20 balls, while the bronze has 16. The different quantities of balls help visually impaired athletes to identify their medals.
"We were inspired by the medals of the Rio 2016 Paralympics, which rattled when the medals were shaken. The initial idea came from Tarek Souei [Asian Paralympic Committee CEO]," Fanny added.
"It happens that [Indonesian] lifter Ni Nengah Widiasih, won gold in the Rio 2016 Paralympics. We used her medal as a template. Therefore, we had to visit her in Bali."
The 2018 Asian Para Games will see 2,762 athletes compete in 512 events in 18 sport categories. Aside from medals, the winning athletes will also get an Asian Para Games toy mascot named Momo, a flash disk and power bank for a smartphone.

Source : Asian Para Games 2018
Proud
43%
Sad
0%
Excited
0%
Indifferent
43%
Inspired
14%
Amazed
0%